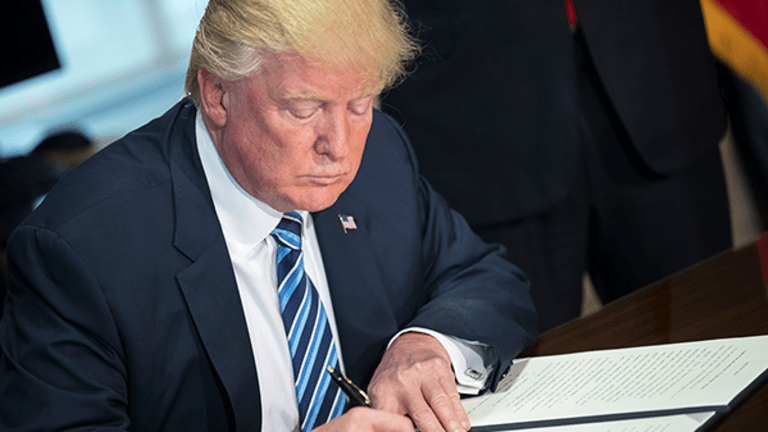 JPMorgan CEO Jamie Dimon's 'Embarrassment' Could Grow as Debt Debate Looms
The approaching debt-ceiling debate in Congress could send bank stocks diving, if recent history offers any lessons.
Shares of big U.S. banks like JPMorgan Chase & Co. (JPM) - Get JPMorgan Chase & Co. Report , mired in a months-long slump as more investors grow doubtful of President Donald Trump's ability to roll back costly regulations and push through big corporate tax cuts, face a new threat from Washington: the debt-ceiling debate.
Brokerage firm Keefe, Bruyette & Woods, which specializes in financial firms, warned Monday in a report that investor nervousness over the U.S. government's ability to avoid a shutdown or default next month could send bank stocks reeling. While KBW expects the matter to be resolved "after considerable debate" by the second or third week of September, the stocks might fall dramatically due to concerns over dysfunction in the nation's capital -- as illustrated by Trump's failure to push through health care legislation despite having a Republican majority in both chambers of Congress.
CEOs Offer Scant Response to Charlottesville, Trump After Merck Exec Exits
Without an increase, the federal government won't be able to pay its bills by early October, KBW analyst Fred Cannon wrote in an Aug. 11 report. "The market could get skittish in September over the government's ability to deal with the debt ceiling," he noted.
Six years ago, large U.S. bank stocks fell almost 35% on average during a debate over the government's debt ceiling, which ultimately was raised. The 2011 standoff prompted ratings firm Standard & Poor's to downgrade the U.S. government's credit rating for the first time in 70 years because the level of brinkmanship was so great that its analysts found an eventual default conceivable.
This year's debt-ceiling debate comes as the biggest Wall Street firms are struggling with low volatility across global markets that has dampened client demand for new bond and stock transactions and made it harder for traders to make money off of daily price movements. Fitch Ratings wrote in a report last week that trading activity might slow further this quarter from an already-sluggish pace in the first half of 2017.
There's also the specter of military action against North Korea over its nuclear-weapons ambitions, a concern that sparked a stock-market selloff last week. And the Federal Reserve has been discussing steps to reduce the size of its $4 trillion-plus balance sheet, an action that economists say the central bank is likely to begin this fall.
Watch More with TheStreet:
Bond traders, meanwhile, have become increasingly worried that Trump's erratic behavior -- or an over-the-top post on Twitter -- might lead to unforeseen outcomes from the debt-limit debate.
In July, JPMorgan CEO Jamie Dimon went on a rant during a conference call with investors in which he decried dysfunction in Washington that has hindered growth. 
"We have become one of the most bureaucratic, confusing, litigious societies on the planet," Dimon said. "It's almost an embarrassment being an American citizen."
Indeed, Congress's decision to raise the debt ceiling in 2011 came just hours before the government would have begun to default on some obligations, the Wall Street Journal reported at the time.
As that happened, bank-stock performance "was not a pretty picture," Cannon wrote. The stocks performed much worse than the broader Standard & Poor's 500 Index, and they didn't hit bottom until a couple months after Congress raised the $14.29 trillion limit.
Now, the debt ceiling is even higher, at $19.8 trillion, according to an Aug. 3 report by Brookings Institution, a Washington-based think tank.
The United States has never defaulted on its obligations, and such a step would be "unprecedented and has the potential to be catastrophic," according to a Treasury Department report in 2013 on "the potential macroeconomic effect of debt ceiling brinkmanship."
Corporate bond and lending markets could freeze, the value of the dollar could plummet and U.S. interest rates could skyrocket, according to the report; the fallout might reverberate worldwide due to the U.S. dollar's central role in global finance. A financial crisis and recession could ensue, echoing the 2008 market meltdown "or worse," the Treasury noted. Household and business confidence could suffer, hurting the outlook for spending and new investment.
"Greater volatility can lead investors to pull back from any investment they perceive as risky, a development that tends to raise the cost of borrowing for households and businesses," according to the report.
Already, Treasury Secretary Steven Mnuchin has had to take out-of-the-ordinary steps to maintain government funding, according to Cannon. The government needs cash to pay for things like Social Security benefits and utilities in federal buildings -- not to mention interest payments on the national debt.
Ironically, Cannon noted, U.S. Treasury bond yields fell during the 2011 debate. That's because many traders still saw U.S. government bonds as the world's safest financial instruments despite the increased risk of non-payment.
Some investors have become complacent over the prospect of a government default, partly because debt-ceiling debates have become such regular occurrences this decade. In October 2013, Congress temporarily suspended the debt ceiling after federal borrowing reached the limit set just two years earlier. 
A series of subsequent suspensions expired this March, when Congress set the new limit, the report noted.
KBW's Cannon said "defensive" stocks that might not fall as hard during the upcoming debate include JPMorgan, Bank of New York Mellon Corp. (BK) - Get Bank of New York Mellon Corporation Report and U.S. Bancorp (USB) - Get U.S. Bancorp Report , as well as Oaktree Capital Management Inc. (OAK) - Get Oaktree Capital Group, LLC Class A Report among money managers.
More of What's Trending on TheStreet:
The 30 Nastiest Storms in Recent U.S. History Have Caused Mind-Blowing Damage
Small-Cap Stocks and Transports Have Mysteriously Reversed Course: Market Recon
Warren Buffett Dumps GE Stake to Invest in a Lender With GE Roots
Editors' pick: Originally published Aug. 15.