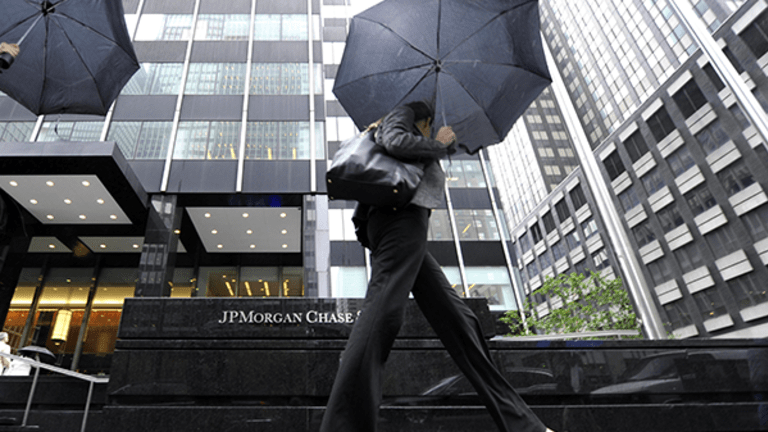 JPMorgan's $23 Trillion Reason for Bringing Digital Payments to Back Offices
The bank's latest collaboration reflects the importance of leadership in the payments industry to CEO Jamie Dimon as well as the mammoth size of the market.
It's easier than ever to divvy up a bar tab with your friends, relying on nothing more than your smartphone. No fuss, no muss, no last-minute hunt for an ATM or laborious explanations to the bartender about how you're paying for just the draft beer, not the Veuve Clicquot.
So why is it that the owner of that bar is still paying suppliers with paper checks, which are both slower and more labor-intensive? It's one of the relatively rare instances where consumer technology has surged ahead of business technology, a situation that JPMorgan Chase & Co. (JPM) -- the largest U.S. bank by assets -- plans to remedy in a collaboration with payments network Bill.com.
The business-to-business payment service will be rolled out next year, after its integration into Chase's digital platform, which was overhauled recently to provide a uniform user-experience across the company's mobile and desktop platforms as well as its ATMs. 
The move reflects the importance of leadership in the payments industry to CEO Jamie Dimon, who emphasized it at the Delivering Alpha conference in New York this month, as well as the mammoth size of the market. Businesses in the U.S. made about $16.5 trillion in payments to each other in 2014, and that figure may widen to $23.1 trillion by 2020, according to the accounting firm Deloitte.
"We always say around here that paper is painful -- it costs our clients way too much time, effort and money to manage," Ray Schmitt, the head of credit markets and treasury management for JPMorgan's commercial business, said in a telephone interview. "Our clients are looking for a better experience. They've embraced a seamless digital experience in their personal lives, and they want that at work as well."
The bank's new service, which will cut the time required to manage bills by roughly 50%, will be introduced first in a pilot program, Stephen Markwell, the financial technology lead for JPMorgan's commercial business, said in a telephone interview. 
Afterward, it will be made available to the rest of New York-based firm's commercial and business banking clients, whose companies garner as much as $2 billion a year in revenue. They'll not only have access to more than 2.5 million members on the Bill.com network but the ability to exchange and store invoices and documents while synchronizing data with leading accounting software.
"We always take a deliberate approach, looking for the right opportunity to meet the client need," Schmitt added. "There's a continuous feedback loop from clients that inspired us to find a market leader with a user interface and network that could be a true differentiator."
JPMorgan's initiative broadens the work of U.S. banks over more than a decade to steer consumers from old-school branches to digital transactions, which are both less expensive to handle and more convenient. A 2016 study from consulting firm Bain & Co. estimated that each teller transaction costs $2 to $3, compared with a dime for the same service at an ATM and just a few cents via a mobile device.
To build a share in the consumer-payments market, the JPMorgan joined rivals Bank of America Corp. (BAC) and Wells Fargo & Co. (WFC) as founding members of Early Warning's clearXchange, the real-time person-to-person payments service rebranded as Zelle.
The business market for such services, however, was considerably more complicated. Early digital solutions didn't work for many owners, said Bill.com CEO Rene Lacerte, who founded the company in 2006.
"The reason they didn't work was something that I learned from my dad and my granddad, which was 'Cash is king,'" he added. "You stretch out the payables and pull in the receivables."
But making "a decision about who you're not going to pay is a complex process," Lacerte said. For that, a paper check "is a perfect control mechanism," allowing owners leeway to consult with partners and employees about which payments can be delayed with the least disruption and which must be made on time, he said.
"The simplicity of consumers is what made it easy for consumer payments to be adopted" earlier, Lacerte explained. Such customers are typically dealing with fewer than 10 bills a month and have no need to pay one vendor on a combined invoice but not another because a service hasn't been satisfactorily completed yet, he said.
Individuals usually aren't "dealing with things like posting to an accounting system" either, JPMorgan's Markwell added. "They're typically not exchanging bills and invoices and routing payments to two or three destinations. We're excited that, due to this collaboration, we've solved for that."
Updated from 9:37 a.m. ET on Saturday, Sept. 23, 2017.
More of What's Trending on TheStreet: