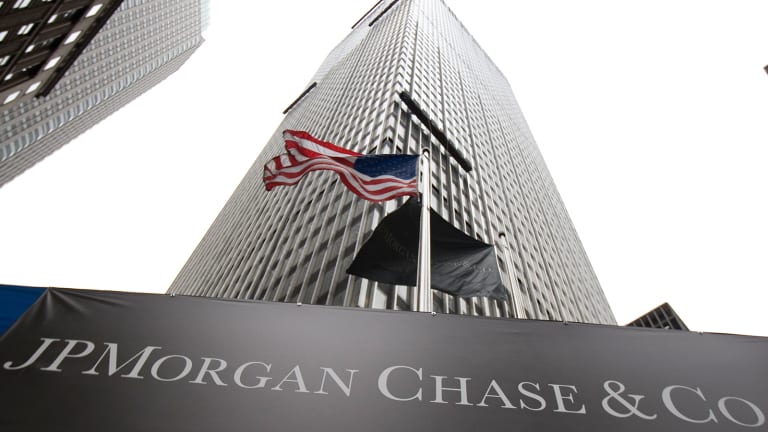 This article, originally published at 8:50 a.m. on Tuesday, Feb. 23, 2016, has been updated with analyst commentary and market data.
JPMorgan Chase (JPM) - Get JPMorgan Chase & Co. (JPM) Report , the largest U.S. bank, is expanding its reserves against potential loan defaults involving energy companies by 60%, to a total of $1.3 billion.
Should oil prices remain around $25 for 18 months, the New York bank might have to increase reserves by an additional $1.5 billion, according to a presentation for the company's annual investor summit on Tuesday. That could happen: Goldman Sachs predicted last year that oil might drop as low as $20 a barrel, and it has traded between $25 and $30 for half of the trading days this month.
The potential reserve increase is JPMorgan's best estimate and incorporates multiple downgrades of borrowers' credit ratings, Chief Financial Officer Marianne Lake told investors. "The lower down you get in prices, the more stress that you see," she said.
JPMorgan, which will complete its 60% boost by the end of March, and its peers nationwide are facing increased scrutiny from stockholders as falling oil prices make it tougher for energy firms to repay money borrowed when prices were spiking.
That has sparked fears -- in worst-case scenarios -- of another recession or repeat of the financial crisis, when mortgage-loan defaults led to the collapse of investment bank Lehman Brothers and necessitated massive government bailouts of finance firms.
Such concerns appear vastly overblown, according to regulators, executives and credit-ratings firms, not least because the oil- and gas-loan market is a fraction of the size of the mortgage market.
Further, the biggest banks -- those large enough that their failure could threaten the broader economy -- appear better positioned than smaller regional firms operating in areas whose economies are dominated by energy companies, ratings firm Moody's has said.
At the end of last year, JPMorgan was the best in class in the ratio of energy loans to total lending, at 1.5%. The measure was 3.1% at Goldman, 3.3% at Citigroup and 2.4% at Bank of America, a report earlier this month showed.
"People were a little taken aback" by the amount JPMorgan decided to add to its reserves, which is a sharp change from the end of last year, Erik Oja, an S&P Capital IQ analyst, said in a phone interview.
Still, Oja noted that the $500 million increase assumes oil prices will fall even further, while he believes they will rebound somewhat as the U.S. curbs production.
The reserve increase is "anticipatory" and doesn't, at this point, reflect actual losses, Susan Roth Katzke, a Credit Suisse analyst, said in a note to clients. "No broader contagion is evident," she wrote. "Consumer credit trends remain stable/favorable."
JPMorgan's oil and gas loans and commitments totaled $44 billion at the end of 2015, and about 43% were to companies with junk-level credit ratings, according to the bank's presentation.
Oil remaining at $25 for 18 months or more would amount to "severe stress," Lake noted, and that isn't JPMorgan's expectation. Still, bad energy loans may drive the firm's total charge-offs to as much as $4.75 billion in 2016, an increase of 16% from last year.
"Outside of energy, we do expect that charge-offs will actually remain relatively low, but we are expecting to realize some losses this year in the energy sector," she said.
JPMorgan shares have fallen 16% so far this year, mirroring a drop of 14% in oil prices. The company is still among the better performers in the KBW Bank Index, which has slid 19%.
Although low oil prices may hurt financial firm earnings this year, many bank stocks are trading below their book value -- a measure of assets minus liabilities -- which Rafferty Capital Markets analyst Dick Bove has said creates an opportunity for investors. 
And the risk from energy loans may be ready to narrow, with Russia and the Organization of Petroleum Exporting Countries in talks about limiting production, which has contributed to a supply glut that forced down prices.
At the same time, the International Energy Agency says production of U.S. shale oil may drop by 600,000 barrels a day this year and another 200,000 next year. That would also buoy the market, which Oja says will help banks later in the year.
Energy pricing may be tough on banks' energy loans for another quarter, he added, but "what we've seen is that the oil market can snap back very quickly."