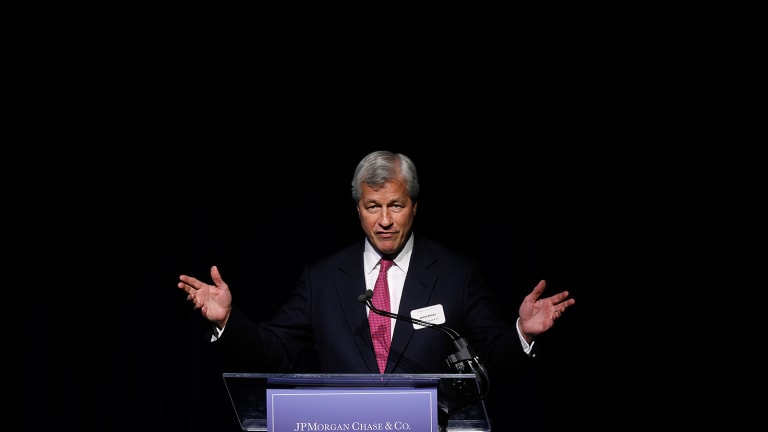 JPMorgan Chase Will Still Be the Best Bank Stock to Own
JPMorgan will probably stay a winning stock no matter what. Here's why.
JPMorgan & Chase (JPM)  blew Wall Street away with its second quarter results on Friday, bolstering its status as the best bank stock to own.
"JPMorgan is most representative of the value inherent in the universal banking model," writes Credit Suisse analysts. "Look to JPMorgan for best-in-class execution-sustainable organic revenue growth and market share gains (leveraging the benefits of its complete, scaled and well-integrated product set), a willingness to drive down unit operating costs (capacity for investment to drive incremental growth; a virtuous circle) and an ability to optimize capital; this should sustain better-than-average earnings growth and returns on equity."
But hey, the company's earnings results looked pretty good as well. Earnings beat by 7 cents and divisional performance was strong. That could awaken JPMorgan's stock (down 1% this year, lagging the Dow Jones Industrial Average undefined and S&P 500 undefined ) and the rest of the financials.   
"The banks posted strong results last quarter, but failed to gain the respect of the market," said Action Alerts PLUS senior portfolio analyst Jeff Marks. "Now that we are post-CCAR, another solid quarter from the group could prove why these stocks have so much long-term value to them down here."
Here's how longer term investors should be thinking about the Jamie Dimon-led bank.
Factor 1: Money Giveaway
JPMorgan is likely to stay aggressive in buying back its stock this year. Following bank stress test results in June, JPMorgan announced a $20.7 billion stock repurchase plan. Couple stock buybacks with rising net interest margins thanks to higher interest rates, JPMorgan stands to blow Wall Street's profit forecasts away this year. 
Factor 2: Regulatory Relief
Namely as it pertains to the Volcker Rule. With regulatory relief, comes cost savings and more opportunities for growth. 
Factor 3: Consolidate Market Share
Credit Suisse thinks that with regulatory relief, could come opportunities for JPMorgan to consolidate its market share in the middle market likely through deals.
JPMorgan Chase is a key holding in Jim Cramer's Action Alerts PLUS member club. Learn more here. 
Follow the Action Alerts PLUS team on Twitter:
For more actionable trading ideas on the banks, check out TheStreet's Real Money.