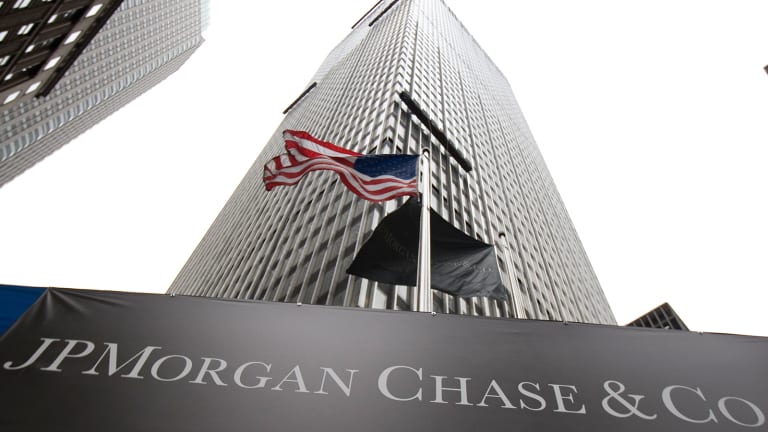 JPMorgan Chase (JPM) - Get JPMorgan Chase & Co. (JPM) Report  will keep boosting provisions against oil-loan defaults as low crude prices threaten producers, but CEO Jamie Dimon has no plans to pull out of the business.
"The oil folks have been surprisingly resilient, and these are asset-backed loans so a bankruptcy doesn't necessarily mean your loan is bad," he said on a conference call Wednesday after the bank's fourth-quarter earnings report. "If we can responsibly support clients, we're going to do it."
Oil has fallen 36% in the past year to $30.83 a barrel, leaving the energy industry struggling to repay money borrowed to boost production as prices soared during the previous decade. JPMorgan, the biggest U.S. bank, reiterated that $30-a-barrel oil for 18 months or more would force it to boost reserves by at least $750 million.
Still, "it is not the current market expectation that oil will flatline," CFO Marianne Lake said on the call. "It is the expectation right now that there will be a modest recovery. Based on that, we expect to take additional reserves but for them to be more modest."
The New York bank built its oil and gas reserves by $550 million in 2015, she said, including $124 million in the fourth quarter. The total provision against credit losses rose 49% to $1.3 billion.
For the full year, the bank reported $4.1 billion in net charge-offs of unpaid loans, "with, obviously, the biggest area of stress in wholesale as oil and gas," Lake said.
The net increase of $100 million in total reserves during the quarter was the first since the three months through March 2011, said Erik Oja, an analyst with S&P Capital IQ. Firmwide, they stand at $14.3 billion.
"They've been releasing reserves like crazy," he said in a phone interview. "So the party's over as far as reserve releases, but it's well expected, ever since oil started falling."
Crude oil prices might tumble as low as $20 a barrel in a worst-case scenario, Goldman Sachs has predicted.
Charles Peabody of New York-based Portales Partners, who covered Texas bank failures in the wake of the 1980s oil-price crash, estimates that losses this time around could reach 10% of total energy loans. That wouldn't be enough to cause a crisis for the biggest banks, but it would seriously dent their earnings.
According to the Federal Reserve, oil and gas loans and commitments rated as substandard, doubtful or loss-making almost quadrupled to $34.2 billion in the year through March 2015 -- when oil prices were above $55 a barrel.
While JPMorgan is always conservative in safeguarding itself from possible loses, "our energy book isn't that large" relative to the firm, Dimon noted. "If banks completely pull out of markets every time something gets volatile and scary, you'd be sinking companies left and right."
On a companywide basis, the bank's fourth-quarter net income climbed 10% to $5.4 billion, or $1.32 a share, compared with the average estimate of $1.27 a share from analysts surveyed by Bloomberg. Net revenue increased 1% to $23.7 billion, beating the average estimate of $23.2 billion.
JPMorgan was the first of the large U.S. banks to report fourth-quarter earnings, and its performance may be an indication of how the others fared in the period. Citigroup (C) - Get Citigroup Inc. Report and Wells Fargo (WFC) - Get Wells Fargo & Company Report are slated to report earnings on Friday, followed by Bank of America (BAC) - Get Bank of America Corp Report next week.
Exclusive Look Inside: Jim Cramer's Action Alerts PLUS portfolio includes Wells Fargo and Bank of America stock. Learn more now.
JPMorgan said net income for the full year climbed 12% to $24.4 billion, or $6 a share, on revenue of $96 billion.
The bank's stock climbed 3% to $59.04 in mid-morning trading in New York. The shares are still down 10% this year, the third-worst performance in the Dow Jones Industrial Average.
Net interest margin, which compares the money banks earn from interest on lending to what they pay to depositors, rose nine basis points from a year earlier to 2.23% for the quarter.
That figure, loan volumes and trading were "all slightly better than expected," Chris Kotowski, an analyst with Oppenheimer, said in a note to clients. Analysts at Keefe, Bruyette and Woods led by Frederick Cannon had predicted net interest margin would be steady at 2.15%.
JPMorgan, along with banks nationwide, stands to reap incremental benefits from the Federal Reserve's 25 basis-point increase in interest rates in December, the first hike since 2006. The central bank had cut interest rates to nearly zero during the financial crisis of 2008, and they remained at that level for seven years, curbing the profitability of lending. 
During the first quarter, net interest income at JPMorgan will be "flat to slightly up sequentially," the bank predicted. 
"For the full year, with the December rate hike alone but with a rate-flat scenario together with the loan growth that we have seen and expect, we would expect to deliver about $2 billion of incremental net interest income," Lake said.
In the consumer banking business, which includes credit cards and automobile loans, net income climbed 10% to $2.4 billion amid a record year for car sales. Both automobile makers and the travel industry benefited from falling oil prices in 2015, as more consumers took to the roads.
The division's profitability was also boosted by cost cuts, as executives trimmed payroll by 12,000 employees and closed branches amid a shift to less costly digital banking services. The number of branch offices decreased 3% to 5,413.
Corporate and investment-banking income climbed 80% to $1.75 billion, driven by lower legal expenses, JPMorgan said. Within that unit, market revenue dropped 1% to $3.6 billion.
"Investor risk appetite was significantly dampened by a series of market events," Lake said on the call, "and clients retrenched and derisked early."
The bank maintained its high ranking versus rivals in the mergers and acquisitions business, and its outlook there for 2016 is promising, Lake said.
"Obviously, volatility can dampen the confidence of CEOs and boards" considering large purchases, she noted, and that will likely mean more mid-size deals in 2016, compared with the mega-mergers the year before. 
Still, "less big mega-deals could be very constructive for revenue," she said. "Honestly, the pipeline is good."