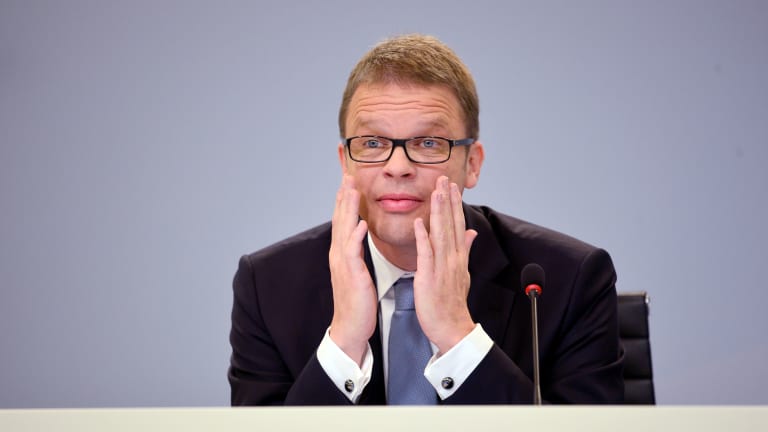 JPMorgan, Goldman Sachs Poised to Gobble Up Deutsche Bank's Leftover Businesses
Deutsche Bank plans to scale back in U.S. government-bond trading and in global stock trading, providing an opportunity for Wall Street titans JPMorgan, Citigroup, Bank of America, Goldman Sachs and Morgan Stanley to steal a bigger share of the market, according to brokerage firm KBW.
Here come the vultures. 
As Deutsche Bank AG (DB) - Get Deutsche Bank AG Report , Germany's largest lender, retreats from its global ambitions in investment-banking and trading, Wall Street heavyweights JPMorgan Chase & Co. (JPM) - Get JP Morgan Chase & Co. Report , Citigroup Inc. (C) - Get Citigroup Inc. Report and Bank of America Corp. (BAC) - Get Bank of America Corporation Report are poised to pick up the business that's left behind.
The big U.S. firms have ample capacity on their trading platforms to take on clients that Frankfurt-based Deutsche Bank no longer plans to serve, said Brian Kleinhanzl, an analyst at the brokerage firm Keefe, Bruyette & Woods in New York, in an interview Thursday. The Wall Street firms also could poach some of the German lender's top producers. 
"This is an opportunity for U.S. banks to increase market share," Kleinhanzl wrote Thursday in a report. He added that Deutsche Bank's withdrawal from some markets, such as U.S. Treasury-bond trading and stock trading, could reduce competition, thus alleviating some downward pricing pressure on fees for the survivors. 
Deutsche Bank said Thursday that it's planning "significant" job cuts for its global trading and investment-banking division, including a retreat from some non-European markets, as new CEO Christian Sewing moves to slash costs following three straight years of net losses totaling more than $10 billion.
The company's profit in the first quarter plunged by 79% from a year earlier to 120 million euros ($146 million), well below analysts' average projection of 377 million. 
"We have to act decisively and to adjust our strategy," Sewing said in a statement. "There is no time to lose." Sewing, a longtime Deutsche Bank executive, was named earlier this month to replace John Cryan as CEO after a boardroom battle stemming from the bank's inability to execute a turnaround plan.
Deutsche Bank has been a major foreign player in the U.S. investment-banking and trading business since its $10 billion purchase of the century-old Wall Street firm Bankers Trust in 1999.
Last year, the company's trading business produced 8.68 billion euros of revenue, with another 2.23 billion euros coming from advising on mergers and underwriting stocks and bonds. The company also got some 3.92 billion euros from global transaction banking.
The corporate and investment-banking division, which encompasses those business, had 14.2 billion euros of revenue overall. In the first quarter, some 40% of the division's revenue was denominated in dollars, "so that percentage could give investors a sense of the potential U.S. revenue opportunity," according to the KBW report.  
In its statement Thursday, Deutsche Bank said it will refocus its corporate-finance business on "industries and segments which either align with its core European client base or link to underwriting and financing products in which it enjoys a a leadership position."
The bank will reduce its commitment to U.S. and Asia, while scaling back its U.S. government-bond trading operations. Deutsche Bank also will review its global stock-trading business, under a plan to ultimately reduce the scale of the platform, and pare back in the business of providing trading loans to hedge funds. 
As recently as 2012, Deutsche Bank ranked third among 13 big U.S. and European firms in the business of trading of bonds, currency and commodities, with an 11% share of revenue, according to KBW. Its market share had dwindled in recent years but still ranked fourth in 2017, with a share of 7.7%.
Deutsche Bank was a smaller player in stock-trading, ranking 10th with a 5.1% share last year, according to KBW. Any retrenchment there could benefit the two dominant leaders in that business, Goldman Sachs Group Inc. (GS) - Get Goldman Sachs Group Inc. (The) Report and Morgan Stanley (MS) - Get Morgan Stanley Report , according to Kleinhanzl.
"For the biggest banks that are already competing in this business, there may be some lateral hires, but they already have the key infrastructure to add capacity," Kleinhanzl said in the interview. 
JPMorgan & Chase, Citigroup and Goldman Sachs are holdings in Jim Cramer's Action Alerts PLUS.