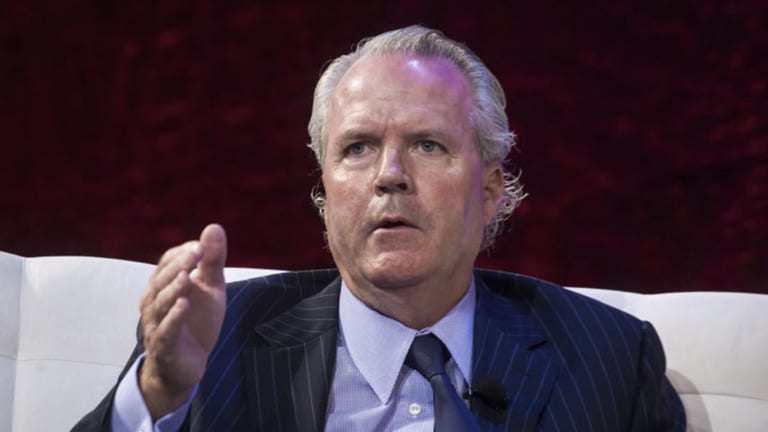 JPMorgan Investment Banking Legend Jimmy Lee Dies at 62
In some 40 years at Chase and its predecessors, Lee was involved in nearly every big-ticket deal on Wall Street.
NEW YORK (TheStreet) -- JPMorgan Chase (JPM) - Get JPMorgan Chase & Co. (JPM) Report vice chairman Jimmy Lee, one of the world's best-known dealmakers, died unexpectedly Wednesday at age 62.
A statement from CEO and Chairman James Dimon called Lee, who had worked with JPMorgan and its predecessors since the 1970s, "a master of his craft," and "an incomparable force of nature." Widely-regarded as the man with the keys to JPMorgan's massive balance sheet, Lee was involved in countless multibillion dollar mergers across every industry.
Among his longstanding clients was General Electric  (GE) - Get General Electric Company (GE) Report, where he was among the lead advisers on the sale of the bulk of its finance division, a project announced two months ago.
"Jimmy Lee was a great friend and I am heartbroken at the news of his passing today," GE CEO Jeff Immelt said in an e-mailed statement. "Jimmy was a part of the GE family. He was a trusted advisor to our company, and he worked with us on every important deal we have done at GE. We loved him dearly and could not have been closer to him if he was a GE employee."
When TheStreetwrote about Lee in 2009, he declined to be interviewed on the record, but well-known business figures such as News Corp (NWSA) - Get News Corporation Class A Report CEO Rupert Murdoch and The Blackstone Group (BX) - Get Blackstone Group Inc. Class A Report boss Steve Schwarzman lauded his work.
Former General Electric (GE) - Get General Electric Company (GE) Report chief Jack Welch told TheStreet at the time that Lee was "the most incredible client person that anybody ever had.". Schwarzman, a longtime client of Lee, confirmed in that 2009 story that he had tried to recruit Lee to work at Blackstone. 
The banker's popularity among private equity clients was linked in part to his role as a gatekeeper. "The most important thing about Jimmy is he can deliver," Glenn Hutchins, co-founder of Silver Lake, a $16 billion private equity giant, said for the 2009 article. "At JPMorgan, they run a very transparent process. You know when they're going to make the commitment and when they do commit, Jimmy stands by the commitment. So you can do business with him in a very efficient, predictable and reliable way."
Lee was also a critical figure during the financial crisis, as bankers worked around the clock trying to figure out ways to capitalize on the turmoil and stave off oblivion. Those efforts weren't always successful: Though government officials tapped Lee to try to raise money for the rescue of AIG, he came up short, leading to the biggest bailouts of the crisis other than that of Fannie Mae and Freddie Mac.
Lee joined Chemical Bank, which later became a part of JPMorgan, in 1975 and seven years later, he started a loan syndication business that eventually evolved into investment banking, according to a statement from the New York Public Library, which honored him in 2008 for his donations. Lee also launched Chemical's first M&A practice in 1994.
A graduate of the Canterbury School, he received a bachelor's degree from Williams College, where he double majored in economics and art. Lee's father died when he was still a teenager, though exact details weren't available. 
"There will never be another Jimmy Lee," GE's Immelt said. "This is a very sad day for all of us."