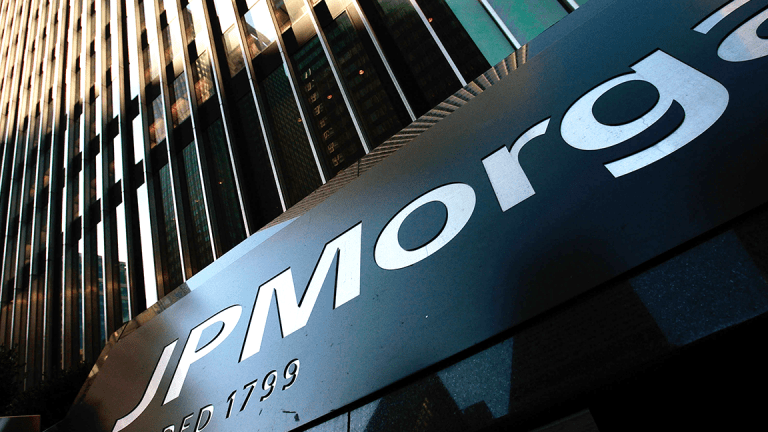 JPMorgan Chase Still Has the Yield Curve to Worry About
Second-quarter earnings at the bank show strength in its consumer business and growth in client investment assets.
Not bad.
JPMorgan Chase & Co.'s (JPM) - Get JP Morgan Chase & Co. Reportsecond-quarter earnings showed strength in its consumer business and growth in client investment assets, but the bank still has the yield curve to pay attention to and how long the expansion cycle will last.
"The report is in line with expectations, but the market is worried about the flat yield curve," says James DePorre, a Real Money contributor. "That is what is going to impact all the banks more than the results from the second quarter. I think the sector will stay under pressure due to the yield curve issues."
The lender's average core loans grew 7% in the second quarter, deposits increased 5%, and trading revenue rose 13%.
The flattening yield curve has preceded almost every recession for the past 50 years, raising questions whether JP Morgan's can grow its lending business in the event of the Federal Reserve boosting benchmark interest rates, CFRA equity analyst Ken Leon said Friday.
"There is a lot of questions today whether they can sustain growth in lending as the Fed raises rates maybe once or twice this year or next," Leon said.
Leon noted that the JPMorgan's home and auto lending dropped with net revenue from consumer and community banking falling by about $100 million to $12.497 billion.
"They don't want a mismatch between long and short term rates they can borrow and lend at," he noted.
Client investment assets surged 12% to $284 billion, the company said. The bank's net income rose 18% to $8.32 billion from $7.03 billion a year ago.
JPMorgan stock ended Friday down 0.46% to $106.36. The S&P 500 Banks Index declined almost 1%.
CEO Jamie Dimon cited "good global economic growth, particularly in the U.S., where consumer and business sentiment is high."
This is why JPMorgan Chase is a holding in Jim Cramer's charitable trust and subscription newsletter Action Alerts PLUS.