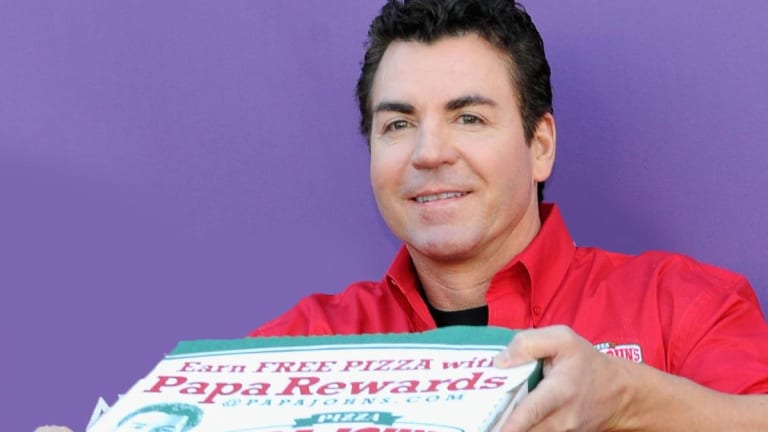 John Schnatter Says Papa John's Is Worse Off Without Him
In an interview with TheStreet, Papa John's founder John Schnatter takes aim at management and the board and discusses the company's 'bro' culture.
Papa John's founder, John Schnatter, is no shrinking violet.
The founder of Papa John's International Inc. (PZZA) - Get Papa John's International Inc. Report has been, until recently, the face, voice and spirit behind the chain.
That was before Schnatter resigned as board chairman on July 11, following a news account published that day in Forbes, that he used the N-word during a media training session in May. Since then, Schnatter, who remains a director and the company's largest shareholder, has been in a pitched battle against his namesake pizza chain.
The company voided Schnatter's founder's agreement, meaning that he is no longer a company spokesman, canceled the lease on his office at the firm's Louisville, Ky., headquarters, and adopted a poison pill to keep Schnatter and his associates from gaining a larger share of the company.
Schnatter and his legal team have countered by suing the company to inspect the books and have engaged in a media blitz that keeps the dispute front and center. Papa John's reports second-quarter earnings Aug. 7.
On Thursday, Aug. 2, Schnatter talked with TheStreet by phone. 
TheStreet: After all that's happened, what's your thinking about the company?
Schnatter: The farther I get away from Papa John's the worse its seems to do. Some of that is that the company has made decisions to push me away from the company. Yet, the more they push me away, the worse the things seem to get, which I don't like. With [nearly] 30% ownership, I want the company to do well.
If the stock was $80 a share and sales were positive, you and I wouldn't be having this conversation. The reason we're talking is that Papa John's has been on the decline for a year-and-a-half to two years, and I'm not seeing any direction, any leadership, any plan in place to change that trajectory.
Note: Schnatter was company CEO till December 2017, having taken over the spot for the third time in December 2008. During those years, the stock ranged from around $9 to $59 a share. Since he stepped down as CEO in 2017, the stock price has ranged from $59 to $42. Schnatter remained as board chairman till July 11. From Jan. 2, 2018 till July 11, the stock went from $57 to $50. Shares of Papa John's closed slightly down to $42.29 on Friday.
What's your impression of senior management and the board? 
Schnatter: If you look at the pattern of [CEO] Steve Ritchie and upper management and the board, it's a simple pattern. Steve goes out and promises the moon, he promises good things. He never delivers on them. And he blames somebody else, usually me. That process repeats itself. And I'm sure it will repeat itself next week on the [earnings] call. You'll probably hear it. Just stay tuned. At the same time, the board just sticks their head in the sand and pretends everything is OK. Steve needs help, he is drowning. That's why I've recommended to the board that they begin a search for a new CEO.
NOTE: Ritchie worked his way up the ranks in the company, starting as a $6-an-hour customer service representative in 1996, then became a franchisee in 2006. In 2014, he began working directly under Schnatter as the company's COO.  In a Dec. 21, 2017, press release on the company's site, here's what Schnatter had to say about Ritchie upon his promotion to CEO: "I am so proud of Steve -- he has excelled at every job he's ever held at Papa John's -- from being an hourly customer service rep, to a delivery driver, store general manager, director of operations, franchisee and most recently president."
Olivia Kirtley was unanimously elected as the board chair, replacing you. Did you vote for Kirtley, and what do you think of her?
Schnatter: Yes, I did vote for her, but  I have some concerns about Olivia. I think the board's behavior is reckless. It's hasty, I don't think it's well thought-out, I don't think it's in the shareholders best interest and not in the board's best interest. I'm very concerned that Olivia Kirtley and [board member] Mark Shapiro will do to Papa John's what Shapiro did to Six Flags.
NOTE: According to news accounts in The Deal, the sister publication of TheStreet, as Six Flags Inc. CEO, Shapiro inherited the problem of significant debt at Six Flags as a result of an acquisition spree in the 1990's. The company tried to avert a bankruptcy filing, but could not. It emerged from bankruptcy in April 2010 and changed its name to Six Flags Entertainment Corp. Shortly thereafter, Shapiro was abruptly replaced as CEO and no explanation for his departure was given, according to a Reuters story. A  source close to the company told TheStreet that Schnatter recruited Shapiro to join the board. He's been an independent director for seven years.
A 'bro' culture, a hostile workplace toward women, at Papa John's was reported in a July 19 Forbes article. Is that true? 
Schnatter: When I was there up till the end of '16, I didn't see anything that was close to what the Forbes article said. After digging into this, and by the way, I wouldn't have tolerated it, not for one second. Everyone in the building knows I wouldn't have tolerated the nonsense that was going on. 
Where that's coming from is that there's a department called OST, operation specialists training, run by Edmond Heelan [senior vice president-North American operation]. And therein lies the problem. Edmond is Steve Ritche's right-hand man. You look at the vulgar language, the disrespect toward women, the promiscuous behavior, the nefarious behavior, it all comes out of Edmond Heelan. OST was an arm away from anything I would have seen. Should I have seen it? Yes. Did I sense something was going on? Yes, but I had no idea it was to the degree of just bad behavior, rude, crude and unacceptable that it was.
Externally, it's called OST. Internally, it's called the Club. They [members] have a bond that they will protect each other no matter what. It's a clique, it's a frat, a fraternity, mostly made up of men, with some women, and all are Papa John's employees.
NOTE: Attempts by TheStreet to reach Heelan were unsuccessful.
Any regrets?
Schnatter: Any regrets? I don't like this situation any more than anyone else does. I would have done anything in my power to keep this from happening because it's not good for my employees.
What's the upside in all this for you?
Schnatter: I'm not real worried about me right now. If I take care of the employees, the franchisees, the customers, and I'm good to my communities, I'll be fine. 
Is there an upside for the company?
I sure hope so, because I own 30% of the company.
Papa John's declined TheStreet's request to speak with Ritchie, Kirtley, Shapiro and Heelan or to respond to Schnatter's comments.