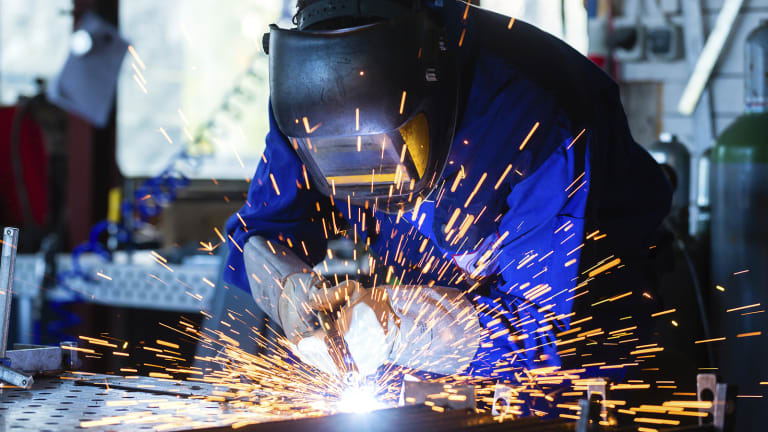 Jobs Number Falls Short of Wall Street Estimates - 3 Things That Really Matter
Outside the headline jobs figure are a few other important stats investors can't afford to ignore. From wage growth to the border wall to Fed action, this is what employment stats could impact.
The U.S. economy didn't stun investors with the December jobs report, but a miss on nonfarm payrolls won't make much of a dent on Wall Street.
For December, the economy added 148,000 nonfarm jobs, falling short of economists' forecasts of 190,000.
The unemployment rate held at 4.1% for the third straight month, and the average workweek was unchanged at 34.5 hours, a strong number signaling that employers are utilizing the staff they have. Wage growth ticked up to 0.3% from 0.2%, indicating businesses are under pressure to pay more to employees to hire and retain them, according to Brad McMillan, Chief Investment Officer for Commonwealth Financial Network in Waltham, Massachusetts.
"There's a slowdown going on in job growth, simply because we're running out of people to hire," McMillian said in a phone interview with TheStreet. "It's a negative for the market. We may be hitting the limits of the expansion sooner than the market thought."
But those aren't the only important employment figures. Here are the most impactful stats, and what you should know.
Wage Growth Key
While the marquee numbers have traditionally been jobs and unemployment, investors were paying close attention Friday to wage growth as a tightening labor market remains front of mind.
Wages rose 0.3% from the prior month in December, falling in line with expectations. In December, average hourly earnings rose by 9 cents to $26.63. Hourly pay has increased 65 cents, or 2.5%, from a year earlier.
Many investors have wondered if tax reform could impact how much workers will make. After all, a lower corporate tax rate doesn't just mean more money to return to shareholders or reinvest in the company -- it could also precipitate higher wages or larger bonuses.
AT&T Inc. (T) - Get Report announced in December almost immediately after the tax legislation passed that it planned to give bonuses to 200,000 of its employees. Shortly after, Comcast Corp. (CMCSA) - Get Report followed suit and announced its own bonuses.
Wage growth could also be a harbinger of moves from the Federal Reserve. How fast hourly pay grows could inform the rate at which the bank increases interest rates under new Chairman Jerome Powell. At present, the market has priced in a 73% chance the Fed raises rates at its March 21 meeting. The Fed has telegraphed three rate hikes in 2018.
Jobs in the Fed's Shadow
Minutes from the Fed's December meeting released earlier this week showed that inflation has been ticking higher, but with that a stronger jobs number could have been received by the market as not particularly good news. Healthy inflation, wage growth and low unemployment could be a recipe for faster rate hikes than some investors might like.
But December jobs shrank from the month before when the economy added 244,000 jobs. The December statistic is the lowest since September, when a hurricane-battered economy shed 33,000 jobs to notch a loss in employment for the first time since 2010.
For all of 2017, the economy added 2.1 million jobs, slightly lower than the 2.2 million added in the prior year. The six-month average for job growth remains a healthy 178,000 -- well above the 150,000-job threshold considered necessary for economic growth.
Manufacturing Builds
The manufacturing sector added 9,000 jobs in September, 23,000 jobs in October and 31,000 jobs in November. Last month, manufacturing added 25,000 jobs to its payrolls.
For all of 2017, manufacturing added 196,000 jobs. That's a welcome increase after the sector shed 16,000 jobs in 2016. The number of U.S. manufacturing jobs could continue to grow at this steady pace well into 2018, given a few factors.
President Trump is reportedly preparing to request nearly $18 billion from Congress to begin building more than 700 miles of barriers along the U.S. border with Mexico. After months of campaign promises to build a "big, fat beautiful" wall, Trump could be taking an important next step in actually getting shovel to ground.
The southwest border with Mexico runs about 2,000 miles, and since there's only roughly 654 miles of barrier now there is a great deal of work to be done. The border will need steel and concrete in high volumes -- the men and women who work to turn the natural components into the finished product could be getting some new co-workers to handle the heavy workload.
During Trump's first year, factories added jobs at their fastest rate since 2014. Though his policy plays a role, it's important to recognize that a weaker dollar means manufacturers can sell products abroad much easier.
Additionally, as the global economy strengthens, people have more money to purchase everything from cars to high-end electronics. A large portion of the components of expensive consumer goods find at least part of their origin at factories throughout the U.S.
And according to Credit Suisse in a note issued friday, December heavy duty truck orders grew 76% from last year and 15% from last month.
"While it's unlikely that tax reform had any direct impact on the order number, we suspect a marginal indirect impact from the broader positive effect in the manufacturing sector which has created an anticipation for incremental freight demand," analysts wrote. "The potential for an infrastructure bill could also havbe helped in terms of sentiment."
Market Reaction
The U.S. dollar index, which measures the greenback against a basket of six other currencies, slumped to a mid-September low Friday morning at 91.79.
Benchmark 10-year Treasury bond yields continued to trade just below the 2.5% mark.
Gold traded close to flat early Friday at $1,322.10 per ounce.
Stocks futures held gains after the jobs report was released.
More of What's Trending on TheStreet: