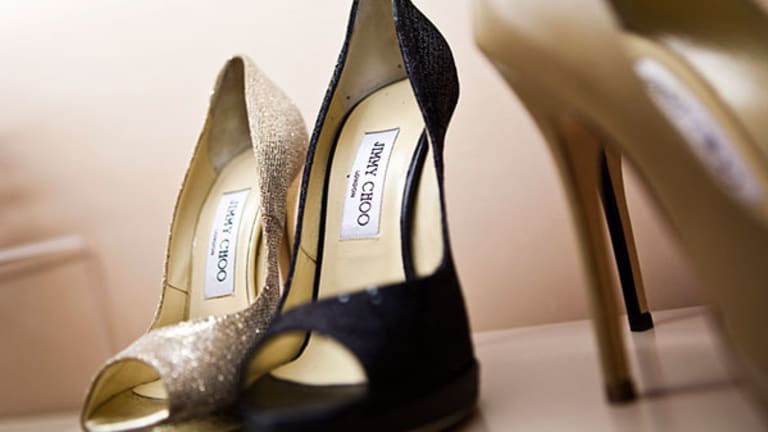 Jimmy Choo Strides Forward on Strong First-Half Results
A drop in the pound is expected to benefit the luxury shoe maker's second half.
Luxury shoe maker Jimmy Choo saw growth in the first half despite a difficult trading environment for luxury goods and expects to gain a boost in the second half from the weak pound.
The company's shares surged 5.5% in early trading in London, prompting Liberum to deem it one of the highest growth stocks in the luxury sector.
Jimmy Choo saw revenue grow by 9.2% on reported currency in the first half of the year, and 3.8% at constant currency. The company said gross margin expansion and cost control led to Ebitda growth of 12.8% and adjusted Ebit growth of 13.7%.
The company reported an increase of 42.6% in operating profit to £25.3 million ($33.5 million).
Jimmy Choo said it has had a strong start to the second half and expects to benefit from a weaker pound.
In the first half, the men's line saw growth and now accounts for 8% of revenue.
The company saw its biggest growth in Asia, with Japan growing 18.2% compared with the first half of 2015 and Asia outside of Japan growing 22.1%.
In the first half of the year like-for-like sales grew in the double digits in mainland China. In Japan, the men's division represented 26% of revenue in the first half of 2016.
"There has been softer luxury demand in the U.S. generally, compounded by a drop in sales to international tourism," the company said.
There was growth in the U.K., where the store portfolio is fully renovated. This offset decreased sales in the rest of Europe, which fell after terrorist attacks in Paris and Brussels.
Liberum analysts said the strong sales growth was underpinned by "excellent" margin gains. "Gross margin grew by 90 basis points, aided by volume growth and lower markdowns. The cost/sales ratio fell from 57% to 55% benefiting from last year's investment in systems infrastructure and we expect this operating deleverage to continue," they said.
The analysts did note that other luxury houses such as Louis Vuitton, Fendi and Christian Dior expanded their lines of high-end shoes "as this sub-sector is still seeing good market growth." This could impact Jimmy Choo in the future.