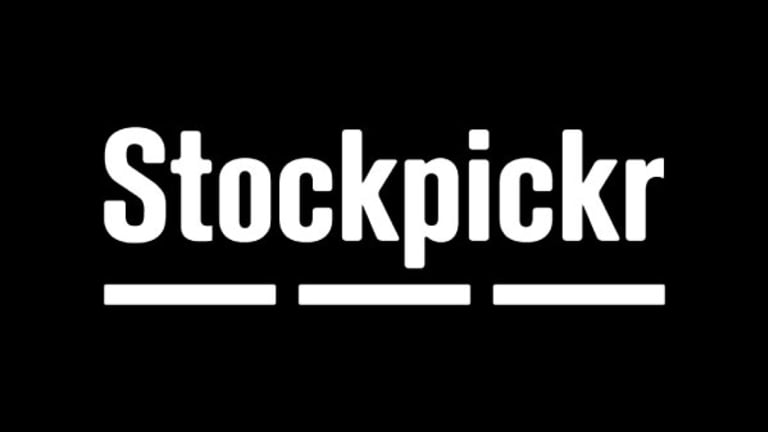 Jim Cramer's Portfolios of the Week
Here's what Cramer's been talking about lately.

David Peltier will be on Stockpickr Answers on Friday, Feb. 26, to respond to your questions. Ask away!
By Roberto Pedone
WINDERMERE, Fla. (
) -- According to Jim Cramer, the market weaknesses is nothing more than a profit-taking event, which is being accelerated by the infighting in Washington
over everything from health care to recovery efforts.
On Thursday's "Mad Money" TV show, Cramer told viewers that while Wall Street focuses on Greece's debt problems, the latest jobless-claims report, the strong dollar and a struggling consumer, he can't help but notice a number of positive earnings reports.
Cramer pointed out that retailer
Kohl's
(KSS) - Get Kohl's Corporation Report
reported a sharp spike in first-quarter sales today. Also, auto-parts-maker
TRW
(TRW)
reported a strong upside surprise on solid sales. He also shined the spotlight on strong quarters out of names such as
Saks
(SKS),
Macy's
and
Magna International
(MGA) - Get Magna International Inc. Report
.
Cramer said it appears the American consumer is not in as bad of shape as the headlines in the media make us believe. He said the market bears are even attacking falling oil prices as a negative, or as a sign that the global economy is weaker than expected. However, Cramer explained that stock futures traders might sell stocks when crude prices fall, but the cheaper cost per barrel will lead to better prices at the pump. This can only be seen as good for consumers.
Cramer offered up two possible conclusions for the market selloff. The first was that this is just a profit-taking moment, thanks to Washington's tunnel visions. The second was that, in terms of gauging the market's health, Kohl's may be more important than Greece, Spain or Germany right now. "I refuse to panic," Cramer said.
Recently, Cramer found opportunity in three value bank stocks, semiconductor stocks and dealmaker stocks. Here are some Cramer highlights from over the past week as aggregated from his "Mad Money" TV show, the "Stop Trading!" segment on
CNBC
and his
RealMoney
blog posts (these blog post require a
RealMoney
subscription).
: Cramer thinks three banks look like deep values. In a
Feb. 22 blog post,
he wrote: "We've got a couple of week bank stocks that stand out as possible values, considering how much capital they have raised and how much opportunity they have, banks that work regardless of the Volcker Rule or the five octogenarians the administration found to endorse the rule as of this morning." The
portfolio includes
BB&T
(BBT) - Get BB&T Corporation Report
and
PNC Financial Services
(PNC) - Get PNC Financial Services Group, Inc. Report
.
Cramer's Wide-Awake Tech Stocks
: Cramer thinks the tech sector has woken up. In a
Feb. 24 blog post,
he wrote: "What woke up Tech? Oil being up? A sense that tech got too cheap? A recognition that -- as I have been saying -- the quarterly reports really were amazing?" The
Cramer's Wide-Awake Tech Stocks
portfolio includes
Research In Motion
(RIMM)
and
Advanced Micro Devices
(AMD) - Get Advanced Micro Devices, Inc. Report
.
Dealmaker Stocks With Big Upside
: Cramer sees big upside ahead for a couple of companies that have been making acquisitions. In a
Feb. 22 blot post,
he wrote: "
Schlumberger
(SLB) - Get Schlumberger NV Report
gets knocked back to an appropriate entry point that should be seized, and not just because oil's at $80. That's the lid. That's been the lid. It's where everyone knows to sell the group, so ease in to that one." The
Dealmaker Stocks With Big Upside
portfolio includes
Air Products
(APD) - Get Air Products and Chemicals, Inc. Report
and
Smith International
(SII)
.
: Should investors buy the bank bounce? Not according to Cramer. In a
Feb. 22 blog post,
he wrote: "Here's the problem with the banks. We can't figure out what they are supposed to earn, should earn or are even allowed to earn." The
portfolio includes
Bank of America
(BAC) - Get Bank of America Corp Report
and
Wells Fargo
(WFC) - Get Wells Fargo & Company Report
.
Cramer's Semi Satisfaction Stocks
: Cramer believes the semiconductor complex is in a renaissance and that the group has much more room to trade higher. In a
Feb. 19 blog post,
he wrote: "
Intel's
(INTC) - Get Intel Corporation Report
still struggling, but I am betting that there's a ton of option pressure on the name and it breaks out next week." The
Cramer's Semi Satisfaction Stocks
portfolio includes
Cree
(CREE) - Get Cree, Inc. Report
and
Micron Technology
(MU) - Get Micron Technology, Inc. Report
.
Cramer's Don't Miss Glimmer Stocks
: Cramer wants investors to consider the positives in a market that is filled with gloom and doom. In a
Feb. 23 blog post,
he wrote: "Or how about the soon-to-be-announced master limited partnership from
Chesapeake Energy
(CHK) - Get Chesapeake Energy Corporation Report
to handle the midstream assets. I bet that will give you a great return." The
Cramer's Don't Miss Glimmer Stocks
portfolio includes
Home Depot
(HD) - Get Home Depot, Inc. Report
and
Verizon Communications
(VZ) - Get Verizon Communications Inc. Report
.
-- Written by Roberto Pedone in Windermere, Fla.
(Editor's note: At the time of publication and/or original publication of his posts and shows, Cramer owned Home Depot, Intel and Bank of America for his Action Alerts PLUS charitable trust.)
Stockpickr is a wholly owned subsidiary of TheStreet.com.