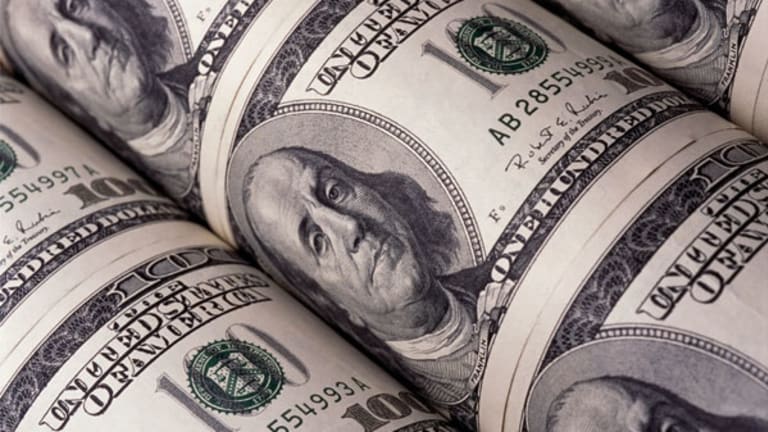 Jim Cramer's Best Blogs
Catch up on Jim Cramer's thinking on the hottest topics of the past week.
NEW YORK (
) --
fills his blog on
RealMoney
every day with his up-to-the-minute reactions to what's happening in the market and his legendary ahead-of-the-crowd ideas. This week he blogged on:
the re-emergence of old-school conviction in the stock market; and
how the Warnaco acquisition hurt PVH's earnings.
for information on
RealMoney
, where you can see all the blogs, including Jim Cramer's -- and reader comments -- in real time.
Old-School Conviction Is Coming Back
Posted at 7:35 p.m. EDT on Thursday, March 28
You have to marvel at what just transpired this quarter. This was the single most triumphant quarter for so many different kinds of stocks that I can recall since the 1990s.
And yet when I read and listen, it is the same old, same old -- cautious bulls worried about Europe, worried about China, worried about sequestration, worried about earnings, worried about Washington.
You can truly say that the last 13 years really did a number on us. In fact, the only time I can recall hearing someone say, "Look, I like these stocks and they must be bought" was today on "Halftime Report," when Laszlo Birinyi just told it like it is and rattled off
Johnson & Johnson
(JNJ) - Get Free Report
,
Priceline.com
undefined
,
Amazon.com
(AMZN) - Get Free Report
,
Sears Holdings
(SHLD)
and a couple of others and said these are going higher. What happened to people like Birinyi? What happened to people with conviction? How did everyone decide that what matters is Slovenia or the chart or Washington or any host of things other than the company?
Also see: Cramer: Learn to Recognize a Stock Bargain >>
Tonight I had the good fortune to interview Fred Hassan, who just penned
Reinvent
, a book that was spawned by the hard lessons of the man who had turned around more businesses successfully than anyone alive. We talked about the importance of leadership, of culture, of the CEO and how much the CEO can mean to the stock price. Between Hassan and Birinyi, I felt totally old school. Otherwise it's all about risk-on, record-high territory,
BlackBerry
undefined
and
Apple
(AAPL) - Get Free Report
.
Let this quarter be a lesson. The times, they have a changed. Old school is coming back. Stocks matter. CEOs matter. Slovenia?
It only matters as to how to get a better price for
Bristol-Myers Squibb
(BMY) - Get Free Report
.
Action Alerts PLUS
, which Cramer co-manages as a charitable trust, is long AAPL, JNJ and BMY.
Calvins Get Between PVH and Profit
Posted at 7:15 a.m. EDT on Thursday, March 28
Darned earnings, they can really screw it up, can't they?
Last night,
PVH Corp.
(PVH) - Get Free Report
, one of my absolute favorite companies, lowered the boom on 2013. The culprit? A new acquisition,
Warnaco
, failed to meet the targets that PVH set when the acquisition closed. So a buck-fifty-two goes to a buck-thirty-three for the quarter, and seven-forty-six goes to seven bucks.
Thud
.
This was a tough one. I know I was hoping for better because I thought that the Warnaco acquisition that closed in February, bringing in the remaining Calvin Klein brands that were not held by PVH, would go smoothly for the company, the way the
Tommy Hilfiger
acquisition did several years ago.
That was wrong. As Manny Chirico, the terrific CEO at PVH, told me last night, many of the Calvin Klein business lines just weren't doing that well, particularly jeans in the U.S., Europe and Korea, the latter being especially weak.
Consequently, instead of the synergies, the guide-ups, and the accretions, we got the dreaded word, dilution, 25-cents worth, and a reset. In short, 2013's no longer a growth year for PVH. Now it is an investment year. And if jeans stay weak, an investment year could mean even less growth than Manny's telegraphing now. In other words, we don't know whether the 25 cents of dilution captures the entire weakness.
That's the bad news.
The good news is that once you ratchet things down and shake out all those who thought this deal would be accretive from the get-go, you might have a decent second-half investment. I would say that you might have a good trade today -- down 5% to 7% -- but enough analysts will be surprised by the sudden inconsistency of this smoothly running operation that the stock has to lay low and repair for a bit. Fortunately, for Manny and the stock, the analysts at J.P. Morgan and Wells Fargo nailed the progression here -- or the regression, depending upon how you feel -- and had softened the beach for the miss. Hats off to J.P. Morgan's Matthew Boss and Wells Fargo's Evren Kopelman for nailing the problems ahead of the quarter. Going into the number, I had thought they were being overly cautious. They were just being right. Very good research.
Also see: Best Retail Stocks for 2013 >>
Unfortunately for current shareholders, it will be hard to figure out what multiple to put on the new $7 estimate figure. I think there will be those who say, "I can't give apparel a premium multiple because it is too fickle" and they will sell PVH down to the high $90s -- a slight haircut to the multiple of the
. I think that the quarter will weigh on
VF Corp.
(VFC) - Get Free Report
, too, because it sells a ton of jeans.
Ralph Lauren
(RL) - Get Free Report
spillover shouldn't be that one-for-one, but I wouldn't be surprised if it also gets whacked pretty hard today off this number. Heck, even the red-hot
Deckers
(DECK) - Get Free Report
could get knocked down a bit by this one. I am not extending it to
Lululemon
(LULU) - Get Free Report
because that stock's in a hurting world of its own.
Lost in the shuffle of the Calvin miasma is how well Hilfiger's doing -- just fine, thank you. Makes me feel that without this acquisition, PVH would have blown out the numbers again. But without it, PVH would not be able to take advantage of all of the brand equity of the House of Calvin Klein and would not be able to build out its whole enterprise in Asia and Latin America. Those are musts for the company. They have to be in those markets for Tommy label expansion, and they will fix Calvin. They didn't buy this idly. They knew what they were getting into. I think, though, that times were better when they bought Tommy, and Manny's quite straightforward when he says that Tommy's European operation was always a well-run gem. The biggest mistake Manny may have made was overestimating how much weakness there was in Calvin Klein right now. All of that can be fixed, though, and you want to be in this stock before that fix is complete. No hurry yet, however.
Is there a larger takeaway here for all of retail? Tough call. The holiday season was terrific for PVH, which didn't close on Warnaco until February. That's old news now, though. The new news? The month of March? Not so hot. Not so hot for the weather and, therefore, not so hot for sales. Yep, the temperature's been way too cold for Tommy shorts and the rest of the spring apparel the merchants are hawking. I think that we are going to hear that gripe from a lot of retailers next week, which bodes poorly for a bunch of operators, particularly
Macy's
(M) - Get Free Report
until, of course, it gets warm and then all is forgiven again. Always hard to play these weather trends.
Also see: Two Beaten-Down Retailers >>
Oh, and yes, there's the
J.C. Penney
(JCP) - Get Free Report
angle. Manny confirmed that it is awful for regular PVH, the premium brands, but it is terrific for the
IZOD
store-within-a-store heritage brands, which is performing on plan. Still, Penney, with its down-30% sales, cost PVH $40 million. One can only imagine how much it cost JCP. Penney, of course, is what makes Macy's a tough short off the weather. It still seems zero-sum.
In all, it was a jarring quarter coming on top of what people think was a weak one for
Five Below
(FIVE) - Get Free Report
, which was just being cautious in its guidance. Total speed bump. But PVH? It's a reset and a reminder that PVH, alas, doesn't sell cereal or bleach, it sells fashion -- and fashion, by its nature, can go out of style.
Action Alerts PLUS
, which Cramer co-manages as a charitable trust, has no positions in the stocks mentioned.