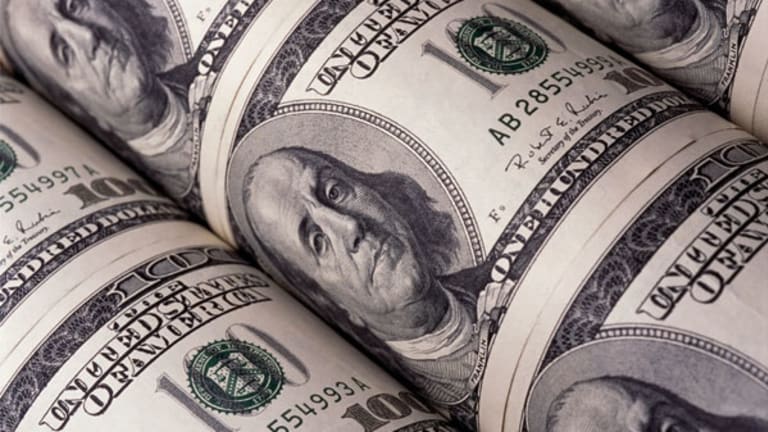 Jim Cramer's Best Blogs
Catch up on Jim Cramer's thinking on the hottest topics of the past week.
NEW YORK (
) --
fills his blog on
RealMoney
every day with his up-to-the-minute reactions to what's happening in the market and his legendary ahead-of-the-crowd ideas. This week he blogged on:
the lessons tech investors can learn from Alcatel-Lucent; and
two growth stocks that provided bright news for the market.
for information on
RealMoney
, where you can see all the blogs, including Jim Cramer's -- and reader comments -- in real time.
Learn the Lesson of Alcatel-Lucent
Posted at 9:07 a.m. EDT on Friday, Nov. 23
We always forget about
Alcatel-Lucent
(ALU)
. Every time we think that this is the moment to buy
Hewlett-Packard
or
Research In Motion
( RIMM) or
Nokia
, we forget about the financial disaster that is right in our face.
I am reminded of this because right now Alcatel-Lucent is trying to arrange a lifeline loan from
Goldman Sachs
(GS) - Get Goldman Sachs Group, Inc. Report
to help shore up its balance sheet and keep it alive, something that causes the stock to jump 8% today to 1.20 euros.
> > Bull or Bear? Vote in Our Poll
Lucent was a colossus that straddled the earth. It had the Bell Labs division of
AT&T
, the brains behind AT&T and all the switching and all the fiber and all the copper. It had the greatest installed base in the world and the best international brand name. Believe me, it could rival
Cisco
(CSCO) - Get Cisco Systems, Inc. Report
and show up
Nortel
every day of the week. You always knew it has the inside track on all of the big
Verizon
(VZ) - Get Verizon Communications Inc. Report
and AT&T deals as those companies grew and grew, and one of its former CEOs, Patricia Russo, showed me LTE in its infancy and explained how Lucent had the next-generation cell phone all to itself.
In short Lucent, at least the Lucent before it merged with Alcatel, seemed invincible. Yes, its previous CEO had inflated revenues, somewhat akin to what Hewlett-Packard accuses its Autonomy division of. But it was still winning tons of business globally after that and was considered the acknowledged leader in all wireless and wireline equipment.
Until it wasn't.
That was until Cisco passed it by in routers and switches, until the design of the cellphone itself became more important than the network, until the cloud emerged and storage farms and Internet highways, until innovation, much better mouse traps everywhere, passed it by.
It hung on. The merger with Alcatel was meant to make it so it could win as much business in Europe as it did here. But new technologies were liked there, too. The brand name? The finest brand name in the world, Bell Labs? It became like
Kodak
. The patents? They have millions of them. All of those Nobel Prize winners!
But the patents are for equipment that's been obviated years ago.
Now it is true that you could have been a buyer of Alcatel-Lucent all the way down. You may still be a buyer. There were so many reasons to do so, just as there are with Nokia or Research In Motion or Hewlett-Packard.
There's value all over the place.
But in the end once you have that vortex it is almost impossible to break out of it. Of the tech stocks that I follow that got into a tailspin, the only one that I have seen rescue itself in this era is
Sprint
(S) - Get SentinelOne, Inc. Class A Report
, and that turned out to be a monumental effort that people are still betting against. Worse, unless you bought it at $2 or $3 or maybe $4 you lost money anyway!
One last thing. Throughout this period many thought Lucent and then Alcatel-Lucent had to make it because if the balance sheet. It always had a good balance sheet, always managed the cash well. So, there were no worries. That's what made me laugh about Alcatel-Lucent's frantic bid to get a lifeline from Goldman Sachs. In the end, the cash always goes, too.
Action Alerts PLUS, which Cramer co-manages as a charitable trust, has no positions in stocks mentioned
.
Two Growth Stocks Restore the Market's Faith
Posted at 10:08 a.m. EDT on Wednesday, Nov. 21
High-multiple heaven! Thank you,
Chipotle Mexican Grill
(CMG) - Get Chipotle Mexican Grill, Inc. Report
, with your accelerated share repurchasing showing how cheap you really are. Thank you,
Salesforce.com
(CRM) - Get salesforce.com, inc. Report
, for delivering a quarter that is led by strength in Germany and France!
Sometimes we can't remember why we like growth stocks. Sometimes because it has been hellish, frankly, ever since Chipotle dropped 100 points in a day. Now it seems to have stabilized, and that can lead one to the conclusion that another part of the bear -- the relentless compression of the high-multiple plays -- may be running its course.
I was stunned last night when Salesforce.com reported, because I expected some hair on its quarterly results, between the tremendous efforts being made in Europe, at a time when that seems pretty dicey, and the impact Hurricane Sandy had on so many clients.
Wrong and wrong. The time spent getting big European clients that had no Salesforce.com software looks like a home run, and Sandy wasn't even a glancing blow.
What I liked best about the quarter was that CEO Marc Benioff, after being cryptic, at least to some, about how he gets to his phenomenal dash to $3 billion in revenue, now breaks out his numbers the way that the
Securities and Exchange Commission
will probably say serves as a model for difficult-to-gauge subscription accounting.
Benioff gives you a half-dozen totally open-kimono ways to judge things. It's as if he took every single critic from Herb Greenberg at
CNBC
to the Sanford Bernstein naysayer and said, OK, we have listened, and here are the numbers you are looking for, and it turns out they are pretty darned good. If you don't understand how to read them, go back to his September tutorial, which explains how to judge deferred revenue in a simple way.
It was an amazing quarter, and the acquisitions he has made, many good, some bad, are creating a brain-trust that is the envy of the software industry.
It's a buy.
Chipotle is a different story. Many believe that the company has lost its way or has been sliced up by the competition. I think it is entirely possible that the competition was sampled in the last few months, notably the higher-end Taco Bell offerings, but I bet they were found wanting, as Chipotle is more of an ethos than an eatery. It remains with the other two in the troika,
Whole Foods
(WFM)
and
Starbucks
.
(SBUX) - Get Starbucks Corporation Report
, a total go-to name for high growth.
When you see these stocks rally, consider them the blood pressure and the tongue depressor that doctors use to measure health.
The patient looks OK today, still one more day when the key levels of the
S&P 500
are tested and, hopefully for the bulls, not found wanting.
Random musings
: Cooking for the kids home from college today, so I want to wish everyone a Happy Thanksgiving and hope that you are enjoying the new, revitalized
Real Money
.
Action Alerts PLUS, which Cramer co-manages as a charitable trust, is long SBUX
.