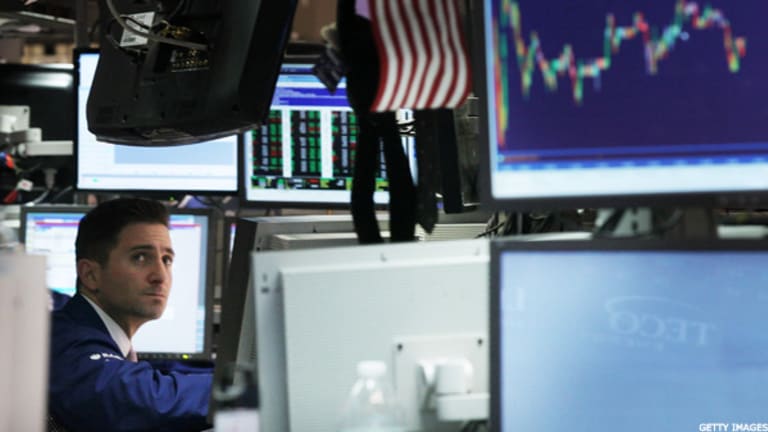 Jim Cramer's Best Blogs
Catch up on Jim Cramer's thinking on the hottest topics of the past week.
Catch up on Jim Cramer's thinking on the hottest topics of the past week.
NEW YORK (
) --
fills his blog on
RealMoney
every day with his up-to-the-minute reactions to what's happening in the market and his legendary ahead-of-the-crowd ideas. This week he blogged on:
why market thinking is upside down when it comes to Apple and Amazon.com; and
two examples of the market's senseless selling these days.
for information on
RealMoney
, where you can see all the blogs, including Jim Cramer's -- and reader comments -- in real time.
May the Worst Man Win
Posted at 7:28 a.m. EDT on Friday, Oct. 26
Two great companies, two different standards. One totally rigorous and one not rigorous enough. I am talking about
Apple
(AAPL) - Get Report
vs.
Amazon.com
(AMZN) - Get Report
and the way Wall Street perceives the two.
First, Apple reported a number that was extraordinary by any means, except by the means of Wall Street, where it was considered horribly disappointing, as if the company is a bunch of brainless, arrogant bozos who couldn't shine Steve Jobs' shoes. IPads, iPods, iMacs, iPhones, iTV all below to well below what the Street was looking for.
Throughout the call there were several undercurrents. Let me tick them down.
The company has too many products, mostly with wrong price points that aren't selling well.
Apple has either made too many devices and they aren't selling or it didn't order enough and weren't ready for the onslaught, two mistakes that are considered equally poor.
Apple's iPads are slowing dramatically, there is a glut developing and the overpriced iPad mini doesn't help the cause.
Apple's current iPhone is a bust and the Samsung competitor is much better.
Apple's $120 billion in the bank is simply burning a hole in the pocket of the company and is another sign that it doesn't know what it is doing.
Tim Cook is an empty suit and we have seen the end of the Steve Jobs products.
Suffice it to say that these analysts think that Apple's pretty much finished and that its 11x multiple on next year doesn't matter because Apple's about to report its first down quarter in Q4, with sales light and expenses heavy. It's a layup short, because we now have enough detail to know that the company's washed up and on the way to
Hewlett-Packard
(HPQ) - Get Report
-like oblivion. Nice to know you, Apple.
> > Bull or Bear? Vote in Our Poll
Amazon, on the other hand, told you nothing on its conference call. In fact, the company basically told you that its policy is to tell you nothing. It shouldn't even have had a call. There were no bright spots. It is selling like a drunken sailor, and who knows if it is really adding customers.
The result? The stock, which sells at an indeterminate price-to-earnings multiple because who even knows if it cares about profitability, goes down for about 10 minutes to the low $200s and then spends the rest of the overnight session rallying. It is loved because, well, it is Amazon and it's doing really well. I mean, isn't it?
If we were to hold Apple to Amazon's standards it would be at $1,200.
Now, I think you own Apple as its products are loved, if it can make them fast enough and it is storming the enterprise. I see its products triumphing in the enterprise as the users simply won't tolerate Hewlett-Packard,
Dell
(DELL) - Get Report
and
Research In Motion
( RIMM) anymore. They want the Apple ecosystem. All of the canards about staying on
Microsoft
(MSFT) - Get Report
-
Intel
(INTC) - Get Report
weren't answered by Windows 8, but more than 90% of the corporate world is stuck on it, and the IT people don't even feel threatened.
Amazon, on the other hand, doesn't have to answer to anyone about how it is spending or even what it is doing.
To me it's nuts. It should be totally the other way around as we told subscribers last night for Action Alerts PLUS. But it doesn't matter. The judgments are being rendered, and Apple falls short and Amazon's better than expected.
So it goes in this, the toughest earnings season since the crash of 2008-2009, when the worst man wins.
Action Alerts PLUS, which Cramer co-manages as a charitable trust, is long AAPL.
A Market Beholden to Fear
Posted at 11:55 a.m. EDT on Friday, Oct. 26
When is enough selling enough? When do you oversell? I keep thinking of some of the quarters that were reported and how sellers came in both before and after, and how wrong the sellers were before and how wrong they could be after.
I keep thinking about two different examples this week that, frankly, are horrifying to me as an investor because they show how the market is totally beholden to scared people who don't know what they fear other than the fear of other sellers.
The first instance is
Broadcom
. When it reported, the quarter was a clean beat and raise, mostly because it is levered to all of the sales being made in smartphones, and
Apple
(AAPL) - Get Report
and
Samsung
are its biggest and best clients. We all know it has the finest technology, and CEO Scott McGregor is highly regarded in the industry.
When the company reported, it immediately ticked up, as it should have given it's the only semiconductor to deliver on expectations and then some. The stock moved to $34 from $33.50 in the few minutes between the opening and when I interviewed McGregor. I joked with him how in this market, even as the company totally delivered on its forecast, there would be someone disappointed and another one scared, so why not take some of your $2 billion dollar cash treasure chest and go $33 big for 1 million shares. It was an absurd suggestion given where the stock was going. But the next day, the stock traded at $31.50.
I spent a huge amount of time trying to figure out what Scott, Stephanie Link, research director of my charitable trust (which owns the stock) and I were missing. Could it have been the cable box business? Hardly, given the numbers we have seen from the cable operators. Could it be a drastic decline in Apple and Samsung businesses that use Broadcom? Point blank, no. We know that from the quarters we just saw that's a false worry. Could it be the fiscal cliff? Hard to pin the tail on that donkey. Europe? That was answered on the call. Why else? Perhaps as a hedge, as part of some tech or semiconductor basket that knocked it down.
Whatever. I think the main reason it was going down was sellers wanted to get in front of other sellers and beat them out of it because it's tech. It doesn't matter that it was good tech, it was tech. And tech can't be owned, right?
The other situation?
Timken
(TKR) - Get Report
, the ball-bearing and precision-steel company I visited last week in Canton, Ohio. It's no secret that Timken's business has been weak. It has a 4,000-person division in China and has been crimped by the slowdown. It has big business in Europe. Its products are used in businesses that could be hurt by the fiscal cliff. The price of oil has come down and oil drillers use their products. So does the military.
All of those were excellent reasons to sell ahead of the quarter if the stock was up a lot. But if you took a longer perspective, you knew this was not commodity steel that can be dumped but proprietary steel that maintains its worth even in a slowdown. Plus, if China comes back on line, this one could roar. Sure enough, Timken reports the so-called bad quarter while China reports terrific numbers at last and the stock goes to $38 from $36. There was no reason to sell it at $36. That was a mistake.
What did Timken sellers fear? More Timken sellers on the weak quarter. What did they miss? Timken buyers who realized the stock would be weak and wanted in.
The conclusion: We presume that all selling is right at this moment. But I need you to recall Timken and think about Broadcom. Because one was wrong, and the other could prove to be wrong simply because the positive facts don't match the negative story.
, which Cramer co-manages as a charitable trust, is long BRCM and AAPL.