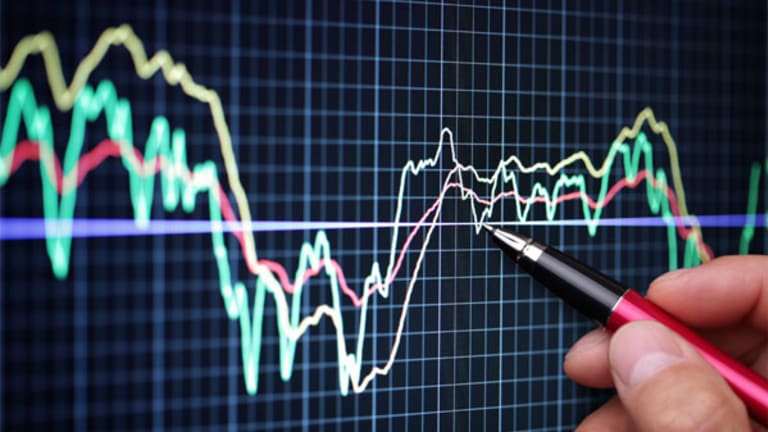 Jim Cramer's Best Blogs
Catch up on Jim Cramer's thinking on the hottest topics of the past week.
Catch up on Jim Cramer's thinking on the hottest topics of the past week.
NEW YORK (
) --
fills his blog on
RealMoney
every day with his up-to-the-minute reactions to what's happening in the market and his legendary ahead-of-the-crowd ideas. This week he blogged on:
why the stock market will crash (but it won't be the Fed's fault);
Google's stumble; and
the reasons for Vikram Pandit's departure from Citigroup.
for information on
RealMoney
, where you can see all the blogs, including Jim Cramer's -- and reader comments -- in real time.
The SEC Will Be the Market's Undoing
Posted at 7:08 a.m. EDT on Friday, Oct. 19
Are higher stock prices bad if they partly occur because the
Federal Reserve
is wrecking the competition in the financial supermarket?
On the 25th anniversary of the 1987 crash, we are going to hear a lot of bubble talk. It's natural. We are reading not only about how it can happen again, but that it
has
to happen again. We are reading, moreover, that this may come about because the Fed is facilitating a stock market bubble with easy money.
First, I agree that another crash is inevitable. But I don't think it will be because of the Fed. I think will be because the stock trading system is too fragile, lacking in any serious regulation, and because the sacrifice of integrity for speed seems to have been blessed by the
Securities and Exchange Commission
. It is almost as if the SEC has decided that we have a need for speed, like the big video game I have at home in the basement, even as there is no definable benefit from speed to capitalism or capital formation and preservation. This speed altar, on which we sacrifice regular investors, is a vestige of a previous administration, which thought volumes would be endlessly growing and that speed could only make things more fair.
> > Bull or Bear? Vote in Our Poll
Instead it has dramatically unleveled the playing field, and helped destroy the image and respect of an asset class.
What makes a crash is inevitable is the unwillingness of the SEC to even question the notion that financial innovation could be malevolent, especially as it applies to something that speeds up trading.
Everything happens too fast for humans to stop it, yet the benefits of the speed simply aren't there. Go ask anyone involved in Thursday's
Google
(GOOG) - Get Report
release. Speed overwhelmed the system and the company, and neither was ready for it.
We have unleashed the Terminator, and we know it, because the government simply supported endless, mindless innovation to benefit a few well-capitalized hedge funds -- innovation that will lead ineluctably toward a second, more lasting, flash-type crash.
Ironically, as it's known by those who remember and traded through the crash 25 years ago, that one was artificial, too. It was caused by a belief that the
S&P 500
futures could be used as insurance to hedge what had been bountiful gains. When the selling in those futures engulfed the market, it simply wasn't big enough to handle the blitz of orders all coming in on one side of the ledger.
It was, in some respects, a flash crash of its own. We just didn't know it. I regard it as a flash crash because it ended up having
nothing whatsoever
to do with the economy.
That brings me back to the Federal Reserve and the so-called pumped-up positions of stocks in this market. I would never disagree with the notion that the Fed has robbed us of a chance to invest in fixed income, because interest rates are just too low to generate an acceptable and responsible return. However, the notion that stocks are somehow pumped up
en masse
by the Fed seems far-fetched to me.
Here's why. Despite the endless attempts to aggregate values of companies by lumping them together in the S&P, an amazingly precise valuation process of individual stocks is occurring.
The ones that give you good quarters are getting revalued higher. The ones that give us bad quarters, like Google,
IBM
(IBM) - Get Report
and
Intel
(INTC) - Get Report
, are going down -- although, despite endless negative chatter here, I wouldn't count them out.
If the Fed were pumping up all stocks, you wouldn't see that bifurcation. It couldn't exist. All boats would be lifted by the fire hose in the lake.
Second, if you insist that we look at the market in aggregate, when the market went into the crash of 1987 it was selling at 29x earnings, in part bid up not by the Fed but by the Japanese, who used to buy U.S. stocks without any price sensitivity. It was, alas, insane, and it was one of the chief reasons why my hedge fund had been in 100% cash into the crash. Boy, was it hard to find anything that didn't trade at a high multiple in the teens.
The S&P now sells at 14x earnings, less than half of what it did in the 1987 crash -- hardly dangerous historically, especially when you consider the return of fixed income. That is why I think the next crash will not be precipitated by the Fed, but by machines that are indifferent to valuations.
In the S&P, as with any average, there are some stocks that pull the averages up, even as there are others that sell well under the average. So the question is, are the ones well above the average "crashable," so to speak, because of their valuations?
There are two groups of stocks that are jacking the averages higher: the dividend stocks and the tech stocks, the latter which account for about 20% of the S&P. That is, by far, the largest segment of the average, although 5% of the whole S&P is
Apple
(AAPL) - Get Report
, which is part of the cohort.
The dividend stocks might genuinely be inflated to some degree because of a desire to get an above-average dividend, courtesy of the Fed's plan. The real estate investment trusts, for example, have been bid up endlessly in a reach for higher yield, and they are no longer acceptable as a way to beat fixed income. But, before we finger that group as a potential catalyst, we have to remember that the REIT sector has outperformed the averages every 10, 20, 30 and 40 years -- the only group that can claim that record of outperformance -- so I am reluctant to trash it. That's too good a record.
The consumer packaged-goods and drug stocks have also given you above-average yield at a higher-than-average price-to-earnings multiple. But be careful about betting against these. Their consistency in a low-growth environment causes money to go into them anyway, and that's more important than any yield competition that the Fed has engendered.
Then there is tech. That's the segment that's wrong, even as Apple itself, the stalwart of the group, trades at a market multiple. That's the segment that's been exposed this quarter as the S&P's soft underbelly, as we saw Thursday from Google. The company missed numbers for multiple reasons having to do with a shift from desktop to mobile, and from a failure to deliver what the advertisers wanted.
Of course, Google is hardly emblematic of the group, even though its performance Thursday sure had been. The sector is led by the semiconductors, which sell on average at a too-rich 20x earnings. Sorry -- I think that, after the events of the last few days, tech can have another step down before it can find its footing. It's just too overvalued as an entire chunk of the S&P.
But how about the huge number of stocks that trade below the market multiple? Those are led by the under-owned banks and industrials. Both of those groups are undoubtedly undervalued if housing is indeed coming back, which it sure seems to be. After all, the current rate doubles the number of homes built from just a couple of years ago, and China looks to be coming back, judging by the numbers we saw this week.
Yes, there is plenty of evidence that China is turning, from the rise in materials prices to the increases in Baltic Freight. Don't believe the bears. China is bottoming, and the "China plays," after two seasons of swooning, are now in ascendance.
So, while the Fed has forced money into the market, you have to look at individual sectors and individual stocks. When you do that you will be pleasantly surprised to see that the groups, other than tech, can't be called historically overvalued at this point in the economic cycle.
Despite a desire by so many to point to a Federal Reserve-inspired bubble that must lead to a crash, the valuations point to anything but such an elevation. Nonetheless, I expect another crash to occur because of the SEC's laissez-faire attitude toward markets that can hurtle down in the blink of an eye because of high-speed trading. But, given the earnings that I am seeing, and the immense profitability we are getting from companies away from tech, you'll want to buy that crash when it occurs. That's because it will have been inspired by the federal government, and just not from the branch you expect.
Here's the bottom line: Indeed, on the 25th anniversary of the crash, I certainly expect another one to occur. But I don't think the Fed won't be on the hook. That crash will be all on the SEC.
At the time of publication,
, which Cramer co-manages as a charitable trust, was long GOOG, IBM and AAPL.
Searching for Answers on Google
Posted at 1:30 p.m. EDT on Thursday, Oct. 18
What the heck happened here? What's going on with
Google
(GOOG) - Get Report
that was not obvious to anyone -- I mean anyone -- including, perhaps, Google given the slipshod way the company reveals earnings?
Here's my take: Google should have made a lot more money than it did off those revenues. It seemed so perfectly positioned, and it had the best call on mobile, uniquely mobile, because it didn't need display ads, which advertisers and users seem not to care for, and could rely on queries.
Given that it's been taking share from everyone, I can't believe it didn't do better. Traffic acquisition costs seem nasty, too.
Execution? Clearly subpar. Communication about how business is really doing? Horrendous.
Let's be really clear: Advertising has been terrific. The companies I talk to are advertising like mad. The recipients of ad dollars -- TV, radio, and even print -- are doing great.
I think the premature release is having a secondary negative story that caused another leg down, but we are going to see a bunch of downgrades. And, yes, it is too early to buy Google -- a stock that had been the "best chart in the book" going into this quarter.
Oh, and as my colleague Matt Horween points out, this early release is just one more item on the endless checklist of what drives individual investors out of our stock market.
Action Alerts PLUS, which Cramer co-manages as a charitable trust, has no positions in the stocks mentioned
.
The Politics Behind Pandit's Resignation
Posted at 7:42 a.m. EDT on Thursday, Oct. 18
How can the stock of
Citigroup
(C) - Get Report
be so strong still, stronger than all of the other bank stocks that have reported, including
JPMorgan Chase
(JPM) - Get Report
? Let me give you a couple of theories, theories that make both Pandit and the board look good.
First, there is no doubt that the last quarter that Pandit delivered put the place on firm footing. To be the only bank that had honest-to-Betsy net interest margin growth is pretty spectacular. To be the bank that owns the emerging markets at a time when suddenly everyone is budging about those emerging markets again is extraordinary. The infrastructure is there and the growth path is obvious.
But second, Pandit, despite an excellent presentation on Capitol Hill during the bad days, is not an inspirational figure. He's a cerebral former hedge fund manager.
Worse, he's considered part and parcel with the previous regime even as that's an unfair rap. The regulators want to see someone new.
I know that sounds dopey. But anyone who has ever been in front of regulators knows that when you challenge them or cross them they want a fresh face in front of them next time.
In other words, the best thing that new CEO Michael Corbat has going for him is he's not Vikram Pandit. He can submit the new capital plan, and the regulators can say, "The board of directors listened, and they picked a new guy, which is what we want."
Now, how the board did it was classless. You are obviously constructively firing a guy if you accelerate a transition to a new CEO. People have pride, particularly after a great quarter like the one just reported.
But what's been most amazing about all of this hoopla is that the great quarter was clearly, totally and completely irrelevant to the board. It's as if it didn't happen at all.
Of course, though, if you are a shareholder -- and remember the shareholders already expressed their ire at Pandit -- then you are thrilled that the quarter was good and happy to have someone new, even as it seems unfair that when a CEO finally gets it right, he gets constructively canned.
What matters in the end is pretty simple: The company's got new management because the old management wasn't allowed to cross into the promised land even as it led the team through the desert in a tortured and roundabout way.
That means it can go higher with the government no longer standing in the way of a buyback and a real dividend, both of which are badly needed if the stock can get back to $5 -- oops! -- I meant $50.
At the time of publication, Action Alerts PLUS, which Cramer co-manages as a charitable trust, was long JPM
.