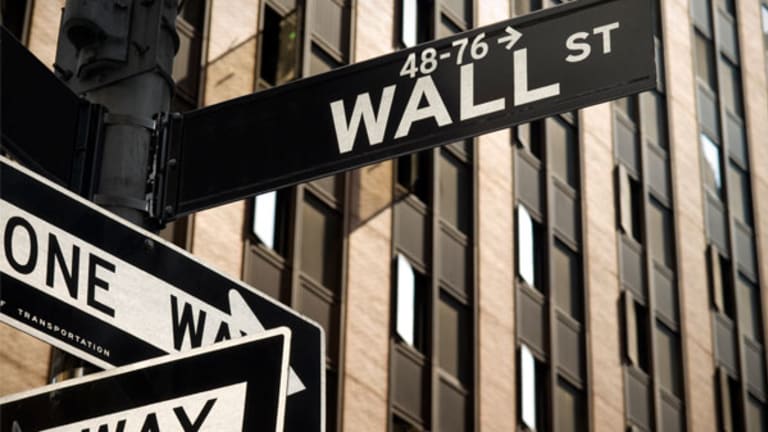 Jim Cramer's Best Blogs
Catch up on Jim Cramer's thinking on the hottest topics of the past week.
NEW YORK (
) --
fills his blog on
RealMoney
every day with his up-to-the-minute reactions to what's happening in the market and his legendary ahead-of-the-crowd ideas. This week he blogged on:
why you should buy the recent dip, not sell it;
why Research In Motion might now be a decent investment; and
which stocks could rally on Chinese stimulus.
for information on
RealMoney
, where you can see all the blogs, including Jim Cramer's -- and reader comments -- in real time.
Add Earnings to Accommodation
Posted at 2:56 p.m. EDT on Friday, Sept. 28
The purists hate this kind of market because it is all about the possibility that the central banks can reverse the course of business events.
It is without a doubt that if the
Federal Reserve
weren't accommodative we would be appreciably lower. So the purists, not seeing any results so far from the Fed, naturally believe we
must
be headed appreciably lower. It's just a matter of time.
The problem with that analysis is that during the time we have gone up gigantically. And if you can just dodge the companies that say something bad, you have been able to make a lot of money until this recent pullback.
I think it's just too hard for most people to relate what seems to be futile activities by central banks to positive stock prices. But put it this way: We have yet to see a gigantic estimate cut for any company save coal. Now, you might think that in two weeks the parade of horrendous earnings is going to begin. I come back and say that this reset we have just gotten is going to cushion some of the disappointment and what isn't cushioned by this decline will be cushioned by more accommodation.
> > Bull or Bear? Vote in Our Poll
I know that seems like a win-win, but that's not what I am saying. I am simply pointing out that we haven't seen a dramatic plethora of preannouncenments because things aren't horrendous. Sure, we point out
Norfolk Southern
(NSC) - Get Norfolk Southern Corporation Report
,
Bed, Bath & Beyond
(BBBY) - Get Bed Bath & Beyond Inc. Report
and
FedEx
(FDX) - Get FedEx Corporation Report
. But we have had a huge number of companies report in the last month, and for the most part the earnings are really pretty good.
So, to me, if you have fairly good earnings and you couple that with accommodation by central banks globally, that adds up to a reason to buy the dip, not sell it. There's simply not enough bad out there, and what's really bad can be offset by the stimulus, which is why I think we held up under the hideous onslaught earlier in the day.
Action Alerts PLUS, which Cramer co-manages as a charitable trust, had no positions in stocks mentioned
.
A Tale of Two Smartphones
Posted at 11:45 a.m. EDT on Friday, Sept. 28
Two phones I don't want. Two phones that had better sell well or else their stocks won't be able to rally. That's how I feel today about both the
Apple
(AAPL) - Get Apple Inc. Report
iPhone 5 and BlackBerry 10 from
Research In Motion
(RIMM)
.
Apple came clean this morning with CEO Tim Cook offering an apology for an Apple Maps application that has been universally panned. While Cook said that the feature will get better as Apple gets more data, I am not holding my breath, and you have to count me out as a buyer. I am thrilled with my iPhone 4S, and there's no way I am going to trade up to an iPhone 5 if the Maps app is a trade down. I use the
Google
(GOOG) - Get Alphabet Inc. Class C Report
Maps application pretty much every time I am on the road or in a strange surrounding. I have always felt OK with directions -- not great, not bad. But my 4S has made my navigation best in class. I have no desire to return to a world where I simply don't know where I am walking or driving.
Plus, there's no way to bridge it: You can't put Google Maps in if you want to, which is horrendous as it makes me feel that Apple's morphed into
Microsoft
(MSFT) - Get Microsoft Corporation Report
in the days when it jammed you with an inferior browser because it simply could. What a terrible about-face from a terrific company that has always been willing to integrate the other guy's stuff if it was better than what they had made themselves.
As far as the BlackBerry 10, it sounds like a dynamite device, and I like the RIMM keyboard style very much, much more than the Apple's touchscreen.
But, after listening to Becky Quick grill CEO Thorsten Heins this morning, I am not sure when the darned thing is going to come out. His refusal to commit to a date, other than some vague first-quarter assertion makes me think that we could go six months before we see the device. Who can wait for that?
I have hated Research In Motion's stock almost as long as I have liked Apple's stock. I think this black eye for Apple is temporary. However, I have been worried ever since Steve Jobs died that the company would compromise on what it gives users. Jobs hated Google, so I can understand the desire to supplant it with a better map application. But Jobs never liked to sell a device before its time, and this one is, by Cook's own admission, not ready for its millions of Maps users.
Still, I think that the stock remains investable, but there is no hurry to buy because it lacks catalysts other than this negative one, which could clearly turn off buyers who are on the fence.
Research In Motion, on the other hand, may not have the BlackBerry 10 in hand, but it sure has the cash on hand, and I am convinced after last night's quarterly report that this stock has become a better long than a short. Now that the bleeding has stopped, Research In Motion might catch a bid for just its intellectual property, including a great keyboard and its 80-million-strong subscriber list alone. I would not normally recommend any stock on a takeover basis, but I think many bidders are hoping Research In Motion goes the way of
Kodak
or
Nortel
and could be bought on the cheap. This quarter put that scenario to rest; therefore, it put the short story to rest, too.
Action Alerts PLUS, which Cramer co-manages as a charitable trust, is long AAPL
.
What China's Stimulus Means for U.S. Markets
Posted at 1:44 p.m. EDT on Thursday, Sept. 27
We keep hearing that stocks have advanced and seeing the headline "Stocks Advance Because of the Hope for Chinese Stimulus."
This headline is a recurring excuse for any advance, particularly a commodity-led one, so perhaps it is worth parsing where we are with Chinese stimulus and what it means for our markets.
First, we always get excited about Chinese stimulus when we see the Chinese stock market rally like it did last night, with a better than 2.5% gain for the most closely followed Chinese stock index. That makes sense when you consider that the European stock indices all turned ahead of when the rich countries agreed, preliminarily at least, to help the poor ones.
But, that said, there have been so many false tells, or indications by that inherently unreliable (if not fixed) stock market, that we can't get too excited. Remember, that stock market remains in what seems like a tremendous bear market that has continually taken out lows and has fallen back to where China was before it actually did stimulate the economy successfully three years ago.
So, rather than get our hopes up, I think we should temper our expectations about when and how large the stimulus will ultimately be while at the same time slice our expectations about how bad things really are. In a world of slower growth, the idea that China could still grow at 5% to 6% would be outstanding, except for the fact that the consensus still believes in a 7%-9% trajectory.
That said, we often have too many stocks that go up on even a whiff of a stimulus program. So it is important to separate what should rally vs. what does rally.
First, when you speak of infrastructure, you are speaking of raw materials. China has a lot of materials already. It has tons of aluminum, even if it is a high-cost and dirty producer. That means stop taking
Alcoa
(AA) - Get Alcoa Corporation Report
up. It doesn't compute.
We also tend to take up the steel stocks. Again, that makes no sense unless they can absorb all of the steel they dump worldwide. Unlikely. But that doesn't mean we shouldn't be buying the ingredients of steel that they don't have. That means iron. I like
Vale
best, and that's what the charitable trust, Action Alerts PLUS, has been buying. Secondarily, they need nearby copper, and that's
Freeport-McMoRan
(FCX) - Get Freeport-McMoRan, Inc. Report
.
How about machinery? Although this is a second derivative, China will need engines and trucks and earthmovers. That means traders will take up
Caterpillar
(CAT) - Get Caterpillar Inc. Report
and
Cummins
(CMI) - Get Cummins Inc. Report
-- really these are the only two worth going with -- but those companies won't see a bump in time to save their quarters, and that is actually what matters.
Finally, there will be a step up in oil, and that's an area that I think is very investable, particularly because of our growing glut here. What China will need to do is import, and when it does, you will want to own not any of the major oils or independents but
Schlumberger
(SLB) - Get Schlumberger NV Report
and its oil-service cohort, such as
National Oilwell Varco
and deep-water driller
Ensco
(ESV)
.
Now, to be fair, everything will go up on real stimulus news. I just want you to realize what you can own, which is just the above, and what needs to be sold as a trade, which is, alas, everything else.
Action Alerts PLUS, which Cramer co-manages as a charitable trust, is long SLB and VALE
.