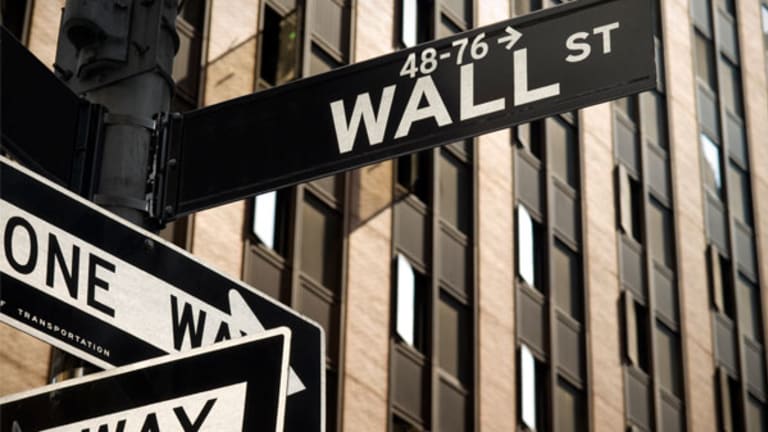 Jim Cramer's Best Blogs
Catch up on Jim Cramer's thinking on the hottest topics of the past week.
NEW YORK (
) --
fills his blog on
RealMoney
every day with his up-to-the-minute reactions to what's happening in the market and his legendary ahead-of-the-crowd ideas. This week he blogged on:
why he's still bullish despite transport stocks' recent declines;
why you don't want to bet against Starbucks' CEO; and
the hazards of technology investing.
for information on
RealMoney
, where you can see all the blogs, including Jim Cramer's -- and reader comments -- in real time.
Singin' the Transports Blues
Posted at 3:37 p.m. EDT on Friday, Sept. 21
Stalled. That's what I regard us as.
Stalled because of the transports, which have turned hideous. Stalled because of the banks, which keep succumbing to profit-taking and downgrades after every microscopic move upward. Stalled because of the endless chatter about how nothing's getting better as stock prices advance. They are leaving the station without a locomotive pulling them.
Me? I don't see it that way. To me today's about
AutoNation
(AN) - Get AutoNation, Inc. Report
and
KB Homes
-- autos and housing. Both the strength in AutoNation, courtesy of a brokerage house talking about the amazing auto market, and the resurgence of KB Homes, courtesy the phenomenal order growth and profit-predictions from this morning's earnings release, show me that the main bullish themes are still very much in play and on track.
> > Bull or Bear? Vote in Our Poll
Sure, I would feel better if the transports were going higher.
FedEx
(FDX) - Get FedEx Corporation Report
has fallen below where it first preannounced.
Norfolk Southern
(NSC) - Get Norfolk Southern Corporation Report
, as predicted, is breaking down, taking the rest of the complex with it. I never ignore
Dow
Theory, even as I don't think anyone thought that coal, the chief cargo of the rails, would ever go into such a precipitous secular decline.
I think it's been a long and hard but good week. I think that profit-taking is in keeping with the preannouncements.
You always want a rally to keep on keepin' on with
Bank of America
(BAC) - Get Bank of America Corp Report
taking out $10, or
Alcoa
challenging the teens, or
Bed Bath & Beyond
(BBBY) - Get Bed Bath & Beyond Inc. Report
bouncing back.
But you can't always get what you want. Sometimes you get what you need -- like a pause in the rally to regain our bearings and shake out the faint of heart.
, which Cramer co-manages as a charitable trust, has no positions in the stocks mentioned.
Buck Starbucks at Your Own Peril
Posted at 11:28 a.m. EDT on Thursday, Sept. 20
To believe in
Starbucks
(SBUX) - Get Starbucks Corporation Report
CEO Howard Schultz or not to believe in him? This morning, in what I regarded as one of the more intense interviews I can recall, Schultz introduced his new coffee machine, the Verismo, a latte/espresso machine.
Schultz ducks nothing. Unlike the
Trulia
(TRLA)
CEO we interviewed earlier, Schultz ducked nothing.
First he said that despite the Verismo entry, there is no coffee war with
Green Mountain Coffee Roasters
(GMCR)
, the maker of the single-serve Keurig machine.
Second, he said that he is seeing a bit of a turn in Europe, that there's "a glimpse of optimism."
Third, while in quiet period, Howard intimated that the slowdown in sales that he saw in this country at the end of the quarter, one akin to what
Chipotle Mexican Grill
(CMG) - Get Chipotle Mexican Grill, Inc. Report
saw, might indeed be reversing.
Now, I know there are plenty of skeptics about the "separate peace" between Green Mountain and Starbucks, with questions being raised by Herb Greenberg, my colleague at
CNBC
, about how long the peace can last. I think Herb makes great points. Isn't Green Mountain eventually the lunch that must be eaten by Starbucks, instead of a partner?
I think we have a "frenemy" situation that will morph into an enemy when and if Starbucks chooses to. Green Mountain does not have the heft to declare its own war, and the pricing of the Verismo, at a discount to the latest high-end machine from Green Mountain, told me that the war might already be on, much to Green Mountain's chagrin. I don't want to own Green Mountain's stock.
But I do want to own Starbucks, and let me explain why. Despite lots of instant catcalls of my positive view on Schultz on Twitter at @JimCramer, I know Schultz as the man who made you one fortune when he brought Starbucks public and then, after the business went wayward under the CEO who replaced him, returned and made you a second one.
He's been Jobs-like in that way, and I know you don't make that analogy lightly.
We've seen an immense amount of skepticism if not outright scorn of CEOs during this bitter lost decade of equities. I know that it's often wrong to put too much stock in any one leader, given the now checkered track record of so many CEOs who had seemed incapable of missing numbers and disappointing investors.
But Schultz? He's two for two. And let me say that the triumphant return of Schultz was not trumpeted by the man. He made it clear when he came back that the turn would not be done in months, quarters or maybe even years. But it would turn.
He's now saying the same thing about Europe that he said about the disappointment in the U.S. years ago. The turn will be gradual, it will be long in the making, but it will occur. And today he said it has started. I am going with Schultz, not against him, because it has been a horrendous bet to go against Schultz in either the first or the second iteration of his leadership, and I think it will be a horrendous bet once again.
, which Cramer co-manages as a charitable trust, has no positions in the stocks mentioned.
Tech Is Treacherous
Posted at 1:33 p.m. EDT on Wednesday, Sept. 19
Get me some tech! I need new names here! That used to be the war cry I had at my old shop every September because I wanted to play the annual seasonal trade in this huge part of the
S&P 500
.
What hasn't moved yet? What has lagged, and what is about to play catch-up? Give me some merchandise!
Suffice it to say that those screams for new ideas aren't working any more. Tech is more treacherous than I have ever seen it and not because of potential shortfalls. It is treacherous because it feels like tech as we know it is going away.
This morning's downgrade of the semiconductor equipment sector is just one more nail in the coffin of the traditional places to run to if you want to own some tech to participate in the annual love fest. Nobody wants to own stocks of companies that pump out expensive machines that make chips for customers who are frantically trying to cut their equipment budgets.
Think about it. For years we have been buoyed by the endless demand for cellphones and personal computers. We could always count on billions and billions sold to replace older, less powerful machines and to meet demand from the lesser developed countries.
Demand is still out there, and billions and billions of devices are actually still being sold. But the trajectory has gone from fast growth to slow growth to no growth and now, in many cases, to year-over-year declines.
Plus, the iterations -- desktops, laptops, notebooks, net books and ultrabooks -- just aren't selling all that well -- certainly not well enough to risk a seasonal bounce.
For years we could always count on some new product cycle. For example,
Intel
(INTC) - Get Intel Corporation (INTC) Report
would come out with a more powerful chip or
Microsoft
(MSFT) - Get Microsoft Corporation (MSFT) Report
would release an important upgrade. Sure enough, we are getting one from Microsoft -- but have you ever seen less enthusiasm for a new cycle, especially when those of us who have tried it find it very exciting? I smell a secular decline, not a cyclical one, and it is being hastened by the $700-billion behemoth that is
Apple
(AAPL) - Get Apple Inc. (AAPL) Report
.
The amazing thing is that we know that Apple is a small part of this personal computer market. But it's almost as if the better mousetraps abound and the marginal purchase of a laptop or desktop is going to Apple and the tablet market, which is on fire, seems like a replacement for the entire industry.
Now that Apple is about to ship the new and powerful iPhone 5, I am sure that many will simply stop carrying personal computer (PCs) and go for a two-device world. And neither device is made by
Dell
(DELL) - Get Dell Technologies Inc Class C Report
or
Hewlett-Packard
(HPQ) - Get HP Inc. (HPQ) Report
-- and neither has Intel or Microsoft in them.
Dell's got a 3% yield. Any takers? Not with a lineup that sells machines into Europe and government and has tried to build out enterprise hardware and software and yet keeps disappointing. Hewlett-Packard? I don't know what to say. It can't seem to reinvent itself, it doesn't have a tablet, and its machines are almost all commodity. It has huge sales but not a lot of value.
Now it's not as though there is no tech worth owning at all. It's just that there's nothing new to buy in any of the iterations out there that has the potential to generate anything close to an upside surprise.
Think about it. Intel is as cheap as I have ever seen it, and the company has some solid product lines leveraged to the Internet and storage. But it has preannounced to the downside and is supported only by the bountiful 3.86% yield. You want to own
Advanced Micro Devices
(AMD) - Get Advanced Micro Devices, Inc. Report
? Good luck.
Micron
(MU) - Get Micron Technology, Inc. (MU) Report
? No thanks. They are just value traps with balance sheets that look tattered compared to Intel, although so does almost every other company's balance sheet.
Texas Instruments
(TXN) - Get Texas Instruments Incorporated Report
? I just told you it is struggling to make the numbers. That's not something that will turn on a dime.
Nvidia
(NVDA) - Get NVIDIA Corporation Report
is a battleground, but the latest data points are negative. You can own
Xilinx
(XLNX) - Get Xilinx, Inc. (XLNX) Report
and
Altera
(ALTR) - Get Altair Engineering Inc. Class A Report
, but then again, they sell into communications and that market can be very spotty, despite the need for chips that allow for more speed and better graphics for cellphones.
That leaves
Broadcom
undefined
,
Cirrus Logic
(CRUS) - Get Cirrus Logic, Inc. Report
and
Qualcomm
(QCOM) - Get QUALCOMM Incorporated Report
, all of which are linked to smartphones. Shares of Cirrus, the sound chip company, have rallied and rallied and rallied some more. The darned thing is up 170%, so it is hardly undiscovered. I actually think that both Qualcomm, up 17%, and Broadcom, up 25%, for the year can be bought. But the charitable trust already owns Broadcom and you can't own both.
If the semiconductor companies away from those that provide to Apple aren't seeing rising demand, it stands to reason that those stocks can be avoided. Admittedly, I do find
Lam Research's
(LRCX) - Get Lam Research Corporation (LRCX) Report
special situation intriguing because it just made the
Novellus
acquisition, and that is going to provide synergistic upside. The analysts don't care, though, and it got downgraded today, at $33, from someone who loved the stock in the $40s.
You want to own disk drive stocks when Apple doesn't rely on disk drives for its fastest growing product lines. All you are doing is playing cash flow and momentary supply-demand imbalances and talk about trades that have already occurred;
Seagate
(STX) - Get Seagate Technology PLC Report
is up 80% this year. You can buy
Western Digital
(WDC) - Get Western Digital Corporation Report
, but remember, it just preannounced to the downside.
So, if it is in the PC, people don't want it.
Now this still leaves a couple off fertile investable areas. I like
EMC
(EMC)
because it's linked to big data, which is still a growth area. Its subsidiary,
VMWare
(VMW) - Get VMware, Inc. Class A Report
, is growing, too. The cloud's still got bounce because of the endless demand generated by companies such as
Google
(GOOG) - Get Alphabet Inc. Class C Report
, Apple,
Amazon
(AMZN) - Get Amazon.com, Inc. Report
and
Netflix
(NFLX) - Get Netflix, Inc. (NFLX) Report
.
But, with the exception of EMC, those stocks, including
Salesforce.com
(CRM) - Get salesforce.com, inc. Report
,
Equinix
(EQIX) - Get Equinix, Inc. Report
and
F5 Networks
(FFIV) - Get F5 Networks, Inc. Report
aren't cheap by any means.
However, the pipes to big data, led by
Cisco
(CSCO) - Get Cisco Systems, Inc. Report
, seem to have stalled, and there are rampant stories of Cisco discounting to wipe out its competitors, such as
Juniper
(JNPR) - Get Juniper Networks, Inc. (JNPR) Report
, once and for all. Meanwhile the big telecommunication companies, including
Verizon
(VZ) - Get Verizon Communications Inc. Report
and
AT&T
, just aren't spending that much. When they do, they tend to spend it on cellphone towers. Gone are those gigantic budgets that are needed to build out next generation systems. The 4G infrastructure spending is almost complete.
Oracle
(ORCL) - Get Oracle Corporation Report
reports this week, and I am not that concerned about it because it's not expensive. But I don't see big money being made there. I would rather own pseudo tech names such as
IBM
(IBM) - Get International Business Machines (IBM) Report
,
SAP
(SAP) - Get SAP SE Sponsored ADR Report
and
Accenture
(ACN) - Get Accenture Plc Class A Report
, which are three terrific consulting companies.
In addition, the Internet itself does present some opportunities. Google's not expensive and it has plenty of runway ahead of it, particularly because of the failure of others in the space, including
Yahoo!
(YHOO)
, to keep up. The social media companies that came public all seem overvalued with market leader
LinkedIn
(LNKD)
selling at 200x earnings after rallying 95%. Let's just say you aren't early. I have no desire to catch the bottom in
Groupon
(GRPN) - Get Groupon, Inc. Report
or
Zynga
(ZNGA) - Get Zynga Inc. Class A Report
.
Oddly enough, that leaves
Facebook
(FB) - Get Facebook, Inc. Class A Report
, of all things, as an interesting idea. The new ad forms, I am told, are actually doing quite well for advertisers. If that's the case, then the bit supply coming out of lock-up will be met with good demand. I think it's actually worth owning, given that it is still down huge and it is now addressing its mobile weakness with alacrity.
Still, you put it all together, and you are stuck with a group that doesn't have enough players to buy that aren't already exploited.
That's why it's so difficult. That's why people keep piling into Apple and its derivatives. They are, alas, the only games in town.
, which Cramer co-manages as a charitable trust, is long AAPL, BRCM and EMC.