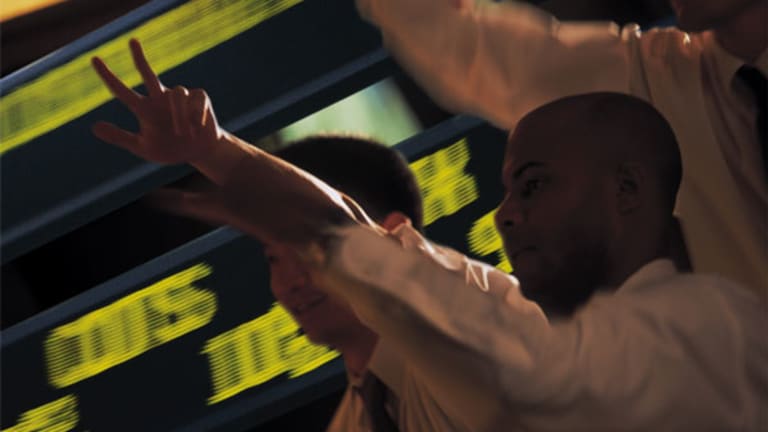 NEW YORK (
) --
fills his blog on
RealMoney
every day with his up-to-the-minute reactions to what's happening in the market and his legendary ahead-of-the-crowd ideas. This week he blogged on:
why the recent rally may cool;
a stealth Apple-derivative play; and
why Apple is a stock to own, not to trade.
for information on
RealMoney
, where you can see all the blogs, including Jim Cramer's -- and reader comments -- in real time.
Watch the Patterns
Posted at 3:50 p.m. EDT on Friday, Sept. 14
I cannot, for the life of me, figure out how much of this rally is short-covering. Today I am watching the apparel companies, and I am thinking it's short-covering aplenty.
Deckers
(DECK) - Get Deckers Outdoor Corporation Report
, which has been languishing seemingly forever after a bunch of misses, has now stabilized and is gapping up nothing, a sign that this perennial short may be worrying the bears.
> > Bull or Bear? Vote in Our Poll
PVH
,
Ralph Lauren
(RL) - Get Ralph Lauren Corporation Class A Report
and
V.F. Corp.
(VFC) - Get V.F. Corporation Report
, three names that have been in the cross-hairs of shorts because of their European exposure, now seem to be in orbit now. That feels like beleaguered shorts who have just thrown in the towel. The same goes for
Fossil
(FOSL) - Get Fossil Group, Inc. Report
, which is going crazy to the upside.
Even
Coach
(COH)
, which "blew" it, has a feel of "time to cover." Only
Nike
(NKE) - Get NIKE, Inc. (NKE) Report
, which has everybody freaked out, has been able to buck the bullish trend.
Or how about the
Zynga
(ZNGA) - Get Zynga Inc. Class A Report
/
Groupon
(GRPN) - Get Groupon, Inc. Report
world? The law of small numbers precludes Zynga and Groupon from being home runs. It is time to cover. Plus, the whole group is getting a boost from
Facebook's
(FB) - Get Facebook, Inc. Class A Report
bounce, which now comes under the category of something real and something animal-spirited.
There had been a sense that the high-growth restaurant names peaked post-
Chipotle
(CMG) - Get Chipotle Mexican Grill, Inc. Report
, but the other day a boutique research firm said that
Panera's
(PNRA)
numbers could be stronger than expected. The group sustained a jarring upward move, although today Chipotle's giving up some of the Panera-inspired gain.
Watch these patterns -- they are often gains made at the later end of an advance. The powerful rally yesterday on top of day-after-day increases means, to me, that it is time to cool off, because now these gains are the froth that comes from the Johnny-come-latelies and the hedge fund coverers.
This is not a reason to sell, but it can help us understand why the market may stall out now after its remarkable advance. You can only be led by these stocks for so long before the rally becomes very long in the tooth.
Action Alerts PLUS, which Cramer co-manages as a charitable trust, has no positions in the stocks mentioned.
A Stealth Apple-Derivative Play
Posted at 7:53 a.m. EDT on Thursday, Sept. 13
Everybody loves playing the derivatives for the new
Apple
(AAPL) - Get Apple Inc. (AAPL) Report
iPhone, and my take is that you are too late for almost all of them, as they have roared into the launch.
That's the case except for one. It's a stealth play called
Millennial Media
(MM)
, a nifty little company that just came public, and I spoke to CEO Paul Palmieri on "Mad Money" Wednesday night. Millennial helps advertisers reach people through mobile devices on the Web.
We hear a lot about the monetization difficulties on mobile compared with, say, the desktop. However, I am beginning to think it is more of an opportunity -- just an opportunity that's been blown by many companies so far, including
Facebook
(FB) - Get Facebook, Inc. Class A Report
, because they didn't see it coming.
Millennial sure did. It deals only in mobile. It's up against
Google
(GOOG) - Get Alphabet Inc. Class C Report
, which is the biggest player, and Apple, which also has an advertising-service business -- except this is one of those rare situations in which a company you may not have heard of, Millennial, is actually beating Apple. The major reason for this is that Apple's ad system, unlike that of Millennial, does not support the Droid -- and the Droid is the biggest smartphone product there is.
Meanwhile, Millennial supports everyone's system -- and the bigger, better and higher resolution a smartphone is, the more money it will get for ads. So it is a pretty terrific derivative play.
Why is mobile not problematic for Millennial? The new cell phones enable advertisers to communicate through video, and mobile video is one of the most successful forms of advertising there is. Advertisers are paying more money for mobile video than they are for desktop banners, and the adoption is just occurring.
I believe that, with the trends going as they are, it will be difficult for Millennial to stay independent. It's a wonder that, at $1 billion in market capitalization and 75% revenue growth, this company hasn't been picked off already -- especially considering how so many others are struggling with mobile monetization.
So why is it languishing at the level it occupied when it came public? First, we know the misery that social and mobile Internet stocks have visited on shareholders. Second, 64 million shares will be freed from a lock-up on Sept. 25. Given that there are only 73 million shares outstanding, you know people have to be worried about this, potentially the mother of all expirations.
Look, this could turn out to be a
Yelp
type of situation, in which so many shorts were put on ahead of expiration that the stock ran when there wasn't enough supply for the shorts to cover on.
You also can't presume, given how well the company has executed and how it should be nicely profitable next year, that the stock will be for dumped by all of the venture capitalists in the deal.
Nevertheless, it is sure worth doing the work, because all of the growth trends are going Millennial's way, and you have to believe one of the major online players would like a stake in the mobile ad server and support game. They sure can't buy the No. 1 and No. 3 players -- respectively, Google and Apple. But to snap up the No. 2 player -- now, that makes all of the sense in the world.
Action Alerts PLUS, which Cramer co-manages as a charitable trust, was long AAPL.
Just Bite Into Apple Already
Posted at 3:24 p.m. EDT on Wednesday, Sept. 12
Oh, for heaven's sake, stop trading
Apple
(AAPL) - Get Apple Inc. (AAPL) Report
and start owning Apple. People are trading the stock as if it were a movie and sending it up and down based on the latest review.
Look, I get the importance of the iPhone to Apple: It accounts for 70% of the company's earnings. I understand that some people are always going to be disappointed that it doesn't have this feature or that gizmo. But the important thing is that so many people have hung back and waited for this new iteration as a way to take advantage of the new rollout of 4G that it might just sell well anyway. And given that
Sprint
(S) - Get SENTINELONE, INC. Report
is ready to go to war with
Verizon
(VZ) - Get Verizon Communications Inc. Report
and
AT&T
to give it to you, the subsidies will be heavy and the demand excellent.
I think this Apple parlor game is repulsive. You are playing trends that can't be played -- basically what others with very little capital at work might do or not do with every penny trade in any direction. You are gaming the psychology of the moment and not the earnings of the era.
Here's what you should be owning, not investing: an earnings stream that is growing at 15%, that you are getting for 14x earnings, which is what the average stock is selling for in the
S&P 500
.
Is this an average stock with average growth? No, it is among the greatest wealth creators in the world with a vastly superior growth-and-balance sheet.
You want to flit in and out of Apple to catch the latest review or day's sale? Or do you want to own a stock that's just too cheap not be owned, one that money managers all over the country have to own in order to show that they were in the game or in order to beat the game going into the fourth quarter.
I think owning it has it all over trading it. Nothing I heard today changes my mind.
Action Alerts PLUS, which Cramer co-manages as a charitable trust, was long AAPL.