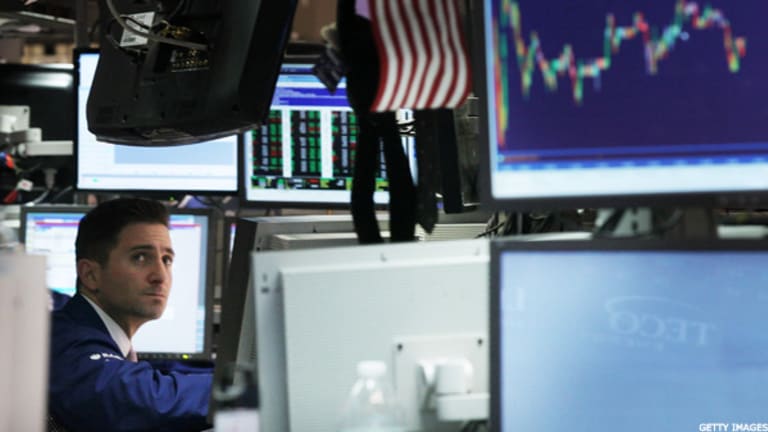 NEW YORK (
) --
fills his blog on
RealMoney
every day with his up-to-the-minute reactions to what's happening in the market and his legendary ahead-of-the-crowd ideas. This week he blogged on:
some important breakouts in the market;
why there's plenty of space for the Kindle and the iPad; and
why Apple's iPhone 5 will win.
for information on
RealMoney
, where you can see all the blogs, including Jim Cramer's -- and reader comments -- in real time.
The Market's Unheeded Flashing Signals
Posted at 3:44 p.m. EDT on Friday, Sept. 7
Sometimes I feel that I am the only guy looking at stuff, because the moves are so breathtaking, I think no one should be talking about anything else.
I am talking about the gigantic breakout moves in copper and the euro today. These are big billboards saying "Buy China" and "Buy international companies with big European businesses," and I think not everyone is seeing it right.
First, 40% of copper is used by China. You can't get this lift unless something is really happening there, something meaning a lot more than what we have currently heard about.
> > Bull or Bear? Vote in Our Poll
Second, so many of our companies are using $123 on the
CurrencyShares Euro Trust
(FXE) - Get Invesco CurrencyShares Euro Trust Report
as the benchmark for the quarter that if this keeps up, we are going to have revisions upward for
Procter & Gamble
(PG) - Get Procter & Gamble Company Report
and
Kimberly-Clark
(KMB) - Get Kimberly-Clark Corporation (KMB) Report
and
Coca-Cola
(KO) - Get Coca-Cola Company Report
and
Johnson & Johnson
(JNJ) - Get Johnson & Johnson (JNJ) Report
, and they aren't moving up enough right now on that good news.
Sure,
Caterpillar
(CAT) - Get Caterpillar Inc. Report
and
Freeport-McMoRan
(FCX) - Get Freeport-McMoRan, Inc. (FCX) Report
are roaring. I like that. The coal plays have traction. But these are breakout moves that are game-changers. So much of what has stalled this market had to do with a breakdown of both of these.
What if we get a breakout?
I think there are plenty of stocks as diverse as
United Technologies
undefined
and
3M
to
Alcoa
and
Boeing
(BA) - Get Boeing Company Report
that don't reflect either move.
Nah, the people I talk to? Everyone hates this market today as much as they hated it before.
Like it doesn't matter. Like nothing matters.
Action Alerts PLUS, which Cramer co-manages as a charitable trust, is long BA.
The Kindle Doesn't Threaten the iPad
Posted at 1:54 p.m. EDT on Thursday, Sept. 6
There's room for more
Amazon
(AMZN) - Get Amazon.com, Inc. Report
Kindles and more
Apple
(AAPL) - Get Apple Inc. (AAPL) Report
iPads. There just may not be as much room for personal computers.
I am hearing a lot of chatter about how Apple's iPad could be hurt by the new Kindle because, technologically, there's so much that's improved and exciting about it. Plus, Jeff Bezos, Mr. Amazon, is apparently going to be personally introducing this version of the Kindle.
So why am I not sweating the Apple program? Because this tablet business is anything but zero-sum. It is still in its infancy, and there could be tens of millions of these devices sold in the next few years.
Amazon doesn't disclose numbers, so we have no idea how many Kindles it has sold or is about to sell, given what seems to be a back-order issue, which is, of course, a real high-quality problem. Some wags say they have been selling a million a week.
That seems radically high to me from looking at the quarterly numbers, but some estimates put the amount possibly at about 20 million sold.
We know that Apple has sold more than 60 million iPads, and that's probably a low-ball number these days, given the fluid nature of the product and the lack of current data, owing to where we are in the quarter.
Suffice it to say, though, that if Amazon has sold a million Kindles a week and Apple has sold 70 million iPads, a decent guesstimate, maybe 120 million tablets have been sold.
And that, I can tell you, is a very small number compared with the demand, especially when you think that the PC, like
McDonald's
(MCD) - Get McDonald's Corporation (MCD) Report
with hamburgers, has had billions upon billions sold.
What's more important to consider is how few real players there are against Apple and Amazon. In the personal computer space, dozens of companies are duking it out, but just think about how
Hewlett-Packard
(HPQ) - Get HP Inc. (HPQ) Report
and
Dell
(DELL) - Get Dell Technologies Inc Class C Report
did for years during the halcyon PC days. Their stocks were remarkable performers long after a billion PCs had been sold, and I would argue that not only does the tablet open up a whole new market for devices -- like cellphones did -- it also can cannibalize the personal computer in all of its iterations -- desktop, laptop, notebook, ultrabook -- which easily gives you the opportunity to sell a billion devices worldwide. If Apple can get the lion's share of that market, something we all know is doable, it can easily sell 10 times the number of iPads it has sold already, and that's not in the numbers.
I think people don't get the ability for multiple players to be in this market. They somehow think that in order to justify Apple's market cap, it has to have another iPod on its hands, which is game, set and match for a device.
All Apple needs to do is follow the PC path, and it will be able to sell tablets as far as the eye can see and not run out of room.
To me, the iPad and the Kindle are both winners, as are the stocks of both Apple and Amazon.
Action Alerts PLUS, which Cramer co-manages as a charitable trust, is long AAPL.
The iPhone 5 Still the De Facto Winner
Posted at 8:04 a.m. EDT on Thursday, Sept. 6
You can read all about the
Nokia
(NOK) - Get Nokia Oyj Sponsored ADR Report
and the
Motorola
phones and think that maybe these are, at last, the
Apple
(AAPL) - Get Apple Inc. (AAPL) Report
rivals that people want.
To me, that means that the Nokia and Motorola supporters are dismissing two key points:
1. The youthful demographic likes the Apple ecosystem. They want their music on their phone. They want all things Apple because they like the look and feel of what Steve Jobs created.
2. The big telcos have to get behind Apple, not Motorola and Nokia, because otherwise customers will switch to
Sprint
(S) - Get SENTINELONE, INC. Report
, which is coming on strong with the heavily-subsidized Apple offerings. Sprint is the third player that neither
Verizon
(VZ) - Get Verizon Communications Inc. Report
nor
AT&T
thought could still be a third player -- and it is doing so with Apple.
No kidding that the prospect of the new iPhone5 is freezing the old 4S. We know that the hole in the release that could end in September will define Apple's fourth quarter.
But more important, the Nokia and Motorola offerings don't seem to have anything that is
so
fabulous that you want to go with theirs and not Apple.
Nokia's being downgraded all over the place because Windows 8 doesn't seem to be grabbing people. Motorola? After the Verizon/ATT/Sprint subsidy, Motorola's just not good enough to switch.
It's not game-set-match Apple because people like the
Google
(GOOG) - Get Alphabet Inc. Class C Report
operating system too, and, of course, Google is Motorola.
But Apple's iPhone5 is the
de facto
winner simply because these new competitive iterations don't have anything on the Apple 4S, and that's the
old
Apple phone.
Action Alerts PLUS, which Cramer co-manages as a charitable trust, is long AAPL.