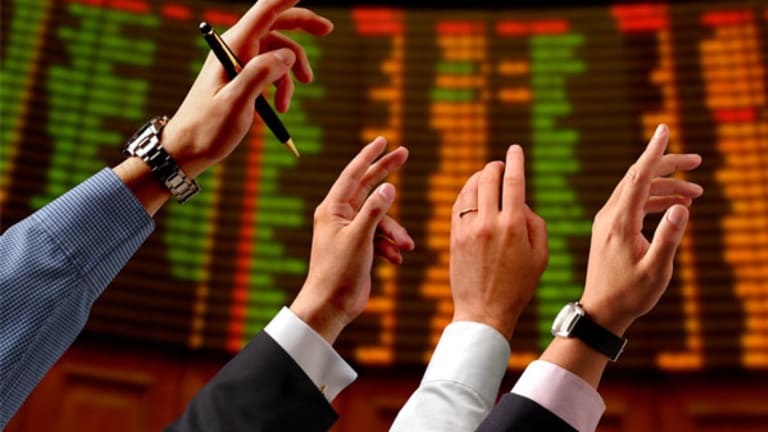 Jim Cramer's Best Blogs
Catch up on Jim Cramer's thinking on the hottest topics of the past week.
NEW YORK (
) --
fills his blog on
RealMoney
every day with his up-to-the-minute reactions to what's happening in the market and his legendary ahead-of-the-crowd ideas. This week he blogged on:
three stocks you should keep an eye on; and
why Dell and HP are looking more and more like dinosaurs.
for information on
RealMoney
, where you can see all the blogs, including Jim Cramer's -- and reader comments -- in real time.
Three Top-of-Mind Stocks
Posted at 10:15 a.m. EDT on Friday, Aug. 24
What do people want out of a CEO, a company and a stock? Let's take three top-of-mind examples:
Salesforce.com
(CRM)
,
Sprint
(S)
and
Hain Celestial
(HAIN)
.
First, the easiest, Hain. People want to see an earnings beat that's big, a guidance raise that is huge, and signs that commodity pressure and gross margins are not an issue because the customer will pay up for the product. With the quarter announced yesterday you got all of that, especially with the acquisition of
Premier Foods
, which was accretive to the tune of an immediate 25 cents a share. When your company sells at 9 times EBITDA and the acquired company sells at 5 times EBITDA, it will happen.
> > Bull or Bear? Vote in Our Poll
Irwin Simon's Hain, like
Whole Foods
(WFM)
, is riding perhaps the greatest secular investing trend of the next generation: health and wellness in order to fight the toxins that might otherwise give us cancer and other diseases. He is at the forefront. So is Whole Foods.
They go higher.
Next is Sprint. Dan Hesse is shocking people with what he is accomplishing, and when I asked him whether it was the product --
Apple
(AAPL)
-- the balance sheet or the service that is responsible for the turn, he said it was a little of all three, but the service stands out because he is recapturing old Nextel customers who would have otherwise been lost, at a rate that is about three times what it was eight months ago.
Sprint's future always hinged on the ability to keep the disastrous Nextel acquisition from wiping it out. If Hesse could do that, Sprint's unlimited plans and Apple phones would take care of the rest. It will take many years for this to play out, but I think the turn is in its infancy, and I like Dan's assurances to me that there are no "Mission Accomplished" signs flying at headquarters.
Of this troika, the most difficult to fathom is Salesforce.com. First, it has run in anticipation of a good quarter. Second, there is no doubt that CEO Marc Benioff is running the fastest-growing tech company of the era in terms of blowing through billion-dollar milestones. Third, his company is despised by a small group of analysts who believe that it is just a house of cards, despite outstanding operating cash flow, which is what I use to test the "real" numbers.
I read all sorts of lies about Salesforce.com -- that it's not really making any money, that it is just a Ponzi scheme, that its products don't work well, that the acquisitions are papering over weakness.
In reality, Benioff is just trying to accumulate all of the technology he can in an amazing land grab before everyone else gets it.
He's doing exactly what
Oracle
(ORCL)
,
Microsoft
(MSFT)
and
SAP
(SAP)
did in a different era.
Throughout those trajectories, people sniffed and catcalled and shorted, and it didn't work out.
The fact that of all of the metrics -- and I count 10 of them -- the only one that was "disappointing" was a guide-down in the next quarter, despite a guide-up in the next year, tells me that the huge after-hours selloff was extreme.
So, three companies. One that is perfect, Hain, but is now expensive, one that is long-term positive, Sprint, with real profit-taking, and one that is so controversial as to be a total battleground, Salesforce.com.
If you can stomach a battleground -- hard for me -- Salesforce.com is right, and it was just kept down by endless short-selling last night. If you have patience, Sprint is going to continue to work, in my opinion.
And Hain? Let's just say let the market bring it down a little for you, because the company's execution sure won't. It was and is flawless.
At the time of publication, Action Alerts PLUS, which Cramer co-manages as a charitable trust, was long AAPL.
It's Better-Mousetrap Time
Posted at 7:36 a.m. EDT on Friday, Aug. 23
Hewlett-Packard
(HPQ)
and
Dell
(DELL)
-- back to back -- made me reminiscent of the old days, the days when I used to follow
Data General
and
Digital Equipment
.
Those were two mighty and proud companies, the first being the company that toppled
IBM
(IBM)
with its speedy yet less expensive midrange computers. The second? The Soul of a New Machine, just the most reliable boxes, so good that Michael Bloomberg selected them as the platform for the first
Bloomberg
terminals. Talk about an endorsement.
Both companies developed proprietary technology that put them head and shoulders above the competition, and their stocks were fabulous gainers, the belles of tech, the ones you reached for first on any good tech news.
And then they were gone. Just like that. Defeated by more powerful yet cheaper desktops with commodity, not proprietary, technology. The model evolved and made things obsolete. Better mousetrap. The three companies that ran hardest with it? IBM, Hewlett-Packard and upstart Dell.
Eventually, IBM realized that it had no real value added. It was all a commodity anyway. It sold its PC business to
Lenovo
for $1.75 billion. People were thrilled that they did, and IBM's been getting a higher multiple ever since that sale eight years ago. IBM went into outsourcing and software and in the last few years has been a total home run.
But Dell and Hewlett-Packard? They stayed with personal computers. HPQ had a superior printing business, and it also bought a consultant, but it made its bread and butter in the corporate PC market and then spread out through the enterprise. Remember, HPQ specifically went the other way from IBM and doubled down on personal computers a decade ago when it merged with
Compaq
.
Dell was the cheapest and the best-run. It took the commodity parts, assembled them cheaper than everyone else and became the dominant consumer brand and ultimately the chief rival to HPQ in the enterprise.
Unlike Digital Equipment and Data General, both branched out toward higher-value-added products (although you could argue that DGN did develop the first truly sophisticated inexpensive storage unit using bundled hard drives). Hewlett-Packard bought
EDS
, the consulting company, four years ago to compete with IBM and
Accenture
(ACN)
. Dell made acquisition after acquisition to provide more value on big contract wins.
But neither was able to break away from the core businesses, and HPQ, in the end, made the disastrous decision to overpay for
Autonomy
, shelling out more than $10 billion for this global enterprise software company.
We had a real horse race between these two for a bit about who was the PC champion, but suddenly
Apple
(AAPL)
came in with game-changing technology, both the iPhone and then, devastatingly, the iPad and poof, there went the hold on business and consumer that these two giants had. They now seem like two Goliaths to Apple's David, not unlike what Digital Equipment and Data General became when Intel and Microsoft delivered their one-two punch in the late 1980s. This time, proprietary trumped commodity because proprietary was simply a better universe.
Now people are going to say don't worry, there's good value here. They are going to point to balance sheets as evidence. But right until the end, Data General had a fabulous balance sheet, and DEC's wasn't anything to laugh at. But they had lost the technology battle to a better mousetrap.
It has happened again. With these two disastrous quarters, Hewlett-Packard and Dell are well on their way to being the next Digital Equipment and Data General. Sad, but true, and without some real miracles the end will be similarly painful. At least Data General got a low-ball bid from
EMC
(EMC)
in 1999. Digital Equipment? It just disappeared, with the remains sold to, alas, Compaq and they rest in peace at none other than Hewlett-Packard.
At the time of publication, Action Alerts PLUS, which Cramer co-manages as a charitable trust, was long AAPL.