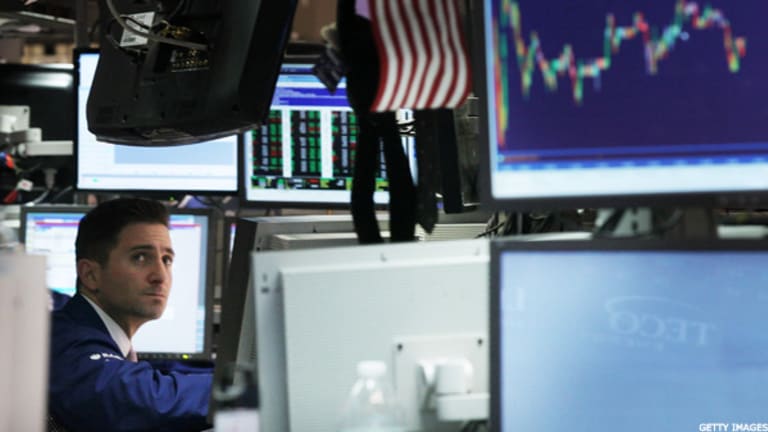 Jim Cramer's Best Blogs
Catch up on Jim Cramer's thinking on the hottest topics of the past week.
NEW YORK (
) --
fills his blog on
RealMoney
every day with his up-to-the-minute reactions to what's happening in the market and his legendary ahead-of-the-crowd ideas. This week he blogged on:
bears and the current rally;
biotech stocks to watch; and
Wall Street analysts' lame recommendations.
for information on
RealMoney
, where you can see all the blogs, including Jim Cramer's -- and reader comments -- in real time.
Is the Rally for Real?
Posted at 3:40 p.m. EDT on Friday, July 27
Does anyone believe? I don't know many who do.
I don't know many people who think Europe can do anything about its problems; they believe that, in the end, Europe will have to crash and burn. I know plenty of people who think, "Fool me once, my fault. Fool me twice, my fault. Fool me three times, my fault -- so I am not going to be fooled again."
That means they are underinvested and now they are trying to figure out what they can still be in -- but they feel they have to come in. That's what you are seeing now.
> > Bull or Bear? Vote in Our Poll
Last weekend I was with a bunch of negative portfolio managers who were thinking they were brilliant because of how much they are short. They were gleeful. I can only wonder what they are thinking now. They have lost so much money coming in after a two-day rally off of relief in Europe that they think they will lose money coming in now, but it's only three days before the end of the month and they can't wait until the last day to do some buying.
In other words, this is a classic rally based on everyone being negative, yet it is the end of the month and it sounds like the Germans recognize that things could really implode and they can't dither any more.
You can put it like this: Is the rally real? To these bearish fund managers, they can't afford to wait to find out. They will fall too far behind if they don't buy something or at least cover their shorts right now.
Pay Attention to These Biotechs
Posted at 11:38 a.m. EDT on Friday, July 27
You have to like the action in a troika of senior biotech stocks --
Gilead
(GILD) - Get Gilead Sciences, Inc. Report
,
Amgen
(AMGN) - Get Amgen Inc. Report
and
Celgene
(CELG) - Get Celgene Corporation Report
-- because it shows you these forward-looking companies are still trying to grow and aren't just sitting there, facing patent cliffs and hoping to hold on before taking a real beating.
I like pharma. For companies such as
Merck
(MRK) - Get Merck & Co., Inc. Report
, you are being paid to wait for new drugs to kick in as the yields are well above average. Other companies such as
Abbott Labs
(ABT) - Get Abbott Laboratories Report
and
Covidien
(COV)
-- two terrific companies -- are breaking into pieces to bring out value.
Johnson & Johnson
(JNJ) - Get Johnson & Johnson Report
could easily adopt a breaking-up-is-easy-to-do strategy like Abbott and Covidien and create a gigantic spike for patient investors now that a new CEO is in place.
But what I like best about owning pharma is growth, pure growth based on new potential blockbuster drugs that can give you multiple years of growth. That's what Gilead, Amgen and Celgene are giving you and that explains these terrific gains.
Amgen's talking about some breakthrough products that can attack gastric tumors and ovarian cancer and anti-bad cholesterol statins that can work in cases where all others have failed. It doesn't hurt that the core businesses, including its older drugs like Epogen and Enbrel, were responsible for a delicious upside earnings surprise.
Gilead's got a terrific potential hepatitis C franchise that could be worth billions and billions of dollars starting in 2014. The company paid a fortune for
Pharmasset
, which has what many people believe is the best compound for hep C, and it didn't destroy earnings, In fact, they were much better than expected.
Celgene? What can I say? People prematurely wrote off this company when it had a problem with a European application for extended use of Revlimid, its breakthrough anti-multiple myeloma drug. But I am confident that the franchise remains intact and the number of initiatives this company has in the pipeline could lead to multiple years of earnings upside. Given the terrific profits just reported -- again, much better than expected -- Celgene remains an inexpensive stock with multiple years of growth ahead of it.
You know I like dividends. You know I don't like expensive stocks that could run into real air pockets if anything, any one drug prospect, goes awry. But these three companies have proven themselves time and again, and while they certainly aren't for the squeamish, only they, and not Merck or Pfizer or even Abbott Labs, can deliver the kind of long-term growth that will produce capital gains for years and years to come. These companies are the risk takers. They are not afraid to make mistakes. They innovate relentlessly. They spend fortunes developing new drugs and they remind me of the old-line pharma companies we have right now in their formative, pre-patent-cliff years, where all the really big money was made.
Action Alerts PLUS, which Cramer co-manages as a charitable trust, is long ABT.
Two Low-Priced Stocks in Contrast
Posted at 11:03 a.m. EDT on Thursday, July 26
Sprint Nextel
(S) - Get SentinelOne, Inc. Class A Report
and
Zynga
(ZNGA) - Get Zynga Inc. Class A Report
. Two stocks on two different paths, two stocks that passed each other today, one going up, and one going down. And all I can say is that there couldn't be a greater contrast.
Sprint was a $2 stock that everyone gave up on, a company that looked like it was going into bankruptcy because of its massive losses and incredible need for capital. Now, on the strength of excellent execution and sheer ingenuity by one of my absolute favorite CEOs, Dan Hesse, the future for Sprint looks incredibly bright, and that ugly duckling $2 stock is now blossoming into a $3.82 stock that I think can go much, much higher, in part because it is still hated by the analysts, many of whom will now be forced to upgrade it because of the incredible ongoing operating improvement.
Zynga, on the other hand, is part of an ignominious group of stocks, the second round of hyped Internet stocks, this time with the sexy social rubric attached to them, that have blown up in people's faces in a horrendous way. This $3 stock used to be at $15 and was much loved by Wall Street until today, when it reported a hideous quarter, losing 40% of its value as a slew of brokerage houses took it off their buy lists. What the heck was it doing on their buy lists anyway? And how in heck could this company, which was guiding for earnings gains of 23 cents to 29 cents, now say it could earn only 4 cents to 9 cents?
We've got as little value added from the clueless Zynga analysts as we have had from the obtuse Sprint followers.
Sprint is in it for the long haul, in part because it is making much more money per subscriber now that it did just a few months ago, in part because it has embraced the
Apple
(AAPL) - Get Apple Inc. Report
iPhone, and in part because it has the biggest bargain for its customers when it comes to data use. The rally in the common stock will help Hesse to continue to raise the capital he needs to transition his Nextel customers to plain old Sprint, because bond buyers, which had already embraced the turn, will lap up new high-yielding bonds that Hesse can issue.
Zynga? Look, as someone who is addicted to
Scramble With Friends
, which I play with my daughter daily, I have learned to never pay for anything, and I so enjoy the "for free" aspect of this terrific game. Looks like I am not the only one who won't pay up. I see this company wilting away, as that earnings trajectory seems to be pointing toward losses, not gains. Plus, the fade nature of games -- remember
Draw Something
from
OMGPOP
? -- makes this hit-driven business totally unpredictable.
So many stocks have been left for dead when they get to $2, including, recently
Nokia
,
Alcatel-Lucent
(ALU)
and
RadioShack
(RSH)
. It's a rare bird that can come out of that $2 death trap. The unheralded Sprint is one of them.
Zynga? All I can say is welcome to the graveyard that your Wall Street cheerleaders didn't see coming. Those analysts should be so ashamed for their sins of recommendation that remind me so much of the first Internet wave that crashed on the shore, drowning just about everyone, including the analysts, who told us to come on in because the water's fine.
Action Alerts PLUS, which Cramer co-manages as a charitable trust, is long AAPL.