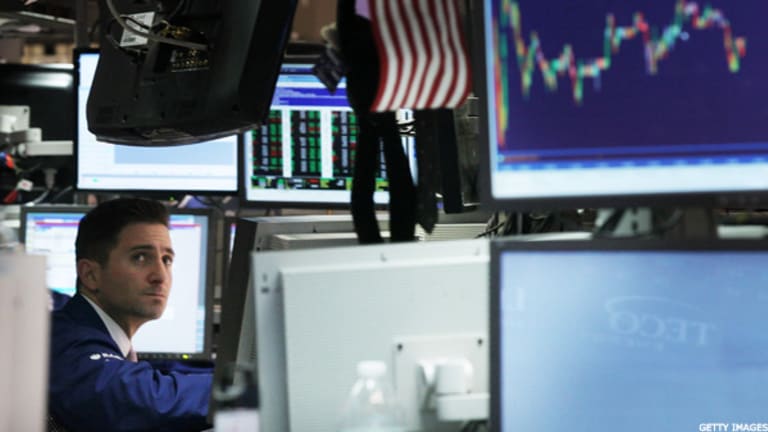 NEW YORK (
) --
fills his blog on
RealMoney
every day with his up-to-the-minute reactions to what's happening in the market and his legendary ahead-of-the-crowd ideas. This week he blogged on:
why shares of PepsiCo look sweet right now;
two important breakouts; and
why some wishy-washy analysts got Apple's earnings wrong.
for information on
RealMoney
, where you can see all the blogs, including Jim Cramer's -- and reader comments -- in real time.
A Good Moment to Grab Pepsi
Posted at 1:16 p.m. EDT on Thursday, April 26
Has
PepsiCo
(PEP) - Get PepsiCo, Inc. Report
bottomed? I think you can make a strong case that it has. Every single line item, from North American soda to Latin American snacks, seems to have turned up. I am a bit blown away at how much stronger some of these numbers were vs. what the Street had been expecting.
CEO Indra Nooyi took some really hard medicine last quarter with a big restructuring, as well as a dramatic increase in spend in order to support brands. Both strategies worked.
> > Bull or Bear? Vote in Our Poll
This is an important inflection moment for PepsiCo, because there is a real negative bias against the company due to several quarters of disappointment. I do not think the analysts will budge on the name until they see several good quarters, and I don't know if you can wait for that turn. When you spend more and get this kind of immediate payback, you can see a clear runway back to stronger growth.
Remember, Pepsico has much more potential for international growth than does
Coca-Cola
(KO) - Get Coca-Cola Company Report
simply because the latter gets 80% of its revenue overseas and is pretty much everywhere, whereas PEP has lots of the world to which it can reach out. That's the good news. The bad news: Coke's doing extraordinarily well and hitting on all cylinders.
To me, it is worth betting with Nooyi here, especially as she has fallen out of favor with the Street. That's the real opportunity, because when they switch back on her, the stock will be in the $70s.
You need to get ahead of that. It's worth doing, especially given that the stock's not even up. That's wrong. This is a good moment to get long PepsiCo before everyone else does.
Action Alerts PLUS, which Cramer co-manages as a charitable trust, was long KO.
Rails and Restaurants Break Out
Posted at 4:18 p.m. EDT on Wednesday, April 25
A lot of breakouts today. But I want to highlight two huge moves up in two totally disparate industries: rails and restaurants.
For the last few days, we have seen a vicious run in the restaurant stocks, possibly on the heels of a slide in
Chipotle
(CMG) - Get Chipotle Mexican Grill, Inc. Report
. That caused the shorts to be emboldened ahead of two key reports:
Buffalo Wild Wings
(BWLD)
and
Panera
(PNRA)
. Sure enough, both companies pretty much did no more than I was looking for. In fact, BWLD showed a deceleration in same-store sales.
But these were two of the biggest gainers because they failed to blow up. They didn't disappoint, and the hedge funds were caught looking the wrong way.
Then there are the rails. After
CSX
(CSX) - Get CSX Corporation Report
and
Union Pacific
(UNP) - Get Union Pacific Corporation Report
said things were bad in coal but other strengths made up for it, both stocks were slammed anyway. So the shorts piled into
Norfolk Southern
(NSC) - Get Norfolk Southern Corporation Report
and got hugely short the name.
Sure enough, because the stock was low enough when it came out and said other cargoes made up for the coal shortfall, it went bonkers to the upside. Union Pacific immediately followed suit and is now on the verge of going to 52-week highs.
This kind of behavior is indicative of how negative people got so fast, just like the Bull/Bear poll that came out today showing an astounding decline in the number of bulls.
These rapid mood swings are a reminder that the bears always seem to come in late and then get their heads handed to them.
Watch for the decline in
Caterpillar
(CAT) - Get Caterpillar Inc. Report
giving the hedge funds a chance
not
to get short capital goods makers.
Believe me, like Panera, Buffalo Wild Wings, Union Pacific and Norfolk Southern, that will end badly, too.
Action Alerts PLUS, which Cramer co-manages as a charitable trust, has no positions in the stocks mentioned.
Enough of the Apple Faux Bears
Posted at 6:51 p.m. EDT on Tuesday, April 24
We've got an in-depth analysis of
Apple
(AAPL) - Get Apple Inc. (AAPL) Report
over on Action Alerts PLUS, but I wanted to take a moment out to question the methodology of some of the newfound faux bears in the name.
I call them faux bears because they didn't downgrade it, but they came out with negatives that they could have used to say they got you out of it or they warned you. They want to have their cake and eat it too, and I don't think they deserve any cake.
These are professionals who decided to try to decipher what can't be deciphered and tried to extrapolate what couldn't be extrapolated: the number of iPhones that were sold based on what
Verizon
(VZ) - Get Verizon Communications Inc. Report
and
AT&T
were saying.
This "analysis," of which Jefferies was the key proponent, led you dramatically astray because Apple is much more of an international company that these people realize. Like with
Intel
(INTC) - Get Intel Corporation (INTC) Report
, where China is the main market, you would do better if you looked at Chinese distributors than you would at Verizon or AT&T.
But these poorly reasoning critics got a lot of the fluff out of the stock and brought in a lot of shorts, so I guess, as my trust is a shareholder, I should be thankful.
From now on the best way to extrapolate Apple sales is to do a worldwide canvas of sales and not to limit the sample.
If you can't do it?
Then shut up.
Action Alerts PLUS, which Cramer co-manages as a charitable trust, was long AAPL.