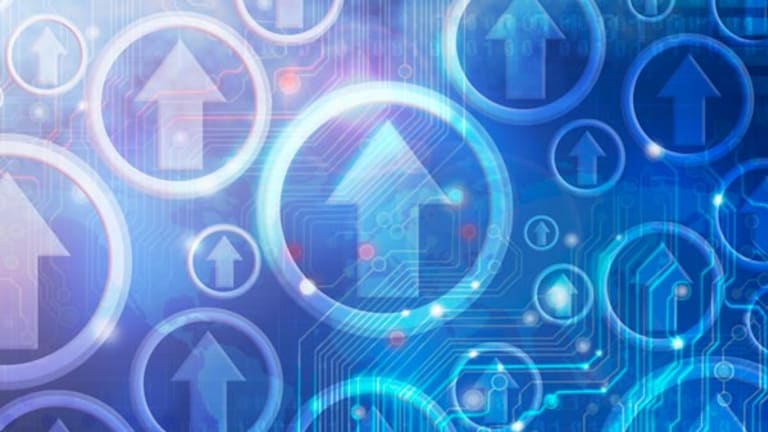 Jim Cramer's Best Blogs
Catch up on Jim Cramer's thinking on the hottest topics of the past week.
NEW YORK (
) --
fills his blog on
RealMoney
every day with his up-to-the-minute reactions to what's happening in the market and his legendary ahead-of-the-crowd ideas. This week he blogged on:
why Hewlett-Packard is in trouble; and
Salesforce.com's astounding quarter.
for information on
RealMoney
, where you can see all the blogs, including Jim Cramer's -- and reader comments -- in real time.
H-P Is a Helpless Giant
Posted at 1:26 p.m. EST on Thursday, Feb. 23.
Lot of winners, one big loser. That's how I feel today about
Hewlett-Packard
(HPQ)
, where virtually every division seems to be in free fall and the vultures are circling everywhere.
First, we tend to forget that Hewlett-Packard is huge, a $120-billion-in-sales company that has its tendrils deeply rooted in the corporate market, but also has a substantial consumer business through printers and personal computers.
Second, we tend to forget that companies can get in tailspins that they can't recover from. Witness the stunning declines in
Nortel
,
Nokia
(NOK)
and
Research In Motion
(RIMM)
.
Third, Hewlett-Packard has a tremendous amount of debt and has used a gigantic amount of capital to foolishly buy back shares.
> > Bull or Bear? Vote in Our Poll
Fourth, previous CEO Leo Apotheker spent money like a drunken sailor with a terrible $10 billion dollar overpay for an information management software company,
Autonomy
, that really drained the corporate coffers
Lastly, right before he was fired, Apotheker announced that Hewlett-Packard was debating abandoning the personal computer business.
Add these up and you have a company that seems about to be carved up by
IBM
(IBM)
,
Oracle
(ORCL)
,
SAP
(SAP)
and
Accenture
(ACN)
on the underinvested consulting side, and by
Dell
(DELL)
and the low-cost Asian companies on the personal computer and printer side.
Enter Meg Whitman. While she has a pristine reputation, her actual operating history at previous employer
eBay
(EBAY)
was distinctly mixed. She had grave troubles taking the company to the next level. She also made a serious mistake when she came in, casting an extremely rosy picture of the business before she even had a handle on it. The stock had crept up in part because we figured she had to know something about how well the company was doing or she would have kitchen-sinked, meaning taken huge writeoffs, cleaned up the biggest messes and given herself some time for this massive turnaround.
Today what did she offer? Perhaps a vision down the road of a value added software and consulting company? Given the crowded nature of that field, with well-financed powerhouses already staking out the turf all I can say is good luck with that. A vision of cost cutting? The one thing that Mark Hurd seems to have done really right at Hewlett-Packard was to cut costs to the bone. Apotheker was so horrible that he also may have feather bedded during his miserable regime, but I think the biggest problem with Hewlett-Packard is that it underinvested and not overinvested in the core businesses. Whitman paid lip service to the need to innovate, but lets really be brutally frank, what does she know about innovation? I see nothing in her track record that would tell me otherwise.
Hewlett-Packard is a gigantic colossus that I now regard as a pitiful helpless giant ready to be eviscerated by all comers. Too big to be taken over, too hobbled to be broken up, too lifeless to advance.
I would stay away from the stock and actually accumulate some of its competitors, something that started today with IBM's breakout, as I expect the vultures won't just be circling, they will be eating.
Action Alerts PLUS
, which Cramer co-manages as a charitable trust, was long IBM at the time of original publication.
Salesforce.com the Great
Posted at 7:22 a.m. EST on Friday, Feb. 24.
Sometimes you get an honest-to-Betsy absolute blowout: a number so astounding that the doubters say "wow" on the call and the short-sellers just say, "OK, gotta go take the medicine."
That's what happened with
Salesforce.com
(CRM)
last night, a wow quarter that answered every objection and then some.
I never want to think that I had a hand in getting more clarity out of a company, but when Salesforce.com was a relatively little company, well under a billion, I fell in love with the product and wanted CEO Mark Benioff on the show.
Benioff proceeded to deliver unbelievable numbers, growing first to $1 billion then to $2 billion in sales in the fastest ever trajectory I have ever seen. It was remarkable what his cloud-based customer-relations software was doing, revolutionizing how software was purchased -- actually all cloud based -- and sending CEOs to heaven for making selling more systemized and rigorous.
The stock went up and up and up with the revenue growth.
Then, last quarter, it was clear to me that Benioff didn't give enough information to satisfy what had become an army of doubters. We had all become conditioned to thinking that when you get bigger you have to play by the rules set by
Microsoft
(MSFT)
and
Oracle
(ORCL)
, and we needed to know genuine granularity about deferred revenues as a way to model earnings.
Benioff didn't give it to us, and the stock sold off 25%, even though he urged me and others to trust him that the metric wasn't all that good an indicator and that this was the moment to focus on sales.
Last night he came on "Mad Money" and said he heard me and he gave us a level of granularity on deferred revenues that showed radical
acceleration
and a level of bookings that were off the charts vs. expectations. It was astounding. Nine times out of 10 when someone doesn't give you the data (no, make that 10 times out of 10) it's because the data are no good. They're hidden for a reason.
Not at Salesforce. These data present a company that is growing much, much faster than not just the bears thought, but the bulls, too. And it is not giving the stuff away. It is signing huge deals, including a nine-figure deal and nine eight-figure deals, including a monster transaction with
Hewlett-Packard
(HPQ)
, and they are doing it full price.
Of course, Benioff chose to have some fun on the call. I urge you to listen him talking about how his competitors, chiefly Oracle, are grasping at straws with their acquisitions. In one totally hilarious moment he questions why good entrepreneurs would sell out to boring companies like
SAP
(SAP)
and Oracle. He also jokes that Hewlett sales people gave a standing O to Meg Whitman when she switched from Oracle's Seibel system to CRM.
But otherwise it was just all blocking and tackling and spreading the gospel of a mobile, social and cloud solution given that so many in the enterprise need something that synchs with their iPhone or their BlackBerry and not some old-line nonmobile, expensive solution from Oracle or Microsoft that doesn't synch at all.
The gospel makes a lot of sense. Think about the rebellion going on at old enterprises, think about how new enterprises work. The salespeople and the execs are all mobile, they are largely social (CRM offers a Facebook-like unduplicated Chatter solution for the enterprise). Oracle and Microsoft don't have anything that fits the new paradigm or the software renaissance, as Benioff repeatedly calls it.
So, Benioff crows and the shorts eat crow. This one's not done going up because Benioff answered the catcaller and the deriders. Or, in poker terms, the shorts were bluffing and Benioff's got a $3 billion full house, going to a $10 billion straight flush in record time.
Action Alerts PLUS
, which Cramer co-manages as a charitable trust, has no positions in the stocks mentioned.