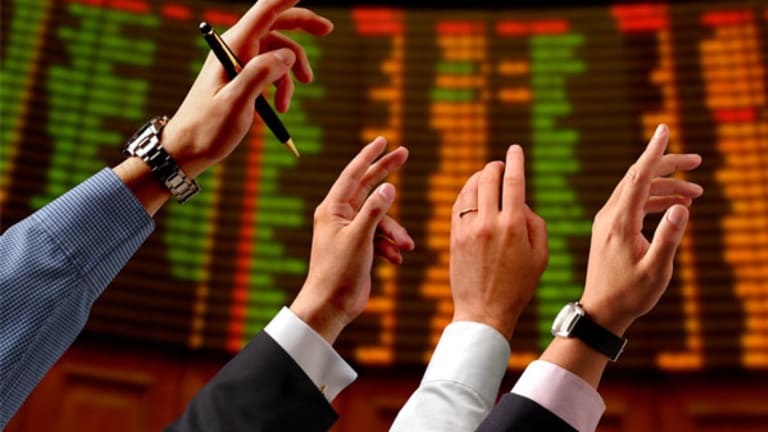 Jim Cramer: You Buy Netflix for One Reason
Because someone will buy it at a higher price than you.
NEW YORK (
) -- Don't you dare blame Reed Hastings for losing money if you buy
Netflix
(NFLX) - Get Netflix Inc. Report
today.
I have never, ever seen a CEO give a more bright-line admonition than this one: "In calendar year 2003 we were the highest-performing stock on
Nasdaq
. We had solid results compounded by momentum-investor-fueled euphoria. Some of the euphoria today feels like 2003."
Yes, this may be prelude to an equity offering. But there's something unprecedented here, Execs always want you to buy their stocks. They always think their stocks are cheap. They always think that it's a great time to buy.
But one of the best in the business doesn't. I think this is a note that says "we aren't trading on fundamentals, we are trading on heart, on culture, and, of course, momentum."
This is exactly what happens when you have a stock that goes higher automatically because certain benchmarks are hit that aren't earnings benchmarks. Think of how we value Netflix. Is it by earnings per share? Are you kidding? That means nothing. Is it by revenue per share? Absolutely not. No, it's by subscriber growth and subscriber growth crushed it. So, the decision is binary for many. Better-than-expected subscriber growth? BUY. Slower-than-expected? SELL. It's almost as if the funds that play this game have no choice. If they are short, they have to cover because the only thing they are really betting on is that fewer people signed up.
Now, remember, Netflix is a cult stock. It is one of my Anointed Ones from earlier this year, one that isn't divined by the four wall of the analyst canvas. It's like
Amazon
(AMZN) - Get Amazon.com Inc. Report
,
Solar City
(SCTY)
and
Tesla
(TSLA) - Get Tesla Inc. Report
. Wow. Can you believe Elon Musk has two of them?
That means that if they do an equity offering, it might actually go higher like
LinkedIn
(LNKD)
, which did one in the hole and then never looked back. We know that Netflix has expansion plans that need to be funded, as well as continual demands to order new content and to pay for exclusives. We know that international's not easy. On the call, if you can call it that, the company even admitted that it was gamed by Brazilians playing sign-up games.
But we also know after this quarter that Netflix is the de facto worldwide gold standard for home entertainment and at $22 billion that's still -- sorry Reed -- cheap vs. the opportunity and the ability to raise price and negotiate more favorable deals from now on.
Yes, it does feel like 2003. Yes, this has become the ultimate
caveat emptor
stock. But yes, because of the way momentum investors evaluate stock, this one's good until its bad, it soars until it crashes. Remember, there are always a couple like this in the stock market, except this one's lasted far longer than most. Now that it is too big to be taken over by almost anyone, as opposed to when I wanted
Apple
(AAPL) - Get Apple Inc. Report
to buy it for $12 billion, you buy the stock for once reason: because someone will buy it at a higher price than you.
Don't forget that rationale and you will be just fine.
Action Alerts PLUS, which Cramer co-manages as a charitable trust, is long AAPL.
Editor's Note: This article was originally published at 7:24 a.m. EDT on Real Money on Oct. 22.