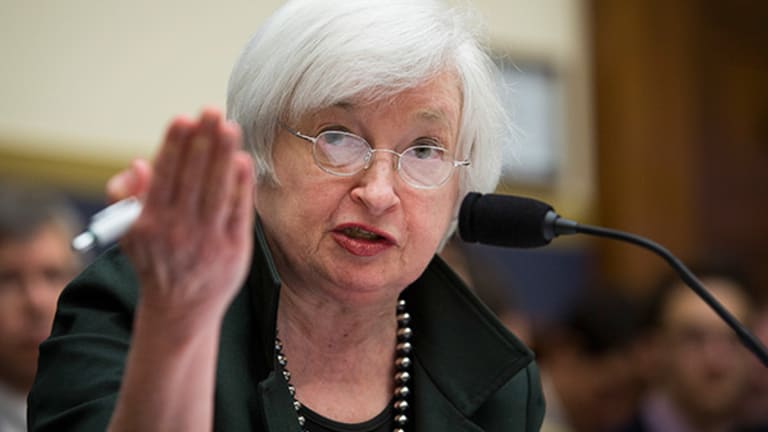 Jim Cramer -- Why Is Janet Yellen Suddenly a Stock Commentator?
The Fed chief used some pretty frightening terms about stocks Wednesday, saying that valuations 'generally are quite high' and that there are 'potential dangers' with them.
NEW YORK (Real Money) -- Thanks for nothing, Janet Yellen. Yep, the Fed chief used some pretty frightening terms about stocks Wednesday, saying that valuations "generally are quite high" and that there are "potential dangers" with them.
Now everyone's entitled to an opinion, but that doesn't mean I think everyone should give one, especially the Federal Reserve chief.
What makes me write that? History.
Consider that many investors were freaked out of stocks when in December 1996 then Fed Chairman Alan Greenspan talked about how stocks might be suffering from "irrational exuberance." The Dow happened to be at 6,308 then; it's over 17,800 now. The S&P 500 was at 726; it's now at 2,081.
Or how about in July of last year when Yellen herself said that valuation metrics in some sectors including biotech and social media "do appear substantially stretched."
At the time, the biotech index was at 2,750; it's now at 3,853. Regeneron (REGN) - Get Free Report was at $317; it's now at $474. Gilead (GILD) - Get Free Report stood at $83; it's now at $102. Biogen's (BIIB) - Get Free Report scooted from $319 to $385.
Some stocks like Pharmacylics (PCYC) were especially stretched at $98, but then Johnson & Johnson (JNJ) - Get Free Report and AbbVie (ABBV) - Get Free Report got in a bidding war for it, and the stock's now at $255. Synageva (GEVA) weighed in at $78, but Alexia just agreed this morning to pay $230 a share for it, fully 116% above yesterday's price.
Social media? Presumably, Yellen was speaking of Facebook (FB) - Get Free Report at $66. It's now at $78. Maybe, just maybe, she meant Twitter (TWTR) - Get Free Report. Nailed it! Unchanged year over year. I just wish she had said it when the stock was at $52 shortly before that miserable earnings report. Now that would have been value-added.
The fact is that nothing good comes of calling stocks overvalued.
If the Fed chief thinks that stocks truly are overvalued, why not just raise the margin requirements, something that she has the ability to do.
We know that the real worry about valuations in stocks comes from people who buy stocks using borrowed money. They can truly do damage to themselves and to the market entirely during a downturn. Every single precipitous downturn we have had was exacerbated by margin clerks butchering people's positions that were bought on borrowed money.
Ms. Yellen, if you really think stocks are too expensive, raise those margin requirements. Don't, however, raise interest rates to pop the perceived bubble in valuation because the two often have nothing to do with each other.
I sure wish the Fed had raised margin rates and not interest rates. The Fed raised rates 17 times between 2004 and the crash in stocks that had become overvalued. It would have been a heck of a lot smarter to raise margin rates than to take rates to the point where they severely damaged underlying businesses and came close to wiping out the republic.
We are left with these historic low rates in part because of that Fed-induced debacle.
Yellen did raise the notion that bonds give you a low rate of return, but she did not flag them as excessive or dangerous. I would argue that's where the real bubble is because in many cases they offer you not much real return at all, particularly in Germany. Stocks with good dividends and excellent balance sheets do seem more reasonably valued than bonds.
Still, I found her analysis both disconcerting and off point, and I really think the world of this woman.
Let the market do what it wants. Let people take risk. Stocks are inherently risky. Make that point. If stocks are substantially overvalued, take the action only you can do.
Otherwise? Just do what wise people should do in these situations. Take a cue from bridge and just pass.
This article was originally published at 1:33 P.m. EDT on Real Money on May 6.
At the time of publication, Jim Cramer's charitable trust Action Alerts PLUS was long FB and TWTR.