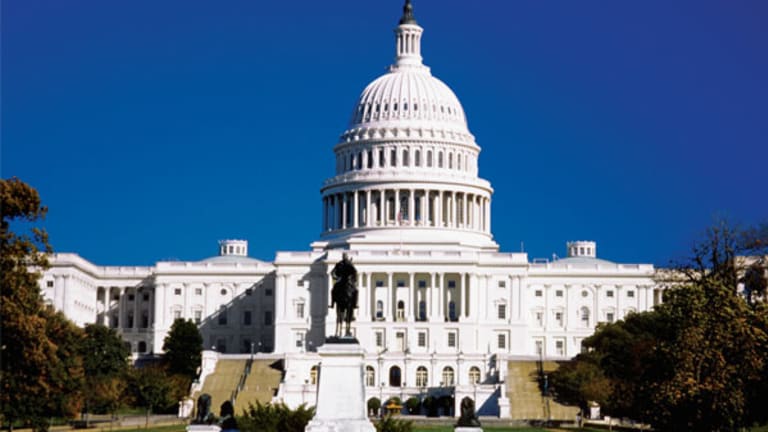 NEW YORK (
) --"Stick to stocks, Cramer!"
I get that a lot these days on @JimCramer on Twitter, and my response, uniformly, is: I wish I could.
Believe me, I don't want to have to attempt to know Washington. I don't like politics. I had to do politics on
Kudlow & Cramer
, and I disdained it. First, you had to be uniformly polite to everyone, deserving or not. Second, what you asked was meaningless to them. They said what they had to say and no more. I was not left or right. I was dead center. No one wants dead center down there. It was impossible.
That said, right now politics is all that matters. So you immerse yourself, you use your contacts in Congress, the
Fed
, Treasury, whatever you can. And you set out to try to figure out what matters and what doesn't. You do that because of days like yesterday when news from individual stocks was meaningless. Think about it, the only stock that reacted to news of any sort yesterday was
L Brands
(LTD)
, and it was NEGATIVE. Otherwise, what did it matter what any company said? The futures were in control and stocks were playthings.
Think about what has happened since President Obama got elected. Sure, the market's been strong, but that's really the doing of the companies themselves, which have worked hard to be free from Washington as best as they can, and the Fed, which has been most supportive of the wealth effect. There's been nothing good from the president or Congress for stocks that I have seen, and I know first-hand that what's good for stocks may actually be regarded as bad for the base, the people who support President Obama through thick and thin. This is very different from Bill Clinton, who I can tell you first-hand cared greatly about the stock market and was fascinated by it.
Neither party in Congress is any good for stocks at all that I can tell. The Republicans used to be reliable when it came to oil and gas. Now they just back the Keystone Pipeline, which is becoming meaningless except for Canadian crude, and while I personally believe it would be good for America, Green has become a religion, which is why I think that it will never be built under this administration.
But the rest are because the president isn't focused on it and the EPA just wants to put coal out of business. Tough to take on every fossil fuel at once.
So, you have no choice but to try to figure out what's going to hurt you next from Washington.
It wasn't always this way. My friend and writing colleague Matt Horween predicted here that politics is what will matter most under Obama and that the federal government would amass tremendous power under Obama. I think that's true, and it is often unchecked power because the media doesn't seem to ever want to be tough on the guy. That means capital doesn't have a friend in the White House, and you can tell that the bankers are paid lip service for their intrusion into his life.
The oil guys don't have a call into him at all. The rest of industry seems totally cowed by the president, scared, gun shy, afraid to get involved. How in heck could it take until Tuesday for the retail industry lobby group to get involved in a debate that would have left 80 million people without checks to go buy things starting in 19 days? How could they not be directly pressuring recalcitrant congresspeople?
One reason is that they know it probably doesn't do any good. The Republicans who want to starve the beast respond to the electorate that sent them there. Only by going against Social Security directly -- the way the president at last framed the debate -- can they lose because that's an entitlement and they don't call them entitlements because they are voluntary on the part of the government.
The president, meanwhile, is pro labor. He can't even harness the group to do his bidding. He probably hates
Wal-Mart
(WMT) - Get Walmart Inc. Report
. Hillary Clinton was on the BOARD of Wal-Mart. It was located in Clinton's home state.
More importantly, it's pretty obvious that the president is a divider and stocks and stock owners are not on his side of the ledger. He was voted in by his base, and it is difficult to see why he should alienate them. I don't blame him. He ran on who he really is and the people elected him.
But that makes politics even more important. You know, he isn't sitting there talking to Jamie Dimon about putting people to work. I don't think he has a back channel to John Stumpf at
Wells Fargo
(WFC) - Get Wells Fargo & Company Report
. His inputs to the stock world are horrendous.
So, yes, I would LIKE to stick to stocks. But if you do that, you got everything totally wrong for the last month. If you stuck with stocks over the last few years, you lost out on every decline we have had, meaning you sat through it and created very little value for those people who are active in the market. You went down 19% in 2011 and then went back up and it sure wasn't because of earnings. Same thing last year when you went down 7%. Those were price breaks created by Washington that first had to be avoided and then had to be exploited.
Reluctantly, we have to focus more on the Capitol than on capital. I would like earnings season to be different. But that's wrong, too. It's a sideshow right now, albeit an important one. Easiest way to put it?
You gotta know both.
Action Alerts PLUS, which Cramer co-manages as a charitable trust, is long WFC.
At the time of publication, Cramer was long ___.