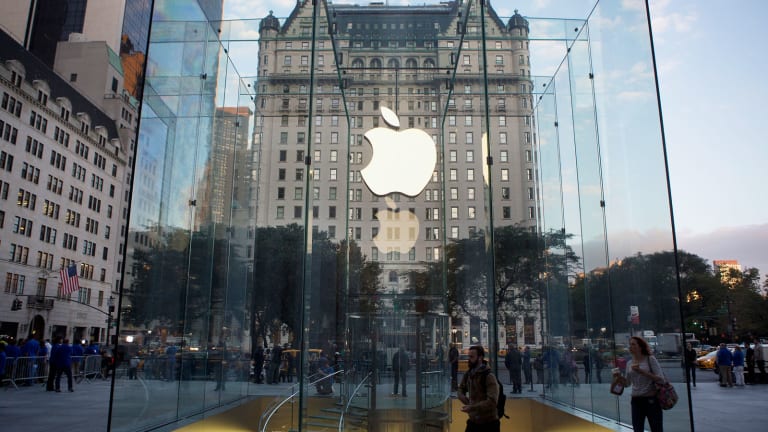 Jim Cramer: Why Doesn't Apple Just Go Ahead and Buy Netflix?
While we're at it, here are a few more acquisitions that should happen right now.
NEW YORK (Real Money) -- Why doesn't Apple (AAPL) buy Netflix (NFLX) ? What's the resistance to Yahoo! (YHOO) buying Yelp (YELP) and rolling it up with Grubhubundefined, Postmates and Instacart? Deals and talk of deals get people excited about this market, even as Monday was a profit-taker after Friday's barn burner.
I get the proposed deal objections, but bear with me. Before you get too negative, let's propose a few more acquisitions. For example, shouldn't Exxon (XOM) just go buy Father Fracker EOG Resources (EOG) and the sponsor-less Apache (APA) ? Microsoft  (MSFT) should just go all-in cloud and buy Salesforce.com (CRM) . IBM (IBM) should crush it in analytics and purchase Tableau Software (DATA) .
All of these deals make sense to me. They make sense because they remind me of Actavis (ACT) buying Allergan (AGN) , which is looking more and more like pure genius. Today, Actavis reported one of the biggest numbers of 2015, just a monster beat of what analysts were looking for, propelling the stock $9 on top of what was a pretty good end-of-the-week rally.
If you don't know Actavis, let me refresh your memory. It's the very acquisitive company run by Brent Saunders that is operating at an incredible level, buying companies with great science and good drugs and turning them into commercial powerhouses well before their time. Back in November 2014, he bought Allergan for about $66 billion or $219 a share, and at the time it looked like a ridiculous overpay. The stock had been at $90 the year before. Saunders came in on top of a bid by another serial acquirer, Valeant (VRX) , making the acquisition the biggest of 2014.
While many struggled to make sense of how Saunders could ever make this deal work given that price, Brent had already put pen to paper and come up with an aspiring number of $25 a share in earnings power in 2017. Given that the stock as in the mid-$200s when he made this outlandish projection, again the skepticism was thick.
Now with the stock over $300 it seems like a gimme, making this the cheapest Big Pharma company on Earth and the fastest-growing, too. It was a bold move to pay so much for a company with a good eye-care franchise and the pipeline within a pipeline that is Botox. But from the looks of things as I go through the quarter, you can see that the aspiring number has to be revised up, hence the jump in the stock, a jump that I say isn't over even as I acknowledge my trust owns it, so you can think I am partial to the trajectory of both the earnings and the stock.
I mention Actavis because sometimes you have to do something bold to make a company hum and a stock fly. The Allergan purchase came right on top of a deal to buy the relatively undermanaged Forest Labs (FRX) , and Saunders has made short work of getting his company integrated with Forest, turbocharging that portion of his cobbled company. Actavis and Saunders prove that, perhaps, you can't be bold enough in this acquisition business.
Now there are many who are skeptical of what Saunders has put together and would tell you that it is a matter of time before the growth runs out and we see the folly of these buys.
But I find it odd that many of these naysayers would be totally comfortable with whatever Warren Buffett buys to augment Berkshire Hathaway (BRK.A) (BRK.B) , and the thinking is that if he doesn't make bold acquisitions or at least participate in them like he is doing with Kraft (KRFT) , the engine would stall out there, too. When Buffett goes hunting, many applaud. When Saunders bags an Allergan, the skeptics raise eyebrows. It's hard to do that, though, when you look at the results today, a total proof-in-the-pudding transaction, and the pudding tastes darned good.
So now let's go back to the aforementioned proposed acquisitions, some of them proposed by me, and see what to make of them.
First, let's talk about the now-fizzled Microsoft-or-Oracle-to-buy-Salesforce.com deal. I have no idea what transpired here because Marc Benioff, CEO and founder of Salesforce.com, never comments on these kinds of things precisely because he can't. He's not allowed to. That said, both Oracle (ORCL) and Microsoft express a desire to get huge in the cloud immediately. The way to do that is to buy the soon-to-be-$6-billion-in-revenue company that I think still dominates the cloud. They would have to pay a pretty penny for it, probably something akin to what Saunders paid for Allergan, as Salesforce.com is already at $46 billion.
I never thought Oracle's a good cultural fit with Salesforce.com, although I know Oracle's Larry Ellison and Marc are friends. I can't say the same about Oracle co-CEO Mark Hurd and Benioff. But Microsoft? CEO Satya Nadella has a fabulous working relationship with Marc. That would have been a doozy and I am sure the analysts would have hated it. But Microsoft is always talking a big cloud game. You ain't talking cloud if you buy Salesforce.com and you can keep Marc Benioff, you are walking among the clouds.
It would be worth it.
How about Yahoo! buying Yelp, Postmates and Instacart? I know people @jimcramer on Twitter (TWTR) openly disparage this idea. But people like to disparage me for everything save being the behind-the-scenes mastermind at Ford's Theatre back in '65 -- 1865. Still, though, this proposed deal is about getting Yahoo! some growth, or more importantly, some worth. Right now, if you back out the Alibaba (BABA) stake and the Yahoo! Japan stake, Yahoo!'s valued at nothing.
So what happens if it buys these three companies and rolls them up into the ultimate stay-at-home vertical now that Postmates has the Starbucks (SBUX) , McDonald's (MCD) and Chipotle (CMG) delivery deals, and Grubhub will give you home delivery from terrific restaurants including private-label ones of their own? Don't know which restaurant to order from? Go look at the Yelp reviews and be seamless -- ha -- to the delivery. Want to cook at home? Call Instacart and get them to pick up the best of the best at Whole Foods (WFM) . What's the worst that happens if Yahoo! does this? Maybe it will be worth less than zero? That's not much different from zero.
How about IBM and Tableau Software? Tableau is the blistering grower in cognitive analysis of data. IBM wants to dominate it. IBM doesn't want to do a big deal and I don't think Tableau wants to sell, but this $7 billion company has a price -- they all have a price. Maybe IBM should just buy Qlik Technologies (QLIK) for $4 billion to $5 billion, barely outside of IBM's paramets. Qlik says it almost always wins vs. IBM. A deal would sure change that.
Finally, should Exxon step up and buy a big fracker? Why not? We are starting to see the consolidation in the oil patch occurring, beginning Monday with Noble Energy (NBL) buying Rosetta Resources (ROSE) for about $2 billion. Exxon needs something bigger to move the needle. It won't buy Apache or EOG, but it should to help propel some stronger production growth.
Now, the perception would be that every single one of these deals would crush the acquirer.
I have to tell you if Actavis pays more than double what Allergan had been trading at and it can keep the pipeline intact and blend it into the existing organization, why can't any of these companies make it work? It has to do with the buyer getting the most out of the target. Any one of these potential acquirers could be the next Actavis. And what a joy that would be.
Editor's Note: This article was originally published at 2:40 p.m. EDT on Real Money on May 11.
At the time of publication, Jim Cramer's charitable trust Action Alerts PLUS held positions in AAPL, ACT, EOG, SBUX and TWTR..