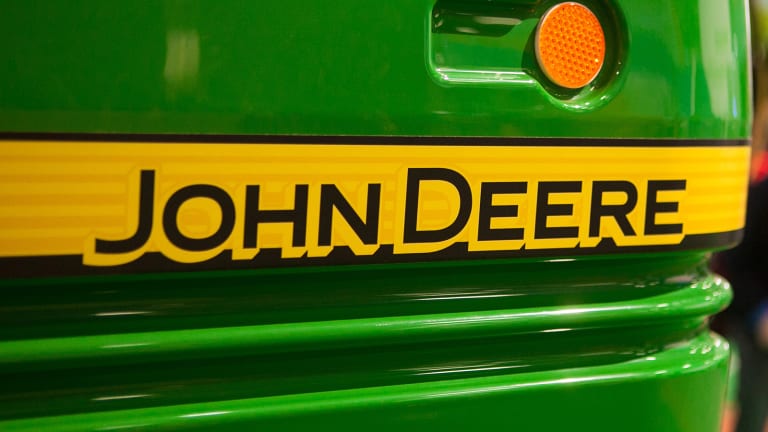 Jim Cramer -- Why Deere and Campbell Soup Beat the Street on Earnings
TheStreet's Jim Cramer says Deere is benefiting from strength in construction while Campell Soup is seeing solid sales in Bolthouse Farms, the company's organic and natural brand.
NEW YORK (TheStreet) -- Deere (DE) - Get Reportreported quarterly results Friday that beat Wall Street's estimates, and TheStreet's Jim Cramer said the company benefited from strength in U.S. construction even as sales to farmers were down.
Cramer, who manages the Action Alerts PLUS portfolio, was speaking on CNBC's"Mad Dash" segment before the opening bell Friday.
"J.P. Morgan talked about the dire straits of the farmer," Cramer said, referring to J.P. Morgan's recent downgrade of the stock to the equivalent of a sell rating. The firm said Deere would be hurt by weak demand for Deere's farm equipment.
"There's no dire straits in the construction industry in the U.S.," Cramer said, however. "And [Deere] talked about how constructions' sales for their machines is going up. They're predicting solid profitability. This was a trouncing, not just a beating of the numbers, but a trouncing."
Cramer said that strength in the construction sales was due to higher U.S. housing starts.
"Look, It's a great American company, and my hat's off to them that they could make this much money with ... sales down so much. And so you come back and says 'What happens if things get better for the farmers?' Great beat. Great job. Deere!"
Shares of Deere were changing hands at $92.78, up $3.32, or 3.7%, around 11 a.m. EDT Friday.
Campbell Soup (CPB) - Get Reportalso announced better-than-expected quarterly earnings on Friday, and Cramer said the company's organic and natural brand, Bolthouse Farms, helped deliver those results, along with its global baking unit. 
Cramer said food companies need to focus on the popular and growing organic and natural category. He said Campbell would be wise to make an acquisition of a company such as WhiteWave Foods (WWAV) in order to expand its presence in the category.
"I do think that this is without a doubt a better-than-expected quarter," Cramer said. "And I think that [Campbell Soup CEO] Denise Morrison is in a position to buy more companies like Bolthouse, which I've been urging them to do, and if they do so, this inorganic and unnatural company will become organic and natural, and the stock goes to $60. So, Denise Morrison, there's my outline of what you need to do to get it done."
Shares of Campbell Soup were trading at $47.63, up 70 cents, or 1.5%, late Friday morning.
At the time of publication, Cramer's Action Alerts PLUS held shares of WhiteWave Foods.