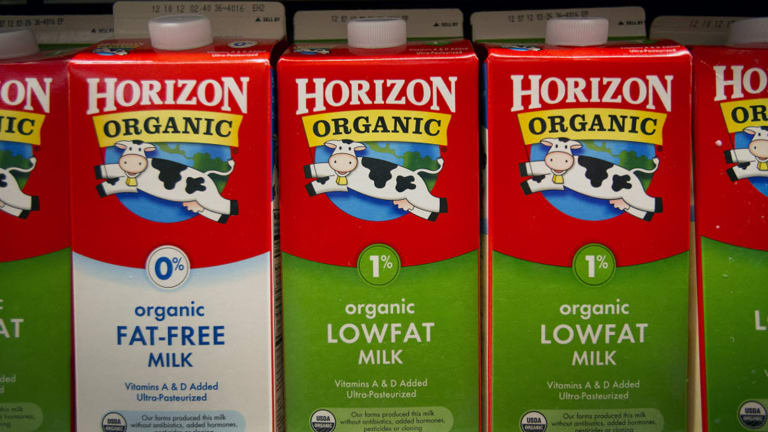 Jim Cramer -- WhiteWave and Hain Are the Next Acquisition Targets
If Hormel is taking the plunge into more natural and organic foods, they all have to take the plunge. That's why Hain and WhiteWave are in play.
NEW YORK (Real Money) -- If Hormel (HRL) is taking the plunge, they all have to take the plunge. I am talking about old-line food companies and their needs to go more natural and organic.
Hormel's a very smart company run by a terrific operator, Jeff Ettinger. He knows how to acquire, having already done quite well with both Skippy Peanut butter in 2013 and CytoSports Holdings, the maker of Muscle Milk last year.
He only does deals when he thinks he can make money rather quickly. The $775 million purchase of Applegate Farms, which is expected to have $340 million in sales this year, will be very accretive as soon as next year, so it can be justified on paper.
More important was Ettinger admitting why he had to do this deal: The company doesn't know the natural and organic retail scene, isn't in touch with the unconventional farmers and isn't shy about admitting it doesn't know the consumer of these kinds of goods. Stands to reason; someone who sells a lot of canned stew and Spam may not understand why a customer would pay up to buy something that tastes just like, say, old-fashioned bacon but has no nitrates.
The older generation says, "Big deal. What's the point?" Nor does the older generation care all that much about genetically modified organisms, or the treatment of pigs that are going to be slaughtered anyway.
The younger generation and those who have focused on these issues who are older, however, think about these things like it's a religion where the body is their temple.
I have followed this issue for years because I have two vegetarian daughters. Also I am an old friend of the founder of Applegate Farms, Steve McDonnell, and his wife, Jill, whom I knew at college. When I heard that Steve was staying on with Hormel to be sure that nothing changes about sourcing or even about ethos, I knew that Ettinger meant business.
It wasn't lost on Steve that it seemed a little nutty to team up with the maker of Spam but he, like the people at Chipotle (CMG) , want competitors and other players in the industry to convert to their ways. They know that ultimately the farmers will switch their methods and be more natural and organic to meet the burgeoning demand, something that Ali Partovi, a founder of Farmland LP, has also assured us.
It wasn't lost on me that WhiteWave (WWAV) and Hain Celestial (HAIN) both jumped on this Applegate move and that WhiteWave was rumored to be in the crosshairs of Coca-Cola (KO) . Two years have now passed since WhiteWave split off from Dean Foods  (DF) . There's an arcane law that didn't let anyone acquire WhiteWave until two years had passed without heavy tax consequences.
Now, it should be game on for WhiteWave and for Hain if they want to sell. More important, of course, is that if Hormel sees the need, so will everyone in the space.
That's why I reiterate that WhiteWave and Hain make a ton of sense here, both because of their growth rates and their takeover possibilities.
Sure, they have gone up. But I think if you don't own one of these you will be standing on the sidelines for the next big natural and organic acquisition, and this time it will be a public one.
Editor's Note: This article was originally published at 5:05 a.m. EDT on Real Money Pro on May 28.
At the time of publication, Jim Cramer's charitable trust Action Alerts PLUS held a position in WWAV.