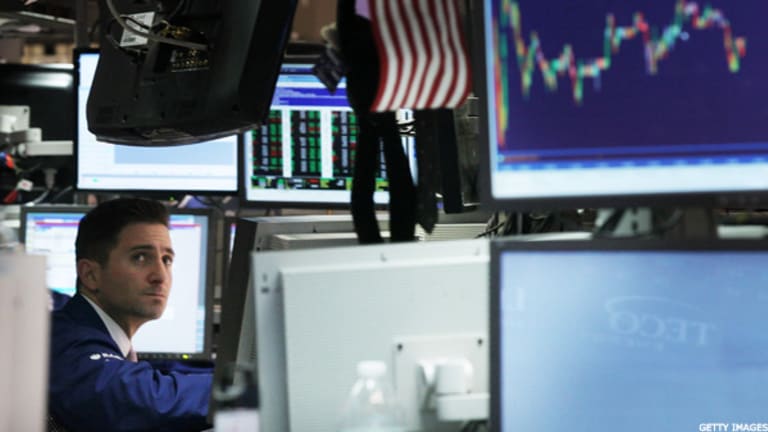 Jim Cramer: When $11 Billion Is Cheap
An $11 billion settlement would buy JPMorgan shareholders some certainty.
Editor's Note: This article was originally published at 7:02 a.m. EDT on Real Money on Sept. 26. To see Jim Cramer's latest commentary as it's published, sign up for a free trial of Real Money.
NEW YORK (
) -- In what world would an $11 billion settlement be cheap? How about in the world of banking?
If
JPMorgan Chase
(JPM) - Get JPMorgan Chase & Co. Report
can actually get the federal and state authorities to sign a piece of paper saying they can only sue the bank for future infractions in the mortgage market and not past ones, then JPMorgan will have gotten a huge bargain. It could be fabulous for the bank
The reason? Two words: normalized earnings. That's right. If we could see what JPM could earn excluding all of these cases, then we could build a model. If we could build a model we might be able to find out what JPMorgan Chase is worth on an earnings basis. Until then, we are stuck in some world where we don't know what this bank, the envy of the industry, can really earn. Right now the Street is clustered at around $6 in earnings power for next year.
But what would you pay for that stream? What would you pay for that stream if you knew it came attached to a buyback of some size? What would you pay for it if you knew that it contained several dividend hikes, hikes that were decided upon by the bank's board itself? What could that be worth? How about a 10 multiple? Eleven? Maybe even a 12? How about in a rising-rate environment, one where the 10-year Treasury goes to 4%, adding about $4 billion to the bottom line? How about where you take out the possible $4 billion in legal costs that JPMorgan Chase might end up paying
annually
as this insanity of nationwide court battles drags on?
That $11 billion dollar price tag is
dirt cheap
when you consider all of the positives that could come out after the payment, especially when you know that JPMorgan has a fortress ATM machine that can spit out fortress dollars to pay Fort Knox.
Now it's tough to come up with a figure. The number has to be substantial enough to allow the Justice Department and all of the states involved to call it a victory and the people actually
believe
that it is a victory because the sum is so large. But it can't be so large that JPM says, wait, let's take our chances with all of these authorities and go to court.
It also has to be ironclad.
BP
(BP) - Get BP Plc Report
is still being crushed and obliterated by its deal with the Justice Department that BP thought got it off the hook for damages but, in retrospect, got them nothing at all.
JPMorgan needs a deal that is so clean, that is so preemptive that you can't ever expect the Justice Department or a state attorney general to file suit on
old
mortgages again. Do you think the authorities will go for that? Do you think they will say "OK, so maybe we haven't found everything they have done wrong, but we can risk that we have and let them off for all but future violations?" In that sense this would be like the global tobacco settlement where the tobacco companies mortgaged their future with the suing authorities to stay alive and in the end prospered. I am sure the critics of the banks will say this is a get-out-of-jail-free card and that Jamie Dimon has to go as part of it.
That's not going to happen either.
Nor does it matter that many of these mortgages that are faulty came from
Washington Mutual
and from
Bear Stearns
and not originally JPMorgan. That's a total abstraction. We are way past the fault-no-fault stage.
So, JPM shareholders, don't freak out at the size. It is a fraction of what
Bank of America's
(BAC) - Get Bank of America Corp Report
been on the hook for. But don't rejoice yet, either. There are a lot of entities that want executive scalps as part of any deal. And a lot of others who don't want to hold JPMorgan harmless for any future infractions that were rooted in the dark past.
Call it fluid. But in the end call it certainty and certainty leads to a higher, not a lower, multiple.
Action Alerts PLUS, which Cramer co-manages as a charitable trust, is long JPM.