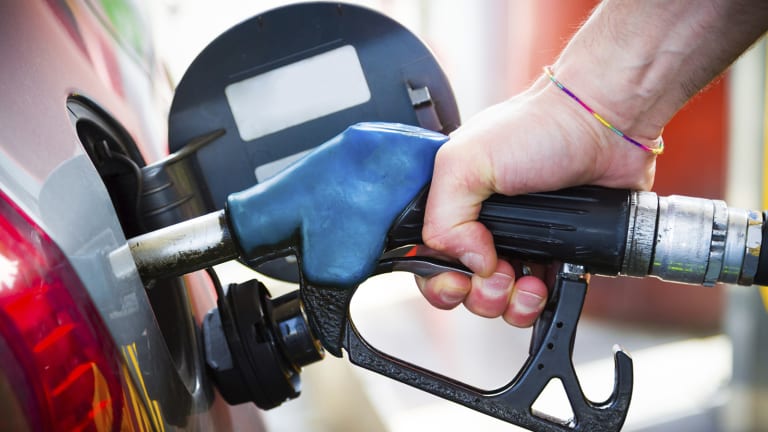 Jim Cramer -- Welcome to a New Oil World No Longer Beholden to Saudi Arabia
Oil's sure not like it used to be.
NEW YORK (Real Money) -- Oil's sure not like it used to be. There was a time when a whiff of unrest in the Middle East could send petroleum skyrocketing. We have had spikes from deliberate Arab embargoes and from unrest in Libya, wars in Iraq and turmoil in Iran.
But we have not seen the Kingdom of Saudi Arabia threatened from the outside by a bordering nation. We have not seen the possibility of rebels planning to attack Saudi Arabia, and we have also never seen our ties with Saudi Arabia as tenuous as they have been, much to the chagrin of a regime that has 10 million barrels a day of production and is still the swing producer in the world that can influence price more than any country on earth.
And this is all that oil can mount? A meager couple of bucks on the news that the Saudis are going to defend themselves from a possible attack from insurgents based in Yemen? You mean oil can't go considerably above $50, still only slightly more than half of where it was not that long ago, even as combined forces allied with Saudi Arabia have had to coalesce to stop this threat?
Welcome to the new world of oil. A world where the U.S. is going to produce more oil this quarter than any time since 1985 and could be producing far more if the price were going to go higher.
Hardly a day goes by where some hapless oil company that thought oil was going to be headed well north of $100 doesn't issue stock to be able to stay afloat. The other day Whiting Petroleum (WLL) - Get Whiting Petroleum Corporation Report, a huge producer in the Bakken, floated 35 million shares, a gigantic dilution, in order to be able to pay its bills. We have had a couple dozen oils just like Whiting all struggling to pay the bills with refinanced debt and more equity.
Almost every oil company in the country is high-grading, meaning cherry-picking its best properties and not exploring much, which is why the rig count's been cut in half in a few months' time. But the main thing you need to know about the patch is that every time oil lifts at all, these overstretched companies are selling in the futures market, offering oil at a price that is often only slightly above or barely breakeven in order to pay the bills. In other words, U.S. supply keeps overwhelming demand even in the face of what's happening in Yemen.
Now, many think with all we are pumping the U.S. is energy self-sufficient. Totally untrue. We are importing seven million barrels a day, roughly one million of it coming from Saudi Arabia. We take their oil because of long-term contracts the Saudis have with refineries that love the consistency of the crude and the consistent nature of the relationship. If the Saudi kingdom were to topple, I have no idea how high oil would go.
Nevertheless, we have to understand that not just our country's producers are trying to raise cash by pumping heavily. So are the producers in Mexico, Canada and Nigeria, all of which are desperate to provide crude to the American market.
So what's the bottom line? Whenever oil lifts off political turmoil, provided it's not going to lead to an overthrow of Saudi Arabia, the buyers will be met with real sellers. Until Europe gets stronger and starts taking more oil and China's growth stops decelerating, oil will be hard pressed to explode higher. This doesn't mean the stocks of some very high-quality companies already reflect this dynamic. But it does mean that you need to keep this price stability scenario in your head when political instability reigns and you see the stock futures down big and the oil futures up big the next time. It might just be an opportunity to take the other side of the trade.
Editor's Note: This article was originally published at 2:32 p.m. EDT on Real Money on March 26.
At the time of publication, Jim Cramer's charitable trust Action Alerts PLUS held no positions in stocks mentioned.