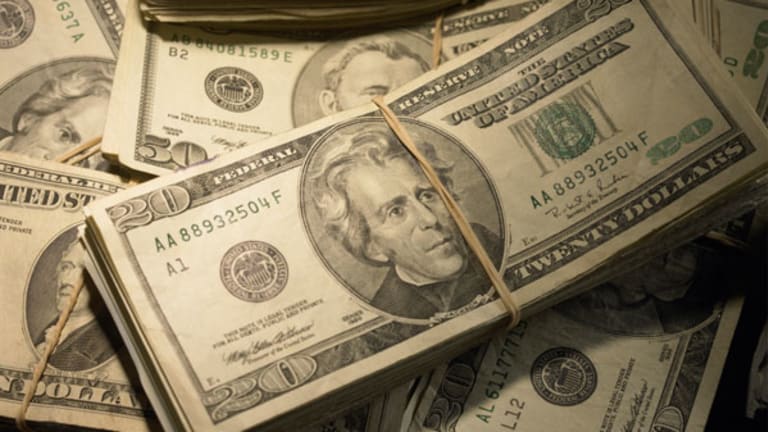 Jim Cramer: Waiting This One Out
It's painful not to buy during a spike, but I just have to be more critical until the market takes a breather.
NEW YORK (Real Money) -- Maybe I just dislike not knowing things -- like the reason the market opened up so high Monday in light of the Ukraine news and no real word on earnings, or the reason stocks jumped that morning on the basis of nothing. Maybe I disliked that copper was down again. Maybe I disliked that oil was up again. Maybe I disliked that the market was still way overbought, according to the oscillator metric. Or maybe it was just about that reversal and my need to show at least a modicum of discipline.
It gnawed at me yesterday, my raw desire to throw money at the market because everyone else was. The need to show that I, too, can buy 'em at the high, expecting those stocks to go higher -- and the feeling that all news is positive news, with the exception of the vicious hit job on Kinder Morgan EnergyPartners (KMP) right after a huge secondary offering.
Whatever. It felt right. When I said to Stephanie Link that we have to put some Celgene (CELG) - Get Free Report on because I knew that the company's psoriatic arthritis drug was big, that moment was right at the market's top for the day -- right before I figured out that stocks were going up because the market felt the same way I did.
You should never buy on the way up because you think you have to. You buy on the way down because you think you have to.
That's called discipline.
Discipline has hurt you in the last few weeks. You had to go against the chart-oriented bears who were overlaying the 1929 chart on top of 2014. Didn't they realize that we already had 1929 in 2008 and 2009? Where were they when the market fell apart, when the center really didn't hold and the end was pretty nigh? Who were these chartists, more purveyors of the Hindenburg omen -- something that crashed and burned back in 1937? Yeah, that's been a real success. So we had the hysterical death cross, the "reliable" pattern that has marked a reliable moment to buy. Or the head-and-shoulders pattern that, almost every time since the bottom, has reversed into a reverse head-and-shoulders.
Those were the entry points.
People asked whether I had turned bearish. I have always hated that inquiry. As the market goes higher I turn more skeptical, but if I get traditional confirmations -- a higher price of copper, a rally in transport stocks that brings up the retailers or some solid action in the banks -- I am cool with it. I will even overlook my sainted oscillator, which has let me down only once, during the 2008-to-2009 collapse, when buying at down 9 points was hideous because the market kept going down.
But up 9 with inconsistencies that I can't explain? Up 9 with oil going higher? That last item is somehow being taken as a positive for stocks other than Cimarex (XEC) - Get Free Report, United Continental (UAL) - Get Free Report, EOG Resources (EOG) - Get Free Report and Noble (NBL) - Get Free Report, and this during a time when natural gas is eating into the bills that aren't getting eaten by gasoline.
I just have to be more critical until we get a market pause, until stocks work off the overbought reading, until everything isn't interpretive as positive -- because it isn't, for heaven's sake.
So you wait. During this period, individual stocks have come unglued when they shouldn't have. They are giving you chances, and not all of the chances are bogus.
I'm simply waiting. Exercising some patience. Sticking with what's worked most of the time, even if it means not keeping pace with Netflix (NFLX) - Get Free Report and Yelp (YELP) - Get Free Report and Chipotle (CMG) - Get Free Report.
It's a painful not to buy on a spike, as painful as it is not to buy on the way down. But sometimes you just have to wait.
All day I heard replays of Jim Grant calling the whole shebang a hall of mirrors. That sounds like a "House of Usher" -- the "House of Usher" omen -- and I said, "Oh no. If I express caution, will I be lumped in with someone who has hated the stock market since I met him in 1985?" That's as worrisome as buying at the high. But I'm no Grant. I am no intellectual. I wasn't one at Harvard, and I'm not one at the trading desk -- and I rarely invoke that Harvard B.S. You always have throw in that smart stuff because you don't want to be disrespectful. It's a game I've played to little avail.
I just need to know why things are going higher, and I couldn't find any reason, and I'm sure not going to make one up. I just want to wait until I know more. Then maybe the circumstances will go positive, and maybe the oscillator will work off the overbought condition and -- classic example -- maybe Netflix won't go up big because people will presume they'll save money by paying Comcast (CMCSA) - Get Free Report the same amount as they do a middleman (not that we could prove it, and I've worked hard to do so every day). If all of that happens, perhaps I'll become less skeptical, and not more intellectual.
In other words, flexibility -- the thing I am never known as being because I have been bullish for a lot of my career -- needs to pay a role.
Skeptical. Critical. Flexible. Are these deadly? No. Always being bullish or always being bearish? Those are the sins. And while I have sinned, I sure try not to. This is one of those times when I don't feel like sinning, as tempting as it is to do so, until I know why I am buying. Then it isn't sinful, and it just might be right.
At the time of publication, Action Alerts PLUS, which Cramer co-manages as a charitable trust, was long NBL.
Editor's Note: This article was originally published at 8:34 a.m. EST on Real Money on Feb. 25.