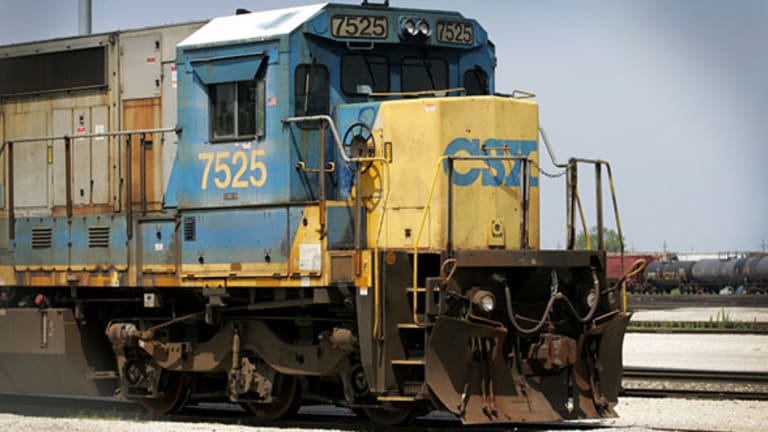 Jim Cramer -- Transports Are the Ugliest Part of the Market Right Now
Forget about Apple or Twitter. There's a rolling bear market in transport stocks, says Cramer.
Lost in all of the energy trying to divine Apple (AAPL) - Get Apple Inc. Report or get your arms around poor, bedraggled Twitter (TWTR) - Get Twitter Inc. Report is the burgeoning bear market in the transports. (Apple and Twitter are part of TheStreet'sAction Alerts PLUS portfolio.)
If you haven't focused on this obliteration, you are missing out on some of the ugliest action I have seen in ages.
First, the rails. We got a host of hideous commentary from coal companies Tuesday, the worst being from Consol Energy (CNX) - Get CNX Resources Corporation Report , where the CEO called the coal environment "brutal." It truly is the worst of all possible worlds for coal because not only is the EPA cracking down, not only is China not importing as much, but natural gas production in this country is so bountiful and the glut so large that coal can't get anywhere near as cheap as the much cleaner fuel.
The rails are, on average, down about 25% this year, almost entirely because of coal. This is the most important cargo for trains there is, and I don't care how much pricing they can take, how many contract revisions or cost takeouts they make, they can't make up for still one more decline in coal usage.
Coal's being wiped out in this country.
Airlines? When Spirit Air (SAVE) - Get Spirit Airlines Inc. Report tells you it is most likely going to have a down year in 2016, when it says pricing is brutal and that while it expects to be profitable it's not clear who else will be, it tells you those super-low price-to-earnings multiples may not be as low as they seem.
That's because the expectations are probably wild high. Spirit's costs are much less than every other airline, so I can only imagine how it is going to handle the sudden glut of routes and lack of discipline by pretty much every airline that is chasing after passengers.
Awful.
United Parcel Service (UPS) - Get United Parcel Service Inc. Report really gave you a feel about the true (anemic) state of the U.S. economy when it told you about big volume drops in the last two months.
The stock got hammered. The spillover to the truckers was hideous and the most levered, XPO Logistics (XPO) - Get XPO Logistics Inc. Report , dropped a quick 10%. Remember, it's buying Con-way  (CNW) in a deal announced right before UPS said business started getting soft.

I have been featuring rolling bear market after bear market, but this is one you don't want to see because this is a leadership group. Incredibly, investors are trying to bifurcate the group, awarding United Continental (UAL) - Get United Airlines Holdings Inc. Report , Southwest (LUV) - Get Southwest Airlines Company Report , American (AAL) - Get American Airlines Group Inc. Report and Delta (DAL) - Get Delta Air Lines Inc. Report pretty decent stock prices vs. Spirit, which is now regarded as an outlier.
Those other, more-expensive-to-run airlines are all trading much closer to their highs than their lows, with Delta and Southwest about a point away from their 52-week highs.
I find that an astonishing divergence. It is hard for me to imagine after listening to Spirit's CEO on Mad Money that you want to buy those others right here.
If anything, you want to short them. But with oil coming down again, people can't resist.
No matter, the bear market in transports is here and, like all the other rolling bear markets, it will thunder through, annihilate and then move on to claim its next victims.
Editor's Note: This article was originally published at 7:13 p.m. EDT on Real Money on Oct. 27.
At the time of publication, Cramer's Action Alerts PLUS had a position in AAPL and TWTR.