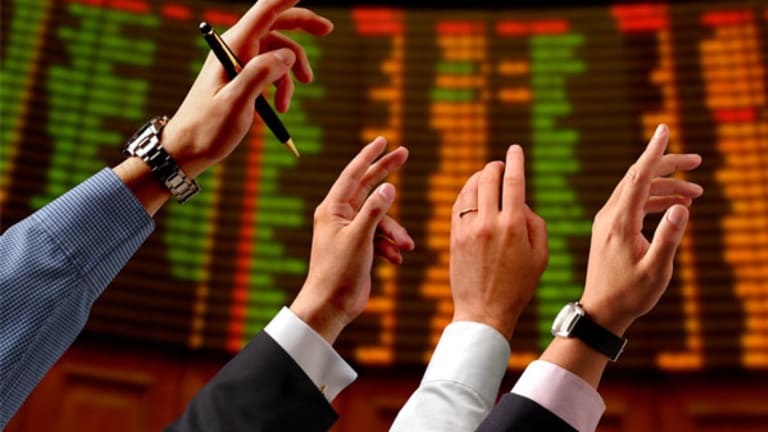 Jim Cramer: Too Much Negativity on Earnings
Update: Let's look at the big hits, not just the misses.
NEW YORK (
) -- There's more good than bad in these earnings numbers.
Sure,
IBM
(IBM) - Get Report
was abysmal.
Goldman Sachs
(GS) - Get Report
didn't have enough fixed-income trading to make the numbers.
eBay
(EBAY) - Get Report
disappointed, as did
Xilinx
(XLNX) - Get Report
and
UnitedHealth
(UNH) - Get Report
(
). But let's go underneath. Let's look at the big hits, not just the misses.
I think you will find many more good than bad, including this morning's reports from
General Electric
(GE) - Get Report
, which had been a real laggard, and
Schlumberger
(SLB) - Get Report
, a perpetual star. These two companies gave you exceptional global order growth and look clean. 
Consider the other contrasts. You may be worried about tech from IBM and Xilinx. But consider
Google
(GOOG) - Get Report
. This gigantic Internet search company has been stalled for the last six months, contributing little to the
Nasdaq's
historic run. It seemed like Google was just one more company that misjudged the speed with which people went mobile and didn't have the right ad tools to capitalize off of it. Now it seems that the company does have both the ad campaigns and the accelerated viewership, particularly on YouTube, that can be monetized, so there is a healthy and needed revaluation going on. Very clean quarter. Truly offsets whatever IBM has to say. 
Then how about the opposites to Goldman Sachs?
JPMorgan Chase
(JPM) - Get Report
, ex-litigation, gave you a terrific number, much better than Goldman's.
American Express
(AXP) - Get Report
was stupendous, frankly, calling into question the whole negative rap about the consumer that eBay offered. I thought
Wells Fargo
(WFC) - Get Report
wasn't perfect, but the market ate it up.
Capital One
(COF) - Get Report
shot the lights out. They all trump Goldman.
Or how about health care?
Johnson & Johnson
(JNJ) - Get Report
and
Abbott Laboratories
(ABT) - Get Report
posted much-better-than-expected top and bottom lines. These were very strong quarters.
Coca-Cola
(KO) - Get Report
wasn't that much to write home about, but the market didn't mind and it loved
Pepsico's
(PEP) - Get Report
quarter. Sure, Xilinx was a bummer, but
Intel
(INTC) - Get Report
, a much bigger company, delivered what the market wanted or it wouldn't be on the verge of breaking out.
Last night
Chipotle Mexican Grill
(CMG) - Get Report
came through with numbers that had the stock vaulting nearly 8% premarket. Chipotle's been flying high of late, which worried me that somehow it would disappoint. But the same-store sales numbers came through very strong and the growth prospects, including new concepts like Chop House and new foods like Sofritas, the vegan dish, are just now beginning to roar.
I know there are numbers that show that we have had the most downside surprises in years, so far. But I think you need to look at three things to determine a downside surprise:
Did the top line miss?
Did the bottom line miss?
Did the stock do nothing or go up anyway?
If you use that prism, I say so far, so very good.
Not a great run for the bears, even as I think they have already qualified the earnings season as a losing one.
Action Alerts PLUS, which Cramer co-manages as a charitable trust, is long WFC, JPM, JNJ and XLNX.
Editor's Note: This article was originally published at 8:08 a.m. EDT on Real Money on Oct. 18.