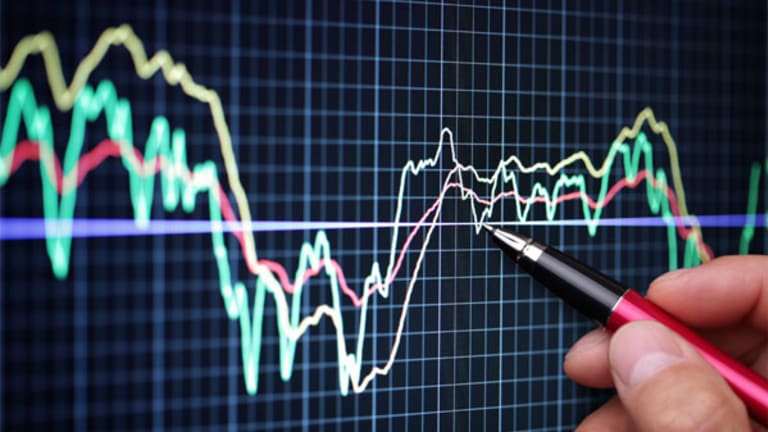 Jim Cramer: This Extraordinarily Ferocious Selling
The nasty decline in momentum names can't be dismissed as something based on fundamentals.
NEW YORK (Real Money) -- When you have a selloff as dramatic as we have had in certain Nasdaq names, the move can't be dismissed as something based on fundamentals. There are deeper forces at work that have to be explored, because the velocity -- the sheer ferociousness of it all -- is so extraordinary.
It's so extraordinary that I have seen it only one other time in my life, and that's after the Nasdaq peak in 2000.
The other day, David Faber and I got into it on the set of the New York Stock Exchange when he gave me some push-back regarding my concern that we could be in big trouble on the Nasdaq because of the kind of activity that I am seeing. He cautioned me not to presume that the current period is comparable to 2000, because we had both lived through 2000 and we know that there are grave differences.
Normally, I would leave it at that. But the wonders of social media have forced me to conclude that I can't leave it at Post 9 or blithely dismiss the comparison here.
So let me go over exactly what I am seeing that you might not be seeing, and what makes me so reluctant and reticent to be as opportunistic about buying as I would like to be.
First, it takes many elements for the market to get into the fix that it is in. So let's go over the characters that have caused us to arrive at a juncture at which stocks are falling apart left and right, and yet nobody of any size seems to want to take advantage of the decline. Given how politically correct we have to be these days, I don't mean that there aren't buyers. Many smaller investors who own some of these stocks are tempted, but there seems to be very little interest among the kinds of big funds that could stop a decline with the sheer force of their buying. That hasn't happened. That, too, has to be addressed.
But let's go back in time to the 2011-to-2013 period. That's a period that we can only quantify as a lower-growth environment. There are many aspects of a lower-growth environment that get talked about on television endlessly. We hear about how the Fed has kept interest rates low, and that this has created a rush to own high-dividend stocks that give you a yield superior to all sorts of bonds without all that much of a degree of risk taken, especially when you consider their after-tax favored status.
You have the endless borrowing of money and buying back of stock that has bolstered earnings per share and kept stocks looking less expensive than they might otherwise be, given the lack of sales growth.
And, perhaps least talked-about, you have a return ascendance of the momentum managers, who seek to own only the highest-growth stocks, regardless of whether the companies they own are profitable. These managers aren't as sensitive to earnings growth as most others are. They care far more about any growth possible. Often they think that the earnings growth we see in most of the S&P 500 is manufactured by buybacks. These momentum managers would, on the other hand, be far more willing to buy companies with terrific revenue growth, and they trust companies' management teams when they say, "Look, we could be profitable by traditional metrics, but that ends our first-move advantage we get otherwise."
Why bother to care only about revenue growth? Isn't that a silly, fatuous metric? Not if you have watched the trajectory of Amazon (AMZN) - Get Amazon.com, Inc. Report or Netflix (NFLX) - Get Netflix, Inc. (NFLX) Report or Tesla (TSLA) - Get Tesla Inc Report, it isn't. Those stocks have been remarkable performers, and these companies have all have embraced the concept of, "Revenue growth is a terrible thing to waste on the faux altar of profitability."
Now, in truth, these companies aren't fooling themselves or investors. The best ones are actually, indeed, profitable -- they are just not what we would call, "earnings-per-share profitable." They are cash­-flow profitable. Why is this so important? It's because many of the most exciting companies are ones that offer software by subscription, and subscription accounting is different from other forms of accounting. It requires you to recognize only one-twelfth of a chunk of it at a time. So when you sign up a client for a year and that client pays for it all at once, you can't count it all at once for reported earnings. That's quite different, say, from traditional recognition, in which you get to show the gain all at once. That's why, when you hear a business is cloud-computing-based, you rarely see big earnings but often see big revenue, and you might be confused as to why this doesn't translate to the bottom line.
The momentum managers understand this, and they are the ones who continually piled into these stocks, taking them higher and higher every time they heard that the companies had beaten and raised estimates. They are an integral piece of the puzzle of what's going wrong here.
Now, the bankers aren't dumb. They see what these momentum managers want: the shares of more software-as-a-service companies that do business in the cloud. There is a revolution going on -- think of it as desktop to central computer -- that's bringing folks away from what's known as client server and toward handheld computers that connect to the cloud, just like when you pull a song down on your Apple (AAPL) - Get Apple Inc. (AAPL) Report iPhone from iTunes.
There are a ton of companies taking advantage of this sea change. We have seen software-as-a-service companies come public for medical records, for travel, for prescription drug sales, for banking software, for medical insurance, for human resources, for tax preparation, for payroll processing, one after another after another. Many are duplicative. All have high growth. Almost none earn a profit.
As long as the supply of companies was limited, the momentum managers would bid up the small cohort on every bit of good earnings from any of the players. But, as all of these companies roll out shares, there are simply too many of them for the momentum managers to own. They aren't getting enough money in to buy more of these names, either. So these managers are either swapping out of some in order to go into the initial-public-offering market for the new software-as-a-service companies, where they get preferential treatment on the deal but are then asked to buy more in the after-market. Or they are pulling back altogether, because they have now begun to incur some serious losses and they fear that the money will stop flowing their way.
These managers were doing fine until two other issues surfaced.
The first is that we began to see some actual growth in the economy, which means potentially much higher earnings for traditional techs and industrials -- hence why many of those stocks are going higher even as these newer techs are doing down. That's the relative-performance issue.
The second issue is that the insider-selling lock-ups are beginning to expire for last year's crop of IPOs, and the insiders are frantic to cash out, lest their gains evaporate. To make matters worse, brokers are putting together baskets of these cloud-based stocks and allowing currently locked-up insiders to short the baskets as a hedge against their own losses. They are locking in gains via collateral selling, something I saw happen only in the year 2000. That kind of selling was at the root of last week's debacle.
So let's put it all together. There are too many IPOs now chasing too few dollars, either because these momentum firms aren't getting in new money, or because nonmomentum buyers are now shifting focus to traditional names that have the potential to show big gains off an economic upswing and can also buy back stock to magnify those earnings. At the same time, the insiders are dumping more stock on the market, and neither momentum funds nor nonmomentum funds have an appetite for more. That's why they pass on stocks that, a few months ago, they would have loved to buy even higher, maybe even much higher.
On top of that, layer on the neophyte buyer, just like the buyer we saw in 2000 -- the retail buyer who likes Twitter (TWTR) - Get Twitter, Inc. Report, so she buys Twitter, but is now in panic mode -- and you get exactly what is happening now. It's a nasty situation. And there are no fundamental issues bedeviling the stocks that would somehow go away and stem the selling. So until insiders find levels at which they won't sell, until the big slate of IPOs gets cancelled because of failing deals (not the case yet, given the success of GrubHub (GRUB) - Get Grubhub, Inc. Report or until more money comes in because until the economy falters, you can predict that the selling will continue on every lift or every fall.
At the time of publication, Action Alerts PLUS, which Cramer co-manages as a charitable trust, was long AAPL.
Editor's Note: This article was originally published at 7:39 a.m. EST on Real Money on April 7.