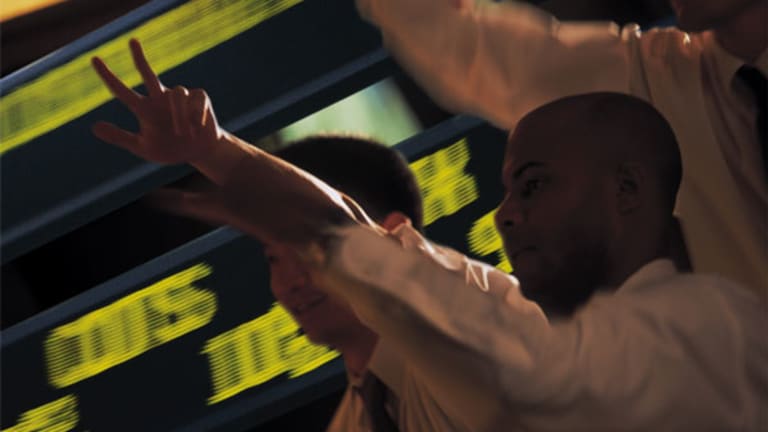 Jim Cramer: These Once-Momentum Stocks Will Run You Over
Mobileye and GoPro are unlikely to get their momentum back anytime soon.
NEW YORK (Real Money) -- Momentum cuts both ways. You either have it or you lose it -- and when you lose it, the momentum doesn't come right back. I'm talking about Mobileye (MBLY) and GoPro (GPRO) - Get GoPro, Inc. Class A Report , both of which suffered serious reversals in their shares Monday.
When these stocks are running, everyone knows to own them. When they get hammered, nobody knows what to do. When they reverse, people want their hands held.
You can't hold anyone's hand on a momentum stock. It's liable to get blown off.
Now, I like both of these companies. Both of them are developing ecosystems -- Mobileye for all sorts of vehicles and GoPro for those who want to cut movies of their own exploits. Mobileye's getting designed in to so many autos that you can feel the excitement of the darned thing. GoPro has become a cult stock that has a product cycle going for it -- soon to be in stores! -- and shorts are going against it without stock to borrow.
Here's the issue: When you have this kind of supply-related selloff, it often doesn't pay to get in front of one of these freight trains when they go in reverse. These kinds of names just aren't the first to bounce. That's because many of the people who are in these stocks are in them simply because they are going higher. The prices aren't earnings-based, like so many of the companies whose stocks that got sold off in order to free up funds for buying into the Alibaba initial public offering. These companies don't have real multiples. They just have stocks that go higher until the shares are stopped and thrown for a loss. Then the momentum goes the other way.
In other words, the pullback tends not to refresh. GoPro has only had two real pullbacks, $48 to $38 in August and then $56 to $53 in September. But Monday's intraday action was very telling: The stock opened at $69 and went to $71 a little after 10:30 a.m. EDT, when the rest of the Nasdaq had already started rolling over. Then the darned stock rolled over to $66 in a hideous break, and then attempted to stabilize and rally back to $68. But it then retraced before going back to $67.
There was a huge amount of money spent trying to keep the thing aloft, and it didn't stay. It didn't finish at the low. But it ultimately finished down $1.98. To me that means there will be people who will say, "The GoPro streak has been broken -- let me out of here." That's been the pattern with this kind of bottle rocket.
Mobileye's slightly different. The stock has now had four down days in a row. But, again, the intraday action was quite bad, as the shares initially rose $2 and then reversed to close down $3 and change. Lots of people on the losing end of this one last night.
Can Mobileye recover? One of the issues here is that the stock somehow has already gotten $10 billion in market capitalization. Another is that it sells at 100x earnings.
You never think about things like this when the stock's moving up. You never stop to think, "Wait a second. How did this just-debuted stock get from $25 to $58 before retreating today to $47?"
So what do you do with these two? I think with GoPro you accept the fact that the intraday reversal was brutal and you take some off the table and revisit.
With Mobileye, you let it settle. Do folks stand behind it? Do they bull it again? If they don't, I think it is safe to say that it would be better to play the bounce-back with a name such as Google (GOOGL) - Get Alphabet Inc. Class A Report or Facebook (FB) - Get Meta Platforms Inc. Class A Report rather than with a stock such as Mobileye until some of the hotter money comes out and more stable money comes in.
At the time of publication, Action Alerts PLUS, which Cramer co-manages as a charitable trust, was long GOOGL and FB.
Editor's Note: This article was originally published at 8 a.m. EDT on Real Money on Sept. 16.