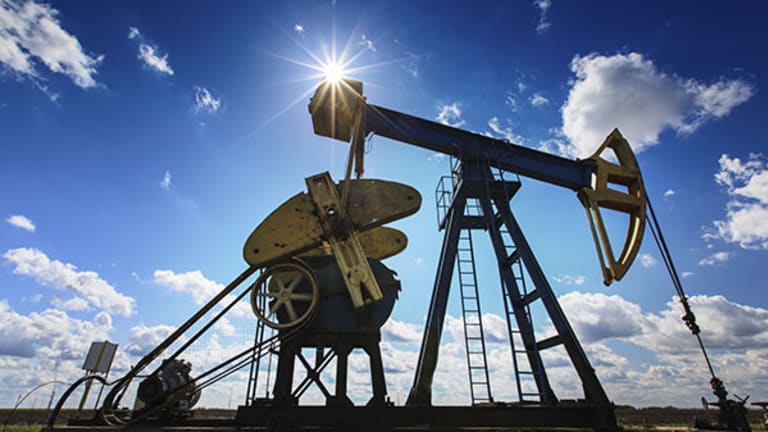 Publish date:
Jim Cramer: These Charts Prove It's Oil-and-Gas vs. Everything Else
Reams of stocks make sense on a pullback. And what looks bad? Anything even remotely connected to oil and gas.
Reams of stocks make sense on a pullback. And what looks bad? Anything even remotely connected to oil and gas.
NEW YORK (Real Money) -- Stark, stark, stark: I am talking about the disaster that is oil-and-gas and its accoutrements vs. literally everything else in the chart book.
In fact I can pretty much make a case for any airlines, finance, health care, defense, consumer packaged goods, retail, restaurant, technology, household products, utilities, travel and leisure, and real estate investment trusts on any pullback. And we are seeing a pullback for certain.
You can read a great deal into these situations, and it's worth trying to puzzle through them.
First, we have the obvious beneficiaries of the reduction in gasoline: airlines, restaurants, retail, travel and leisure. These are, frankly, all moonshots. These shares are up pretty much in a parabolic fashion -- which is usually self-destructive, and would indicate that they are set for any sort of fall if oil sees a short-term bottom that takes it back to the $60s per barrel.
This is something that Carolyn Boroden, the Fibonacci Queen -- one of my favorite off the charts tutors -- says could happen this week. See my assessment of Boroden's relevant chart here, starting at about 3:55, and her chart below.
Target (TGT) - Get Target Corporation Report , Nordstrom (JWN) - Get Nordstrom, Inc. (JWN) Report , TJX (TJX) - Get TJX Companies Inc Report and Wal-Mart (WMT) - Get Walmart Inc. Report really stand out as winners here.
Same with restaurant chainsPopeyes Louisiana Kitchen (PLKI) , DineEquity (DIN) - Get Dine Brands Global, Inc. Report and Darden (DRI) - Get Darden Restaurants, Inc. Report -- which reports this week -- as well as Jack in the Box (JACK) - Get Jack in the Box Inc. Report and the ferociously positive Fiesta Restaurant Group (FRGI) - Get Fiesta Restaurant Group, Inc. Report . 
I think because of the nature of the ETFs covering these areas, this stands to reason. You have to have a real outlier, such as McDonald's (MCD) - Get McDonald's Corporation (MCD) Report , with its worst-in-show numbers, or Yum! Brands (YUM) - Get Yum! Brands, Inc. (YUM) Report , with its Chinese weakness, to buck the trend on these.
A couple are super levitators: Cracker Barrel (CBRL) - Get Cracker Barrel Old Country Store, Inc. Report with its stores based on the freeways around the nation and Royal Caribbean (RCL) - Get Royal Caribbean Cruises Ltd. Report , which is a gigantic consumer of fuel that does well right now and has a short base put on from the Ebola-scare days. Same with Carnival (CCL) - Get Carnival Corporation Report , which looks real good.
Most of these charts aspire to be like Domino's (DPZ) - Get Domino's Pizza, Inc. Report or Disney (DIS) - Get Walt Disney Company Report , just classic 2014 winners that could rest here or take one final lurch of the parabola into the end of the year. I think the former, with a slight pullback to trendline, is more likely. These companies are just net winners in the wealth transference from the oil producers to the consumers, and it could go on for a long time as we haven't even seen the number bumps yet.
The household-products contingent is similarly performing well, in synch with the Home Depots (HD) - Get Home Depot, Inc. (HD) Report and Lowe's (LOW) - Get Lowe's Companies, Inc. (LOW) Report of the world.
It was jarring to see Sherwin-Williams (SHW) - Get Sherwin-Williams Company Report not go with the program on Friday, but I think the decline was pretty one-off, and I expect things to roar back.
Auto-parts remains part of this robust group, as the assumption is that people will keep their gas-guzzling cars longer and just work on them to keep them running. It, again, is a time-honored thesis that will be jarred only if oil spikes.
Stocks such as AutoZone (AZO) - Get AutoZone, Inc. Report and O'Reilly (ORLY) - Get O'Reilly Automotive, Inc. Report are so overbought that you can't imagine them not coming down. Not so for Snap-On (SNA) - Get Snap-on Incorporated Report , which is total "go to" in this environment.
The second group, the utilities and the real estate investment trusts, are tacit admissions that interest rates on U.S. Treasuries aren't going higher any time soon.
There are a variety of reasons why that is. First, the eurozone and China economies are going down in tandem, and that makes U.S. utilities valuable from the point of view both of lower rates and of the possibility of slower gross domestic product growth worldwide, and a pick-up in business here that needs more power. The latter, the move in the real estate investment trusts, also makes sense, as these are domestic players that can raise rates because of a more robust economy. Their dividend yields are no longer compelling, and they are trading as growth stocks, which is never a good sign, making them very vulnerable to a pullback.
I worry about the airlines because old planes, which had become uneconomic due to jet-fuel costs, are now prized commodities. With the pricing umbrella of high rates, it stands to reason that a couple of hedge fund guys or a private equity firm, must be about to open a cut-rate airline. This is what always happens, and it will happen again.
Notice I say "will," not "might," because history is always repeating itself in this group. That's why it hasn't acted as well as you would expect, save for marginal players such as JetBlue (JBLU) - Get JetBlue Airways Corporation Report , and the under-managed United Continental (UAL) - Get United Airlines Holdings, Inc. Report , as Herb Greenberg has documented so well.
Health care? How about perfect?
Bristol-Myers (BMY) - Get Bristol-Myers Squibb Company Report , Merck (MRK) - Get Merck & Co., Inc. (MRK) Report , Lilly (LLY) - Get Eli Lilly and Company (LLY) Report on the big pharma seem ideal.
All the biotechs, but particularly Regeneron (REGN) - Get Regeneron Pharmaceuticals, Inc. Report , Celgene (CELG) - Get Celgene Corporation Report , Biogen (BIIB) - Get Biogen Inc. Report and BioMarin (BMRN) - Get BioMarin Pharmaceutical Inc. Report , are very spiky, yet are naturals to buy on an oil-related pullback.
You want perfection?
Return to the dental plays, namely Henry Schein (HSIC) - Get Henry Schein, Inc. (HSIC) Report and Patterson (PDCO) - Get Patterson Companies, Inc. Report , or the over-loved big three, AmerisourceBergen (ABC) - Get AmerisourceBergen Corporation Report -- simple as ABC -- Cardinal (CAH) - Get Cardinal Health, Inc. Report and McKesson (MCK) - Get McKesson Corporation (MCK) Report . These are the most natural stocks to come to on any pullback.
I like them more even than I do Cigna (CI) - Get Cigna Corporation Report , Humana (HUM) - Get Humana Inc. (HUM) Report and WellPoint (WLP) , all of which are extraordinarily strong. So are such stocks as Medtronic (MDT) - Get Medtronic Plc (MDT) Report , Edwards Lifesciences (EW) - Get Edwards Lifesciences Corporation Report , Stryker (SYK) - Get Stryker Corporation Report , Zimmer (ZMH) , Bard undefined and Becton Dickenson (BDX) - Get Becton, Dickinson and Company Report and Stericycle (SRCL) - Get Stericycle, Inc. Report and Steris (STE) - Get STERIS Plc Report , to name just a handful of beauties.
These are stocks that are going higher on the backs of the slowdown in China and the recession in Europe. I suspect that they will all be bought into year-end.
There's a lot of interest in the financials. It's not overwhelming, and it is a little more case-by-case than the financial ETFs would have you believe, probably because of worries about banks with loans to oil-and-gas companies.
It would seem for a ripe shorting opportunity for the Financial Select Sector SPDR (XLF) - Get Financial Select Sector SPDR Fund Report vs. Cullen/Frost (CFR) - Get Cullen/Frost Bankers, Inc. Report , but I think that's already become an overcrowded trade.
The defense sector is rocking here after a 5% decline, and I think is ripe to be bought off the new U.S. federal budget, which shows the first pick-up in military spending since the sequester. I don't want to steer you toward any specific one. They all seem terrific.
Consumer packaged goods are, once again, benefiting from lower oil and gas prices for shipping and packaging, higher yields and a recession overseas. Not a group you have to think too hard about. They are all working into any pullback.
Technology is a little harder. The companies that help make gadgets, namely Cypress (CY) - Get Cypress Semiconductor Corporation Report , RF Micro (RFMD) , and Avago (AVGO) - Get Broadcom Inc. Report are all benefiting from both takeovers and their ubiquity.
Micron (MU) - Get Micron Technology, Inc. (MU) Report , Western Digital (WDC) - Get Western Digital Corporation Report and Seagate (STX) - Get Seagate Technology PLC Report make sense, although the latter two are a bit stalled.
Big tech and cloud computing, though -- with the exception of Microsoft (MSFT) - Get Microsoft Corporation (MSFT) Report , a pre-split-up Hewlett-Packard (HPQ) - Get HP Inc. (HPQ) Report and eBay (EBAY) - Get eBay Inc. Report as well as Adobe (ADBE) - Get Adobe Inc. Report -- look only OK. It is a "be careful" group.
Again, I want to stress, these stocks all look vulnerable for being so overbought, but they make sense when they pull back to trendline.
And what looks bad?
Anything, and I mean anything, even remotely connected to oil and gas, including servicing and industrials and infrastructure plays. Looking less bad is aerospace, where the gas-guzzler comeback must be crimping the long-term trajectory. Extraction tools, solar, coal, copper and iron are all disastrous. Most, honestly, look like they will fail. They are monstrous and could wreck anyone's year.
Frankly, I have never seen anything like the destruction here. It is relentless and unbelievable and showing no sign of turning. Again, I think the downside's due for a breather, as is the upside, but others who have waited for one have been wiped out in any attempt to get back to even. The bottom fishers here are legion, and they are dead.
That's pretty much the whole gamut. Special situations: entertainment, cable, boutique industrials, rails, steels and Internet plays are all case-by-case and do not lend themselves to a reading of the charts.
But most are so stark that they are almost pinpoint precision in direction, which is a testament to both the oil crash and the total domination of ETFs vs. individual stocks, which now seem, ex-takeover and restructuring, devoid of purpose.
At the time of publication, Action Alerts PLUS, which Cramer co-manages as a charitable trust, was long MCD, MRK and MSFT.
Editor's Note: This article was originally published Dec. 15 on Real Money at 7:08 a.m. EST.