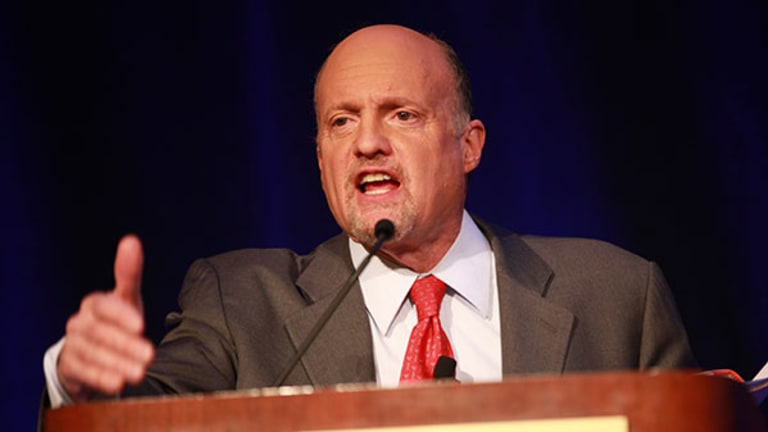 Jim Cramer: The Best Time to Fly
Airline mergers have, for the first time, let these companies earn their cost of capital and then some.
Editor's note (Part 4 of 7): The following is text from Jim Cramer's keynote speech at The Deal Economy Event on Dec. 5 at the New York Stock Exchange, New York City. To watch video replays of the event, click here.
NEW YORK (TheStreet) -- What's the fourth theme? The bounty that comes from a very weak U.S. Dept. of Justice Division that seems to bless deals that would be vetoed out of hand by any Republican administration. The biggest beneficiary? The airlines.
The combinations that have been allowed in the airline industry have, for the first time, let these companies earn their cost of capital and THEN SOME. It is the single best time ever to be in the airline business because of a dramatic decline in competition and I can't emphasize enough that you need to invest in this area that I have formerly found to be totally uninvestable.
I had favored Delta (DAL) - Get Delta Air Lines, Inc. Report, which I think can easily advance some 50% from these levels if oil stays tame, although its ownership of a refinery allows for a very favorable cost advantage. But the ridiculously anti-competitive merger that was the US Airways-American Airlines deal, I think could lead to a double in the next 18 months for the combined company, which will trade as AAL. History has shown that when airlines are allowed to merge, the synergies are awesome and the possibilities for fare increases remarkable and seemingly endless.
Previously, when we have had these combinations, they ultimately ended badly for shareholders because discounters came in to compete and ruin the margins. But this time there are many things working against the potential discount entries. First, they need new planes and the lines for planes from Boeing (BA) - Get Boeing Company Report and Airbus are ridiculously long. You can't get a Dreamliner until 2020 and the queue for the 777 is already beyond the reach of a startup.
Normally, startups would simply purchase old planes and get things up and running instantly. But the old planes now use too much fuel and fuel can equal 50% of the costs of operating the airline, which is just too prohibitive to compete with the majors, which are outfitted with the latest and least-jet-fuel-consuming aircraft.
There is one formidable discounter out there, Spirit Air (SAVE) - Get Spirit Airlines, Inc. Report, but Spirit, run by Ben Baldanza, a frequent guest on "Mad Money," has no desire to compete with the majors because one of the reasons why the majors are so profitable has to do with their willingness to drop routes that are unpopular for their high costs of operation, but extremely popular for the low-operating cost Spirit. SAVE, as the stock's symbol tells you, doesn't want to compete against the big dogs. It wants to go where they won't fly.
Yes, the airline business is that exciting right now and until this year I hadn't recommended an airline stock since 1985 when I burned my client base at Goldman Sachs with an ill-fated recommendation to buy the now-bankrupt and soon-to-be up-and-running American.
You want a real sleeper? Consider Volaris (VLRS) - Get Controladora Vuela Compania de Aviacion SAB de CV ADR Class A Report, the Mexican discount airline that is doing the same for Mexico that Spirit's doing for this country. I think it's a steal as it has done next to nothing since coming public earlier this year, but the country's growing by leaps and bounds.
Click here for Part 3.
At the time of publication the author held no positions in any of the stocks mentioned.