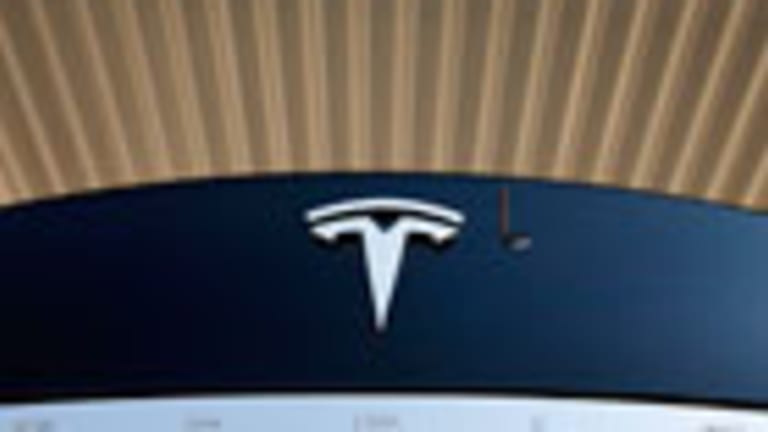 Jim Cramer: Tesla Motors Has Great Cars but Isn't a Good Company
Tesla Motors Chief Executive Elon Musk is getting close to the Wall of Shame.
NEW YORK (Real Money) -- Everyone gets a warning, so consider this a warning.
I am talking about how tempting it is to put Tesla Motors (TSLA) - Get Tesla Inc Report Chief Executive Elon Musk on the Wall of Shame after that horrendous -- some would say ridiculous -- quarterly report and conference call Thursday night.
I have called Tesla a cult stock for ages, the definition of a cult stock meaning that its stock can't be valued by traditional metrics. To believe in Tesla, you had to believe that the car would be better than any other car in its class and that its CEO would execute on the electric technology and allow this company to grow from an automobile start-up to the world's most lucrative manufacturing company.
Musk dashed pretty much every aspect of the dream Thursday night. The company missed on sales, earnings, gross margins, cash flow -- negative $455 million-- and guidance.
It is burning money like crazy. It is spending money like crazy.
No way the balance sheet can support the investment needed. Meanwhile, the other guys, notably BMW and General Motors (GM) - Get General Motors Company Report are catching up and offering very competitive models.
But that isn't why I think that Musk is courting a position on the Wall. It is Musk himself and what he said during the call and in his statement.
I will let his quotes hang himself.
First, why were sales weak? There were manufacturing problems that held the company back, and delivering the cars, he said "was physically impossible due to a combination of customers being on vacation, severe winter weather and shipping problems."
Hmm. Customers on vacation.
Weak China sales? "The biggest issue is the perception that it is difficult to charge your car in China. This is false. It is not difficult to charge your car in China. Unfortunately, this sounds brain-dead, but our sales team was telling people that it was difficult to charge in China, even though this is not true. That is pretty silly," Musk said.

Hmm, Brain dead.
On the losses: "Our financials are better than they appear, not worse. That's the key point."
Hmm, better than they appear?
On the kind of profitability Musk expects: "I'd like to emphasize that doesn't mean "b.s." profitable, it means really profitable."
Jeez, I haven't heard a CEO curse on a call since former Enron Chief Executive Jeffrey Skilling cursed at a critical analyst before that company's demise.
On how Tesla will be as big as Apple (AAPL) - Get Apple Inc. Report one day: "If you take this year's revenue, around $6 billion or thereabouts and if we were able to maintain a 30% growth rate for 10 years, add to your 10% profitability number and have a 20 [price-to-earnings ratio] our market cap would basically be the same as Apple's today. That's going to require some significant cap/ex but I am hopeful that we can do this without any significant dilution to the company, maybe minor dilution but nothing serious."
Hmm, easy enough.
How much money will be required to become the next Apple? "We are going to spend staggering amounts on cap/ex," Musk said.
To which I say, where the heck is the money going to come from. The cultists?
Near the end of the call I thought I was listening to the rambling of John DeLorean, he of another era of a car that was loved but a balance sheet that was hated. It was almost a spoof of a call, basically mocking those who try to take the company seriously, an Animal House call, perhaps in honor of the coming 40th anniversary of Saturday Night Live?
Why not nail Musk to the Wall right now? You always get one chance to redeem yourself after a real fiasco.
But make no mistake about it, this was a fiasco miss of immense proportions, coupled with the arrogance of a Steve Jobs without the wonderment to back it up.
Bottom line: great car, bad company.
Action Alerts PLUS
, which Cramer co-manages as a charitable trust, is long GM and AAPL.