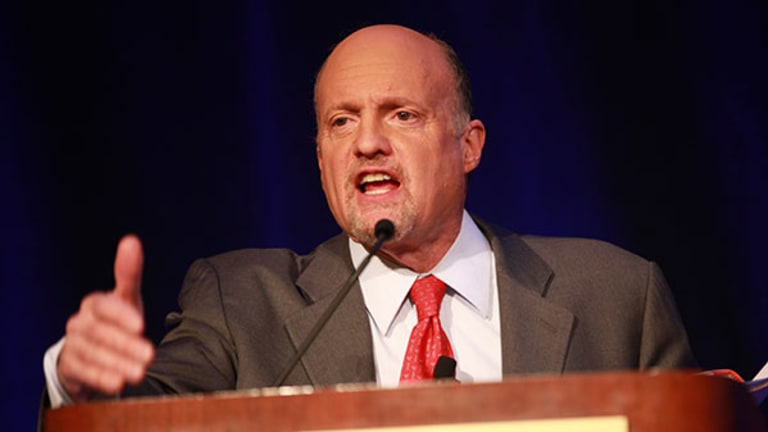 Jim Cramer: Tech Buys for 2014 and More
The turmoil in D.C. will get worse. That will present buying opportunities in 2014. And here are some tech stocks poised to do well.
Editor's note: The following is text from Jim Cramer's keynote speech at The Deal Economy Event on Dec. 5 at the New York Stock Exchange, New York City. To watch video replays of the event, click here. To read more content from Jim Cramer on Real Money,click here.
Where to Buy in 2014
When I heard I was coming back to orate at The Deal conference this year, I knew I was in big trouble.
Last year, I spoke at a time of incredible turmoil in the stock market. Washington had gone off the rails, hedge fund managers were shorting stocks left and right, individuals were rushing to sell any winners to lock in gains ahead of new taxes and the economy looked very tepid.
Into that breach, I came here with some breakup and takeover ideas that I look back on now and think, "wow, what a genius." The reality? The talk came at pretty much the lows for the era. That's how you could catch doubles with recommendations like Deckers (DECK) - Get Deckers Outdoor Corporation Report, the maker of Uggs, or Alliant Tech (ATK) , the government's bullet maker, without takeover bids. It's how Johnson & Johnson (JNJ) - Get Johnson & Johnson Report could rally 40% or Hess (HES) - Get Hess Corporation Report could rally 70% percent from last year's speech, just on the talk of a breakup, not on the reality.
And it's why almost all of the picks I made handily beat the market year over year. I have always said it is better to be lucky than good and maybe last year's talk is Exhibit A of that adage.
But we are in a what-have-you-done-for-me-lately profession and that means I have to give you a whole new crop of stocks that I think can beat next year's market, too.
That's no mean feat with stocks up 25% on average this year and only five stocks in the Dow having rallied less than 10%. Amazingly, only two stocks in the venerable index are actually down, IBM (IBM) - Get International Business Machines Corporation Report and Caterpillar (CAT) - Get Caterpillar Inc. Report, and their declines are pretty imperceptible. It's just the opposite of last year's scenario.
It's been a banner year for fund performance, unless you work at one of the considerable number of portfolio managers who fought the rally tooth and nail, which, thank heavens, we didn't do for my charitable trust, my principal way of keeping my hand in the market these days.
The Market's Changed Dramatically
This year I want to do something different. In 25 days, I will have a new book out, Get Rich Carefully, and it's about looking at stocks from some totally different perspectives. Over the five years since I wrote my last book, I believe the market has changed in some dramatic ways, particularly in relation to methods of trading, as well as government intervention.
It's a market that looks sublime and placid on the surface, but underneath lurks a seething Washington bear that hibernates and then springs up every few months to wreak havoc on stocks, clawing them down 5%, 8%, 10%, sometimes almost as much as 20%. The market's become a bucolic farmer's field to make hay when the sun shines, except when the hidden landmines of Washington appear underfoot and blow up those who have been lulled into thinking that all is well in the republic.
Get Rich Carefully is born of that tension, a confidence-crippling political environment layered on top of a pretty decent earnings story and the polemical challenge from Washington, I think, is responsible for so many people staying away from this glorious bull market (or at least fleeing from it at the worst possible moments, every time a Washington IED explodes in their faces, vanquishing hopes of participating in the riches this market's producing for those who don't have one foot out the door at all times).
That's why I wrote Get Rich Carefully. Because between the mechanical failures of the market that make a mockery of the asset class known as common stocks and the internecine warfare between Democrats and Republicans that I actually think will be worse this time around as we approach the 2014 elections, we are going to have still one more year with deep fissures that will present terrific buying opportunities.
And let's be sure of one thing before I get into the stocks and themes I like. I don't care if you are for big government, small government, no government or single issues that keep you from thinking beyond those parochial concerns, I just want you to make money.
To do so means to expect the unexpected and attack it with a strategy involving NOT stocks specifically, but long-term themes that enable you to take advantage of Washingtonian-inspired bear raids to put money to work at lower prices than you should otherwise be able to get.

The book's pretty much tightly under wraps. I don't even have a copy in hand. But I want to give you the first preview of one of the most important sections, the top themes for 2014 and beyond, and the best stocks to play them with, including ones I do expect to have difficulty in staying independent when the D.C. bear romps on Wall Street and takes all stocks down.
The New Holy Trinity of Tech
The first theme is the need to embrace the new Holy Trinity of tech: social, mobile and the cloud. Right now, only a few companies actually see the vision of what's happening in tech. You need to have recognition that the old way of doing things, the client-server way, which excludes the on-the-go-tablet-toting-smartphone-utilizing individual, both at home and at the enterprise, is now a thing of the past. You need a strategy that captures the strengths of those devices to do everything on a cloud-based platform, not a soup-to-nuts offering provided by EMC (EMC) , Cisco (CSCO) - Get Cisco Systems, Inc. Report, IBM or, most importantly, Oracle (ORCL) - Get Oracle Corporation Report, all of which I expect to be losers in the coming year.
Those four companies have become dinosaurs in the face of the social, mobile and cloud revolution.
Who has the smarts to harness these three? First is Salesforce.com (CRM) - Get salesforce.com, inc. Report, which has become the de facto new Oracle, the platform that all different functions can operate on. Workday (WDAY) - Get Workday, Inc. Class A Report for human capital and finance, KenAndy for enterprise resource supply, Veeva (VEEV) - Get Veeva Systems Inc Class A Report for global life sciences, Concur (CNQR)  for travel and Facebook (FB) - Get Meta Platforms Inc. Class A Report and Yelp (YELP) - Get Yelp Inc Report for social and mobile are all based on a Salesforce.com platform that allows for open solutions that cost so little for enterprises to adopt, once they have ripped out the legacy database plumbing.
Watch for LinkedIn (LNKD)  and Yelp to storm the gates as they are armed with both subscription and advertising models for recruitment and leisure respectively, and I am a huge believer that you need both advertising AND subscription sales in a world where advertisers are paying less and less to reach an increasingly mobile audience.
Yelp's been heading down of late and I think that it's the most likely candidate to be purchased by a larger company trying to get immediate access to social, mobile and the cloud. It was pursued by just about every major tech company in the space before it came public and I don't think it is trading at a level that's too expensive for Google (GOOG) - Get Alphabet Inc. Class C Report or Facebook or Yahoo! (YHOO)  or even Twitter (TWTR) - Get Twitter, Inc. Report to pull the trigger on.
Don't want to venture into the ultra-expensive world of cloud-based systems, where the best acting stock is the 90x-earnings Workday? Then go with the way Action Alerts PLUS, my charitable trust, is investing in the new social and mobile world: Google. Here's a company that has quietly become the hottest business on earth, a company that's known for its superior search function, but should be known for its dominant advertising franchise, its best-in-class personal computing AND smartphone franchises, as well as an endless stream of popular devices that have not yet even begun to be monetized. I think that in 2014 you will see YouTube be commercialized in a shockingly positive and additive way and Google estimates are simply way too low. It could easily rally 25% when those numbers get bumped in early 2014.
Sometimes you can judge a company by the desire of young people to work there. Google's probably the toughest ticket to get a job of any company in the country. Go ask your kids, they know. I can't place a soul there.
At the time of publication, Action Alerts PLUS, which Cramer co-manages as a charitable trust, owned shares of Caterpillar, Google and Johnson & Johnson.