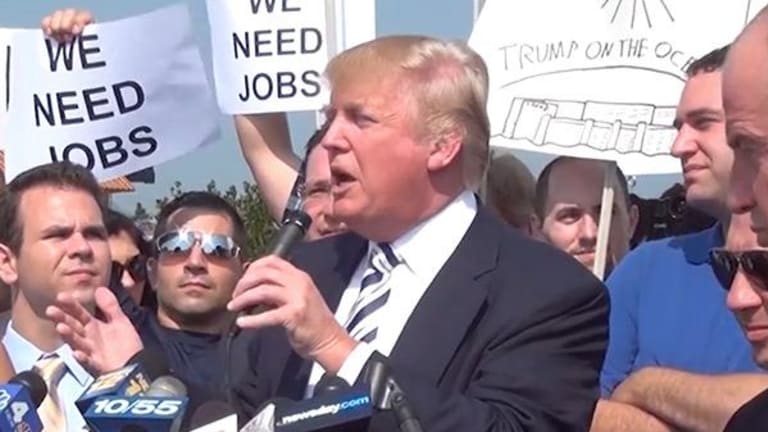 Publish date:
Jim Cramer Sees a Change in Ethos
Companies are feeling free and emboldened and willing to spend money and place orders.
Companies are feeling free and emboldened and willing to spend money and place orders.
Once again, this weekend I spent time with a dozen people who were baffled and confused how this stock market can keep going higher despite what the mainstream media -- here we go again -- would say are gaffe after gaffe from the Trump administration.
I go on Twitter and I see the only people who are really sure of themselves about buying stocks are often those who know the least about stocks and are just buying them because they are going up.
But we go through a perilous week like last week, with myriad data and some tough earnings reports -- including some retailers -- and we find ourselves thinking: how does it keep happening even though our president has shown no signs of being able to deliver legislation and is so far behind where Obama was at this point in his presidency?
I say it's a false narrative. What's happening is that companies are feeling free and emboldened and willing to spend money and place orders, because they don't think they will be hit by orders or investigations or changes in the law.
How important is deregulation? On Friday, I spoke with Rusty Braziel from RBNEnergy.com, a consultant to about 20,000 different people in the oil and gas industry, and the greenlight that industry feels it has from Trump is triggering multi-billion projects that otherwise would be red-lighted for fear that Obama would change the regime for what's allowed and what's not.
How might have that worked? OK, there are currently $46 billion in plants being built in the southeast to take advantage of all of the natural gas that's in this country.
When you speak to executives in this industry, they know it could be much bigger. Yes, that's how great the prospects are.
But at what point would it all hit the radar screen, some group would protest, and Obama would take up that group's cause and slow everything down so the investment was a mistake?
That's how almost all of the execs viewed these projects. A handful of protestors had the ability to stop anything.
That's no longer the case.
I believe that's a narrative that encompasses a lot of different industries with expansion plans.
It's a different mindset. The President isn't going to side with the insurgents and the protestors.
The president wants to get it done.
That new environment, coupled with profits that were already in the cards because employment was getting better, has more to do with the improvements in the economy than just about anything else.
The job gains should make people feel more assured, but the perceived bumbling -- everything has to be hedged these days -- keeps people out while the market goes higher.
Underneath, though, there's a change in ethos. That change will get us through the quarter -- barring some huge existential cloud -- simply because no one's seen it before, ever.
One last thing. How many times have we expected a foreign leader to declare economic war against Trump? It hasn't happened once. What's that to mean? I take it as positive, not negative. Maybe something's actually working ...
, which Cramer co-manages as a charitable trust, has no positions in the stocks mentioned.