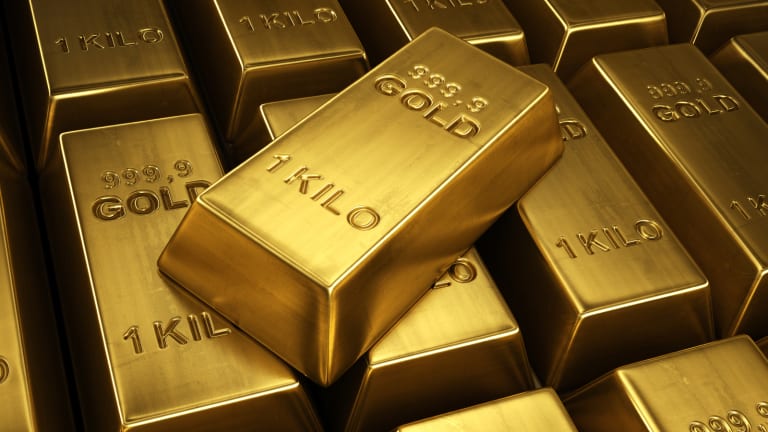 Jim Cramer Says Beware the Hedge Fund Rush That's Buoying Freeport
Hell hath no fury like a hedge fund manager out of position. That's what you are seeing today, as portfolio managers recognize they don't have enough cyclical exposure.
Hell hath no fury like a hedge fund manager out of position. That's what you are seeing today as portfolio managers recognize they don't have enough cyclical exposure, especially if the dollar has peaked.
That's how you can get companies with disappointing earnings, like Caterpillar (CAT) - Get Caterpillar Inc. Report orCummins (CMI) - Get Cummins Inc. Report orEaton (ETN) - Get Eaton Corp. Plc Reportor evenFreeport McMoRan (FCX) - Get Freeport-McMoRan, Inc. (FCX) Reportto roll higher. That's how you can get the stock of Alcoa (AA) - Get Alcoa Corp. Report , which has been an unmitigated disaster, to start going higher. It should have been happening for ages, because Alcoa is splitting into two companies: one that is pretty much the commodity of aluminum and its accoutrements and the other, which is all about the proprietary use of aluminum in trucks, autos and, of course, aerospace.
Alcoa is a metaphor for the moment. You have a very undervalued company that is caught up in the tide of the hatred of commodities. Then you have a switch, where portfolio managers find themselves too negative on the deep cyclicals and Alcoa fits the bill perfectly: liquid, big and a terrific breakup story. Check out the chart from Bruce Kamich here.
Why the sudden love for commodities? First, the dollar. Through all of the turmoil of this moment, the dollar's going down -- at least against the euro -- and that's encouraging managers to buy the one thing that almost always goes up when the dollar goes south: Commodities.
It makes sense. It will take more dollars to buy commodities, and I have plenty of charts and graphs that show the relationship between stocks of commodities and the dollar is real and investible.
Click Here to Get In on TheStreet's Free Open House -- Going on Now!
Of course all of this seems contrary to the average investor who hears that we could be heading toward a recession because of a slowdown in the economy. Remember, managers don't think about the now, they think about the future, and if the Federal Reserve isn't going to raise rates anytime soon, then the dollar has to cool off as a currency magnet.
Plus, a Fed that it is cognizant that it could hurt growth if it tightens again is a Fed that is a friend of commodities and commodity inflation. The conclusion? Buy Alcoa.
Of course, the metaphor can be taken to extremes and we know this market is given to extremes. For example, we have seen gold go up day after day after day and managers are thinking, "Hmm, no tightening, world turmoil, that's always been a time to buy gold." I always think gold has a place in your portfolio as insurance against world chaos and you could use that policy now for certain.
So, let's see, what company produces commodities including gold and another metal going higher, copper?
Holy cow, none other than the hated, estranged Freeport McMoRan. Now I am not, for a moment, endorsing this stock. I am simply recognizing that the institutions are piling into this stock even as it's more levered to oil than it is to copper or gold. No matter.
Again, portfolio managers want a cyclical and they want gold and they want copper, so therefore, they want Freeport, even though there is a balance sheet issue that is so hideous that the common stock is literally just a call option on the company's survival.
I would call it a war, a war between the short-term momentum funds, who see the confluence among the minerals and the technicals -- see Kamich's work on the chart here -- and the nightmare of the balance sheet, which has been well chronicled by the Stressed Out team that has done a remarkable job showing the bad side of a hot stock.
Of course, there's a big menu of cyclicals out there. You can buy shares in the big winners: 3M (MMM) - Get 3M Company Report and Honeywell (HON) - Get Honeywell International Inc. (HON) Reportand General Electric (GE) - Get General Electric Company (GE) Report . Or you can buy the deeper cyclicals like Cummins and Caterpillar, and the latter are really on fire. Cummins, like Caterpillar, simply didn't report as hideous a set of numbers as expected. That's also the case with Eaton and Parker Hannifin (PH) - Get Parker-Hannifin Corporation Report , Danaher (DHR) - Get Danaher Corporation Report and Illinois Tool Works (ITW) - Get Illinois Tool Works Inc. (ITW) Report .
Again, understand that I'm simply chronicling how some managers are underexposed to this group and others are actually short. Come on, it's been a great short and the scramble is on.
Remember, though, this is a market with limited participation and limited amounts of money. In order to buy these cyclicals, managers have to sell other stocks and they are choosing to sell the retailers and the drug stocks. There are reasons for both.
Kohl's (KSS) - Get Kohl's Corporation (KSS) Report , the classic department store, preannounced Thursday morning an awful number with weakness in housewares and footwear, as if it even matters what's weak. That group's now on the forbidden list.
And then there's the snarky Martin Shkreli, the drug-stock bad boy, who continues to bring political scrutiny to drug pricing. Thursday, he and his attorney did no one in the industry favors by taking the Fifth Amendment about drug pricing.
Yes, Shkreli was no doubt getting good legal advice, but he's nothing but horrendous news for the industry, which fears a backlash from the presidential contenders.
They are right to fear it, given that Donald Trump, Bernie Sanders and Hillary Clinton all favor the government negotiating with the pharmaceutical companies over Medicare drug pricing. That's the kiss of death for this industry, and Thursday's hearings were a nightmare for these companies and their investors.
Of course, all of this is happening within the context of what can only be described as a brutal bear market, as the overall stock market just keeps rolling over, even as some visible groups roar higher, at least for a couple of days.
I say be careful. These moves are only for the most nimble and for those who truly believe that they can outrun the bears, or at least outrun the other managers who are trying their best to get away from the ursine clutches and, for the most part, failing to do so.