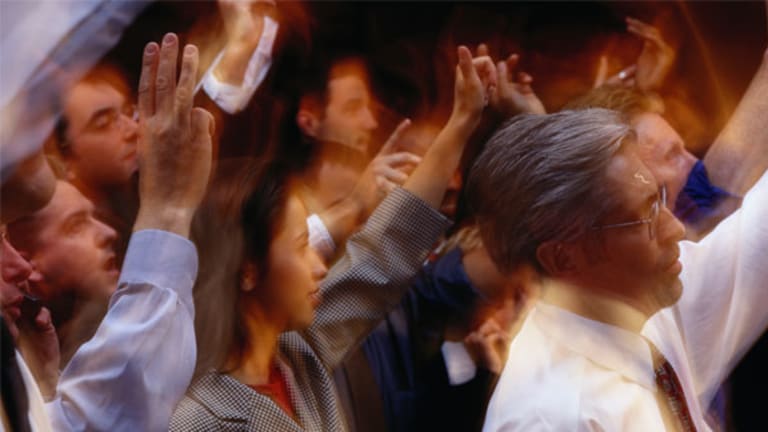 Jim Cramer: Salesforce CEO Should Take a Bow
Because encores are not easily handed out.
NEW YORK (Real Money) --Encores are tough in this business. Like the encore that we are supposed to give Salesforce.com (CRM) - Get Free Report after it delivers a picture-perfect quarter and raises guidance by $100 million in revenue -- the most I have ever seen it do. Encores on top of 20% gains for the year are not easily handed out. Encores for a 3% gain caused on the day the company reports by a fantastic number from partner Workday (WDAY) - Get Free Report, which was up more than 15% on an electric quarter, are impossible.
And that's the impossible position that CEO Marc Benioff and Salesforce find themselves in despite all of the price target bumps and the huzzahs, worthy huzzahs, the company's stock is getting today.
You don't need me to, once again, reiterate my Salesforce.com buy. I have been doing that since 2008 on every single dip. People say I am a permabull on Salesforce.com, that I am "in love" with the company and I think that Salesforce can do no wrong.

WATCH: Jim Cramer: Salesforce.com Is a 'Great Opportunity'
I come back and say I am, indeed, fond of companies that have consistent 35% revenue growth that were $480 million in sales for a year when I first talked to them and now have more than $4.8 billion in sales for a similar 365-day period. I think revenue growth is a good measure of a company's worth because when you invest and execute in the social, mobile, cloud and connectivity space, you are doing what Microsoft (MSFT) - Get Free Report did back in 1985. And while Salesforce.com is hardly a monopoly, it is certainly powering the next generation of information technology by empowering your handheld to be your personal, social and mobile mainframe based in the cloud.
People rarely seem to understand that Salesforce is a platform that requires neither software nor hardware, that allows you to run virtually any size company from your mobile phone. I would not understand it if I didn't constantly watch the videos of what the company is doing. You have to understand that this $5 billion company is being run off Benioff's cellphone. So are a lot of banks and retailers, and General Electric (GE) - Get Free Report, for that matter. That isn't possible if it didn't have the platform to install the apps that you need and run the programs, like Workday for human resources and financials that you want, or Concur Technologies (CNQR) for personal time, travel and expenses. There is a paradigm shift going on, and Salesforce.com is the paradigm shifter.
Sometimes you need a real obvious example of how social mobile and cloud works, which is why I was so glad that Benioff talked about his relationship with Michael Dell. No, not Salesforce's relationship, but Benioff's relationship. If you missed it, not that long ago Benioff got a call from Dell asking if everything was going OK. Benioff said he had been sick. Dell said he knew something was wrong because he hadn't seen any exercise numbers from Benioff for days. Yep, Dell and Benioff are in the same mobile and social program for Fitbit, and Benioff hadn't logged in.
You should be thinking, right there, who needs Weight Watchers (WTW) - Get Free Report? You should be thinking, who needs to check in when you are checking in? That simple example gets applied to every single piece of data that touches the cloud.
For years, Salesforce has been controversial. For years, I had to hear that I was owned by him. I just put it on paper in Get Rich Carefully that he's just plain bankable and his company is the real deal, so shut up already. Now, because there are no encores, I would not be surprised if his stock is down today.
Has that been an opportunity before? I would say yes, but I guess that will just make me even more of a house man. Welcome to the house of Benioff; it's a roomy and sturdy place.
Action Alerts PLUS, which Cramer co-manages as a charitable trust, is long GE.
Editor's Note: This article was originally published at 7:52 a.m. EST on Real Money on Feb. 28.