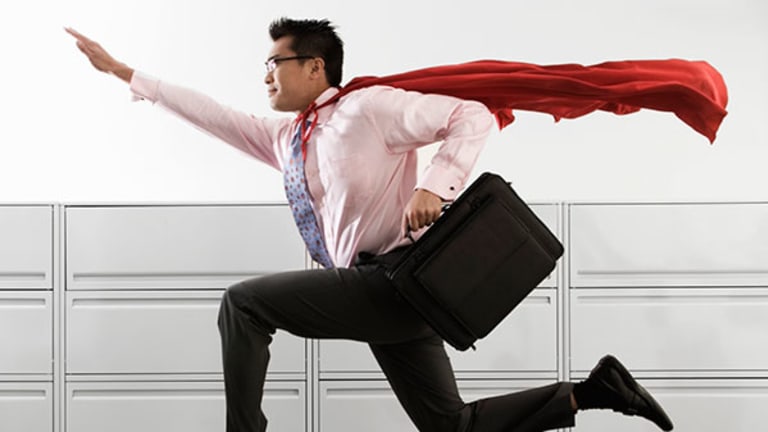 Jim Cramer's Plan for This Market, Part 1 -- Find What's Really Working Now
Let's get a sense of where the market's head is. One goal you must always have is to figure out what's working so you can assess a medium-term worldview.
Click here for Part 2.
One goal you must always have is to figure out what's working so you can assess a medium-term worldview -- my preferred vision.
The late great Mark Haines used to chide me as the Reverend Jim Bob from the Church of What's Working Now. But he understood that my goal, attained specifically by looking through the charts every weekend as he did, was to get a sense of where the market's head was.
Despite what the averages are saying, the charts are, on the whole, pretty negative about most companies' stocks. And the rolling bear market thesis continues, as I will demonstrate in a moment. But what the market loves -- and I mean loves -- is so stark right now that I can't help but go over the obvious darlings and try to draw conclusions from them.
Let's start with a sector so beloved that it takes your breath away: Consumer packaged-goods stocks.
The strength in stocks like Altria, Campbell's, General Mills, PepsiCo (PEP) -- a total horse -- Coca-Cola,Hormel, Mondelez, Smuckers, McCormack Spice, Tyson, Kimberly-Clark, Clorox, Kellogg, Philip Morris, Unilever and even Procter & Gamble and countless others too numerous to detail, is the most blow-away I can recall, with many of these stocks so extreme in their moves that you have to expect a bit of a retreat.
Still, what does it say? I think there are several themes at work with this move.
First, many of these companies pay dividends and the bets being made on these stocks remain income oriented. If the Fed were to move, many of these would probably get hammered. But these are all slowdown stories and no one seems to doubt that the economy has gotten soft. Plus, there is so much gross margin gain right now from the downfall of commodities, courtesy the slowdown, that all of these companies are benefitting. But they rarely flag the positives, in part because I think they are ephemeral.
But the stock market is judging that the commodity depression will be longer and lower. Another side note: these companies had been considered vulnerable to the strong dollar. One has to believe that either the dollar's strength is ebbing -- I am not sure about that after ECP Chief Mario Draghi's move last week -- or that we are close to anniversarying the dollar's spike and it won't be as big a factor. I like the latter excuse. It is almost November.
These stocks are impossible not to own if you are going to outperform.
The next most obvious group is a cobbled group that I would describe as service, consulting and outsourcing, companies like Automatic Data (ADP) and Paychex, Cognizant, Accenture, Equifax, Global Payments and Fiserv. You may not like this rubric, but this group or anything like it seems charmed. I think these are part of a loved secular trend that is also being spurred by greater employment.
They may also be substitutes for financials that are still radically underweighted because the banks can't get any traction without higher rates. It's just unassailable and explains the ardor for MasterCard (MA) , Visa, Capitol One and Discover. MA and V are the two must-owns from this group. The insurers are the other side of the way to play low rates and Travelers and ACE (soon to be Chubb) as well as Hartford are emblematic of a group you could throw darts at.
Tech's fascinating.
Social, mobile, cloud and connectivity rule here. Amazon (AMZN) , Alphabet (GOOGL) , Microsoft (now cloud because of Azure) Facebook, Salesforce.com -- they aren't stopping. I see the beginnings of a new telco-equipment cycle given the runs in the tower stocks like American Tower, Juniper, Xilinx and Cisco. It's been awhile, but AT&T and Verizon and Sprint and T-Mobile all need equipment to keep up with each other.
Old tech, like Intel (INTC) , Tech Data, Avnet, Analog Devices and Texas Instruments stand out. Even Hewlett-Packard's  doing better. I think that's a Windows 10 affair. Again, I am leaving a bunch out, but these are all emblematic.
Retail's sparse.
Costco (COST) , Game Stop, Lowes and Home Depot, apparel-less retailers that are good competitors with Amazon. The aisles are inconsistent.
Newell Rubbermaid's (NWL) working, as is Stanley Black & Decker. But the paint names are just hanging on and the appliances are just in another world. Oh, anything Game Stop sells, whether it be Activision Blizzard or TakeTwo or EA, just keeps humming. Oddity crossover: Nvidia, which makes the best video chips, is on fire. 
I don't know whether it is travel and leisure or just airlines, cruise ships and a bunch of sites that allow you to travel cheaper, because I see Delta (DAL) , Carnival, Royal Caribbean, TripAdviser, Expedia and Priceline.com standing out. The hotels are in total bear market mode, I mean complete and utter, so I don't know if it is travel or the hotels are being hurt by Airbnb. They can't get out of their own way.
You would be surprised at how few industrials are really on the list, namely, General Electric (GE) , 3M and Danaher, but there are a host that are trying to stabilize, including Boeing, Ingersoll, Eaton, Emerson and United Technologies. I can't tell if those are dead-cat bounces or the real thing, but the more you are connected with aerospace or Europe, the more likely you are to have a better chart.
There are some discrete uber-bull markets worth focusing on. The most notable of which is defense.
These stocks go up regardless of their earnings as Lockheed (LMT) has rallied 15 points since its widely criticized quarter. Raytheon and Northrop are amazingly strong and it makes you want to do some work ahead of the earnings report of General Dynamics on Oct. 28 or to snare some Harris HRS, which is way too cheap vs. the group.
There's no stopping this dental troika of Patterson (PDCO) , Henry Schein and Sirona. I point it out because it is the only area of health care where there remains any semblance of the bull market of yore.
Then there are the standouts, the senior growth companies that nobody wants to buy because they are too expensive, yet everyone seems to own: Starbucks (SBUX) and Nike and now McDonald's. It's worth noting that these stocks stand out from their cohorts, all of which are in developing or far-along bear markets.
Auto's working, but principally auto-parts stores, usual suspects: I have liked AutoZone (AZN) for ages, as well as O'Reilly, but take a look at Pep Boys which, at last, has pep.
One other of note is the exchanges, The Nasdaq and Intercontinental keep working. They could be backdoor financial plays, though, and I don't know if there is more to it.
,  which Cramer co-manages as a charitable trust, is long MMM, SBUX, MDLZ and LMT.