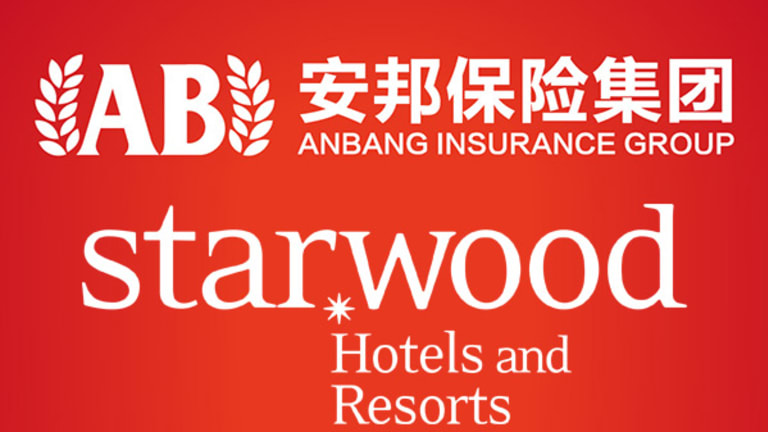 Jim Cramer's Crystal Ball: Anbang Raises Its Starwood Bid
The hotel bidding war probably won't be slowing down any time soon.
Editor's Note: This article was originally published on Real Money at 10:30 a.m. on March 28.
Real Money's Jim Cramer has said multiple times that Anbangwas not done withStarwood (HOT) , even after Marriott (MAR) came back and upped its offer for the hotel chain by about $600 million last week. Turns out he was right.
Starwood officials announced Monday that they received a revised, non-binding proposal from a consortium led by Chinese insurance company Anbang that is reasonably likely to lead to a "superior proposal," as was defined in its prior merger agreement with Marriott.
Anbang is now reportedly offering $82.74 per share in cash, about a $5 per share increase from its bid earlier this month. The combined current value of the offer -- with stock considerations -- totals $88.86 per share, or about $14 billion. This is the second time Anbang has sent an unsolicited acquisition offer to Starwood, which had originally agreed to a bid from Marriott in November.
Marriott's latest bid was valued at about $12.8 billion based on the company's closing price on Thursday.
Because Anbang's all-cash deal appears to be more lucrative in the short term, Real Money's Jim Cramer opined that we had not seen the last of Anbang in this scenario.
"The communist party in China understands the value of Starwood better than Marriott does," Cramer said last week. "Starwood's loyalty program is extremely attractive for any prospective buyers."
However, an upsized Anbang bid is something that Marriott CEO Arne Sorenson seemed prepared for. When asked by CNBC last week whether Marriott has told Starwood that the bid last week will be a final offer, Marriott CEO Arne Sorenson responded, "No, we haven't. We have teed up something which not only values extremely well with the market today ... but it also offers a unique upside in the future."
Bloomberg Insider analyst Margaret Huang mirrored Sorenson's views, writing two weeks ago that any short-term value from an Anbang/Starwood merger would be overshadowed by the long-term value of a Marriott tie-up.
"Anbang's all-cash offer for Starwood may appeal to the short-term investors, yet the long-term growth potential with Marriot offers Starwood the resources it needs to accelerate its growth," wrote Huang on Friday. "For both [Starwood and Marriott], the combined entity would likely broaden their networks, bolster their brands, enhance their pricing power and reduce their costs. Anbang would face obstacles to achieve these benefits."
The combined Starwood/Marriott would be the largest hotel chain in the world with approximately 5,700 hotels and seemingly infinite room for growth.
Starwood shareholders were set to receive $21 and 0.80 shares of Marriott Class A shares for every share of Starwood they own, in a deal that valued the company at about $13.6 billion. One of the main sticking points of Marriott's upgraded bid last week was the cash consideration. The original Marriott bid only offered $2 per share in cash vs. the new bid's $21 per share offer.
"Shares of Marriott are underperforming the market today on the news, which seems to indicate that shareholders continue to dislike this merger. Some key investors had already been outspoken against the initial deal, so we can only imagine how they feel now that Marriott was willing to up the bid," said Action Alerts PLUS senior analyst Scott Berman. "A part of this is likely the fear that we could be at the beginning of a drawn-out bidding war and part of it is that investors do not want to deal with the complexity that accompanies a deal of this magnitude."
Sorenson's comments during the CNBC interview confirmed that the new deal is not as sweet as its original bid for Starwood. "We think our bid is about 15% higher than our last one. I would also acknowledge that the proposal we signed last night is not as good for us as the deal we signed and announced in November," Sorenson said. "The deal we signed in November in retrospect may have been too good a deal."
It looks like if Marriott is serious about this tie-up with Starwood it will need to pony up some more cash. Marriott CEO Sorenson has said that the company would be willing to up its bid if necessary, and it seems as though Anbang is calling his bluff.