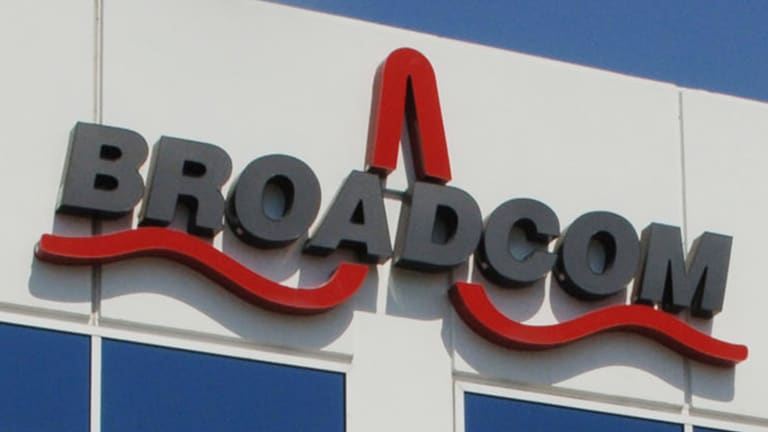 Jim Cramer -- Ring the Register on Broadcom, Then Buy Some Chipotle
TheStreet's Jim Cramer talked about the tech sector, fast food, and what NBA star Steve Curry could do for UnderArmour as he answered viewers' Twitter questions from the NYSE floor.
NEW YORK (TheStreet) --  After chip-maker Avago Technologies (AVGO) - Get Report announced a deal to acquire rival Broadcom (BRCM) for $37 billion in cash and stock, shares of both companies rose in Thursday trading. But how should investors respond? TheStreet's Jim Cramer, replying to the sell-or-hold question of a viewer, said he  believes that "when you get a huge win like this, you should ring the register." Therefore, sell Broadcom. He added that even though Avago's numbers could be bumped up, Friday would be a good time to take profits.
Looking at other opportunities in the sector, Cramer described Marvell Technology (MRVL) - Get Report as interesting, but said he prefers Integrated Device Technology (IDTI) - Get Report, the company behind the Apple (AAPL) - Get Report Watch's charging station -- it's the best value in the group right now. He's not a fan of SanDisk (SNDK) : Investors who want to own it to capitalize on takeover rumors may get hurt when the company reports earnings, he said. Qualcomm (QCOM) - Get Report investors face a similar problem, he said.
Asked if this was a good time to jump in on Chipotle (CMG) - Get Report , Cramer opined that it was, especially as other restaurant chain players such as Jack in the Box (JACK) - Get Report, DineEquity (DIN) - Get Report, Popeyes Louisiana Kitchen (PLKI) and Sonic (SONC) are coming back.
Cramer also weighed in on UnderArmour (UA) - Get Report, which he believes has paid its dues and could really benefit if Golden State Warriors' guard Stephen Curry, who represents the brand, does well.
Lastly, Cramer gave some investing advice to a recent college graduate who asked if he should go for safe technology plays like Verizon (VZ) - Get Report or Microsoft (MSFT) - Get Report, or if he should be more aggressive. Be aggressive, said Cramer: A young person should be in stocks such as Netflix (NFLX) - Get Report or Tesla (TSLA) - Get Report.
Brittany joined TheStreet TV in November 2006 after completing a degree in Journalism and Media Studies at Rutgers College. Previously, Brittany interned at the local ABC affiliate in New York City WABC-TV 7 where she helped research and produce On Your Side, a popular consumer advocacy segment.