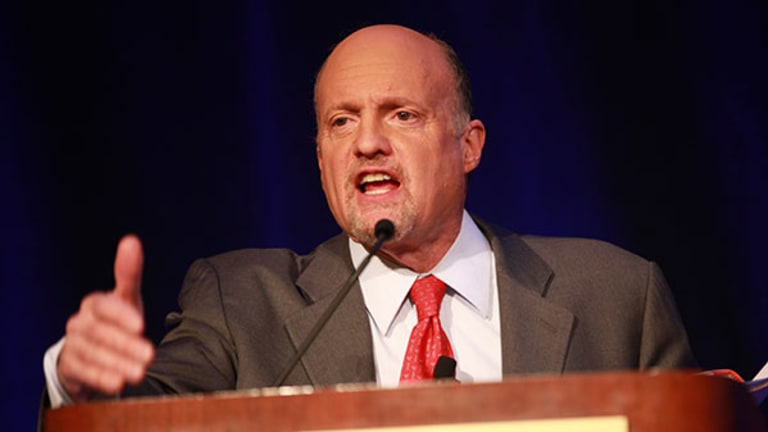 Jim Cramer: Ride the Four Horsemen of Biotech
Big pharma blockbusters to fuel ongoing profits.
Editor's note (Part 6 of 7): The following is text from Jim Cramer's keynote speech at The Deal Economy Event on Dec. 5 at the New York Stock Exchange, New York City. To watch video replays of the event, click here. To read more content from Jim Cramer on Real Money, click here.
NEW YORK (TheStreet) -- Sixth theme? Biotech. Our old-line drug companies, with the exception of Johnson & Johnson (JNJ) - Get Johnson & Johnson Report, have gone from venerated institutions with breakthrough science to simple creators of me-too line extensions and shrewd marketers of old drugs.  
In their place have come the four horsemen of the big pharma apocalypse: Biogen Idec (BIIB) - Get Biogen Inc. Report, Celgene (CELG) - Get Celgene Corporation Report, Gilead (GILD) - Get Gilead Sciences, Inc. Report and Regeneron (REGN) - Get Regeneron Pharmaceuticals, Inc. Report. Each has some blockbuster franchises that are right now generating billions in sales for these companies with new drugs waiting in the wings that will produce wins for years and years to come.  
Biogen Idec has a world-class multiple sclerosis franchise, including a new drug that's just approved and that's almost certainly going to reach blockbuster status next year.
Celgene, just upgraded by UBS, has got a leading blood cancer drug franchise with Revlimid, but watch for its anti-pancreatic cancer and anti-rheumatoid arthritis drugs, which could allow this $164 company to have $17 in earnings power in 2017. That makes it cheaper than any of the big pharma stocks. It could rally 50% and still be less expensive than Pfizer (PFE) - Get Pfizer Inc. Report or Merck (MRK) - Get Merck & Co., Inc. Report when it gets there.  
Gilead may have the first cure for Hepatitis C, which is responsible for about 50,000 deaths each year and has hobbled hundreds of thousands more. I think this drug, which stems from Gilead's initially reviled but now widely hailed purchase of PHARMASSET for $11 billion a couple of years ago, even as it had only 90 employees and no revenues to speak of, will be the biggest new entrant of 2014.
Regeneron's a company that may have the most exciting product portfolio of any of the four horsemen. Currently it sells Eylea, which is a maintenance cure for maculate degeneration, a condition that affects hundreds of thousands of people around the globe. Sales for this drug continue to exceed expectations every quarter.  
But the real excitement for Regeneron is a new class of anti-cholesterol drug that can be taken by those who can't tolerate statins. The new rules about the need to take anti-cholesterol drugs regardless of your cholesterol count will play right into the hands of this soon-to-be-approved medication. I think Regeneron could have multiple years of outperformance.
And if it doesn't? I think Sanofi, its partner and minority owner, buys the whole company for a huge premium to where it is trading now.
Click here for Part 5.
At the time of publication, Cramer's Action Alerts PLUS had a position in JNJ