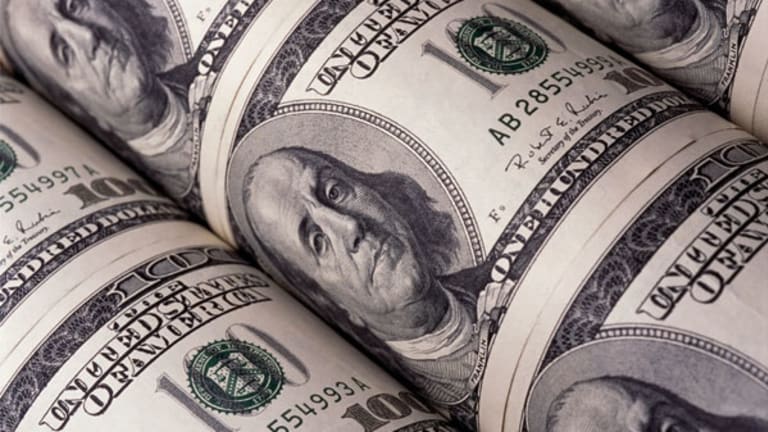 Jim Cramer on Yahoo! CEO Marissa Mayer: A Job Well Done!
The Yahoo! CEO never took her eye off the ball.
NEW YORK (Real Money) -- How can Coca-Cola's (KO) - Get Coca-Cola Company ReportMuhtar Kent keep getting a pass and Yahoo!'s (YHOO) Marissa Mayer keep getting a fail? One's doing absolutely nothing that I can see to stem the long-term erosion of his business except blaming the environment, and the other's doing just about everything she can in a violent and punishing environment to get things rolling again.
Both Coca-Cola and Yahoo! are revenue-challenged. Both are companies that were once great growth beacons, the leaders in their industries. One, Kent, has the backing of Warren Buffett, so no matter how many times he makes excuses, he gets a pass -- if not a raise for the team. At least that got rolled back.
But the other, Mayer? You look up the articles about her. I don't even know how this person comes to work in the morning. She is the victim now, after an initial honeymoon, of some of the worst press imaginable, most of it revolving around what an absent-minded dunderhead she is.
Yet, when she was appointed CEO of Yahoo! in July of 2012, the stock price was at $15. Now it is at $40. Where was Coca-Cola when she was named CEO? How about $39. It's now at $40.
And Mayer gets the heat? What kind of parallel universe do we live in where I have to read that Mayer will only get two or three more quarters of this kind of paltry revenue growth --believe me, her revenue growth not all that much different from Coca-Cola's -- before she is given the boot. But Kent? It's just a question about whether his team should get an even bigger raise.
Contrast the conference calls yesterday. Kent never once admitted that he is in a challenged category, and recognizes it for what it is: a slow growth box that he has to get out of. In fact, the only two things worth talking about, the investments in Monster Beverage (MNST) - Get Monster Beverage Corporation (MNST) Report and Green Mountain Coffee  (GMCR) , which I think could actually ignite growth, didn't even come up. Instead, it was all about a sluggish economy, macro factors, the challenged consumer. What? A challenged consumer worldwide? Then how in heck did Apple (AAPL) - Get Apple Inc. (AAPL) Report sell 39 million expensive iPhones this quarter, phones with a rising price point that can cost about $600 all in? That's a lot of cans of Coke to sacrifice!
It's the same old same old at Coke, more restructuring, more streamlining, zero-based budgeting and Warren Buffett's favorite, more buybacks.
How about Mayer? When we look at the decisions that have faced her since she came in, in retrospect, the most important one was to fix relations with Yahoo! Japan and Alibaba (BABA) - Get Alibaba Group Holding Ltd. Sponsored ADR Report so she didn't have to sell as much on the Alibaba on the deal when it came public. Her fence-mending allowed Yahoo! to back away from selling 122 million shares on the day of the IPO, something that looks pretty darned shrewd to me.
Plus, while people think that Mayer spends like a drunken sailor I have to admit after listening to that call that the only thing she has spent like a drunken sailor on is her own stock, namely 293 million shares for $26.37. That's just brilliant. It means that she figured out that the prized asset of Yahoo! was Alibaba -- still is -- and she wants to hold on to it until it can make the shareholders the most money.
Again, so far, so good.
Now, revenue growth wasn't so hot, although it did have an uptick. And mobile was $200 million in revenue, up from pretty much nothing when she started. But the company has gained hundreds of millions of unique visitors during her term and she now has the money to figure out how to monetize those visitors and take advantage of them.
She has to get off the display treadmill that Google (GOOGL) - Get Alphabet Inc. Class A Report pretty much wrecked with programmatic advertising.  I think she can do that through shrewd acquisitions that allow her to move away from advertising and, given her war chest, there are a ton available: everything from Yelp (YELP) - Get Yelp Inc Report to HomeAway (AWAY) to Netflix (NFLX) - Get Netflix, Inc. (NFLX) Report to Zillow (Z) - Get Zillow Group, Inc. Class C Report . All are within her reach, because she's been such a chary steward of capital.
So to me, I say enough is enough. You want someone's head? Call for Kent, not Mayer. One's an endless excuse maker, who blames the economy for the company's woes. The other never took her eye off the ball, letting her most important asset grow until it is at last ripe enough to be harvested.
I say, well done, Mayer. And when it comes to beverages? No Coke or Kent but PepsiCo (PEP) - Get PepsiCo, Inc. Report and Indra Nooyi.
Action Alerts PLUS, which Cramer co-manages as a charitable trust, is long AAPL, GOOGL.
Editor's Note: This article was originally published at 7:14 a.m. EDT on Real Money on Oct. 22.