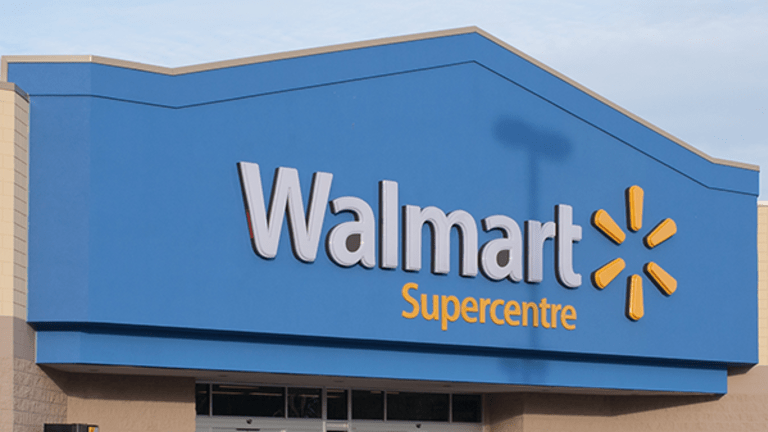 Jim Cramer on Whether Retail Numbers Should Change Your Views
These numbers confound those who say how dangerous this market is.
This column originally appeared at 11:22 ET on Real Money, our premium site for active traders. Click here to get great columns like this from Jim Cramer and other writers even earlier in the trading day.
The numbers are all pretty staggering. Walmart (WMT) - Get Walmart Inc. Report beats by a penny but the comparable store sales of 1.8% are much better than 1.3%. Macy's (M) - Get Macy's Inc Report beats already lowered numbers by 6 cents, but it's been missing slashed forecasts for ages. We have acted like they are losing money but they are actually pretty lucrative.
Home Depot's (HD) - Get Home Depot, Inc. (HD) Report insane. How can this company beat a buck-33 estimate by 11 cents and comp at 5.8% when people were thinking 3.5%? Plus the big 29% dividend boost on top of an already largest one and a fantastic forecast for 2017. It doesn't, maybe even can't, get better than that.
This is retail, for heaven's sake. Retail, which was supposed to be destroyed by Amazon (AMZN) - Get Amazon.com, Inc. Report . Which was supposed to be wrecked by the border tax.
But we are seeing numbers that indicate an overall increase in spend that can't be justified by the rancorous headlines, yet, nevertheless, is out there right in front of us.
These numbers, again, confound all the prognosticators who constantly cry out how dangerous this market is. I always want to ask these people, "Does Home Depot change your thinking at all? Do you have to recalibrate after Macy's makes more money, or does the better-than-expected Walmart number influence you?" But it is a worthless discussion because the people who regard the "market" as overvalued would never trifle with its individual components even if they involve the world's largest mass discounter, the biggest department store chain in the U.S. and the world's largest do-it-yourself business. Nope, they don't like to get their hands dirty like that.
The overvaluation thesis is so strong that they will ignore a deal in the restaurant space -- the restaurant space! -- that, while small, the Restaurant Brands (QSR) - Get Restaurant Brands International Inc Report /Popeyes (PLKI) combination signifies that the downward pressure on that group has created tremendous bargains. I have liked the stock of Popeyes forever, but it's been a tough own ... until it isn't.
This is a week I am worried about because the retailers that report will become more problematic as the week goes on.
But so far, you have to ask yourself, do you want to just keep hating this market? Or after this, do you just hate it more than ever?
Random musings: A couple of returns from not-so-hot numbers: Henry Schein (HSIC) - Get Henry Schein, Inc. (HSIC) Report and Smucker (SJM) - Get J.M. Smucker Company (SJM) Report , another verification that staying with stocks can be a very good thing -- not just with Amazon either!
Action Alerts PLUS, which Cramer co-manages as a charitable trust, has no positions in the stocks mentioned.